Etihad Airways is the the national airline of the United Arab Emirates.
The company was created in July 2003 by Royal (Amiri) Decree issued by Sheikh Khalifa bin Zayed Al Nahyan. It began with an initial paid-up capital of AED 500 million. In November 2003 the airline commenced operations.
Since its inception Etihad has emerged into one of the fastest growing airlines in the history of aviation.
It is currently one of the largest airlines in the Middle East and the second largest airline in the United Arab Emirates (after Emirates Airlines).
Its main focuse is on international air transportation of passengers but the company also operates Etihad Cargo, Etihad Holidays, and a global contact centre organisation as part of its commercial group.
As of Q1 2014, Etihad Airways has a fleet of 95 aircrafts and a total of 103 direct destinations across Europe, North America, South America, Asia, Africa, and Australasia – from its hub at Abu Dhabi International Airport.
The company has a number of equity partners, including a 19.9% equity stake in Virgin Australia, a 49% equity stake in Air Serbia, a 24% equity stake in Jet Airways, a 40% stake in Air Seychelles Ltd, a 4.1% stake in the Irish national carrier Aer Lingus, a 29.21% stake in airberlin, and a 49% stake in Alitalia.
Etihad Airways is based at Abu Dhabi International Airport and its corporate head office is in Khalifa City, Abu Dhabi.
Overview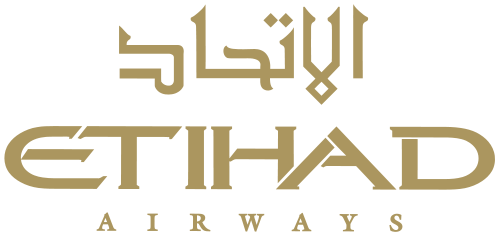 President and CEO: James Hogan
CFO: James Rigney
Chairman: HH Sheikh Hamed bin Zayed Al Nahyan
Vice Chairman: HH Sheikh Khaled bin Zayed Al Nahyan
Founded: 2003
Industry: Aviation
Revenue: $6.1 billion USD (2013)
Net profit: $62 million (2013)
Employees: 18,543 (2013)
Corporate headquarters: Khalifa City, Abu Dhabi, United Arab Emirates
Contact number: 00971-2-599-0000
Passengers: 11.5 million (2013)
| | | |
| --- | --- | --- |
| Results (in US$ millions) | 2013 | 2012 |
| Revenue | $6,100 | $4,800 |
| Net profit | $62 | $42 |
| Earnings before interest, tax, depreciation, amortization, and rentals (EBITDAR) | $753 | $979 |
| Cargo revenue | $928 | $716 |
| Partnership revenue | $820 | $629 |
Source: "Etihad Airways Q1/2014 Fast Facts and Figures"
---
News
June 25, 2014: Etihad and Alitalia have agreed on a 49% partnership deal. Etihad will buy shares in the Italian flagship carrier. Negotiations had been ongoing since the end of 2013. Delays were due to Alitalia's reluctance to reschedule its debt and cut its workforce.
---