The economy of the European Union (EU) expanded 1.8 percent over the whole year of 2015, while the euro area economy grew 1.5 percent, according to the statistics agency Eurostat.
The euro area includes the 19 EU member states that use the euro currency: Belgium, Germany, Estonia, Ireland, Greece, Spain, France, Italy, Cyprus, Latvia, Lithuania, Luxembourg, Malta, the Netherlands, Austria, Portugal, Slovenia, Slovakia and Finland.
Seasonally adjusted GDP grew 0.3% in both the euro area and the EU in the fourth quarter of 2015, compared with the previous quarter. Compared with the same quarter of the 2014, seasonally adjusted GDP increase by 1.5% in the euro area and by 1.8% in the EU in the fourth quarter of 2015, after +1.6% and +1.9% respectively in the previous quarter.
Sluggish economic growth in Europe has increased speculation that the European Central Bank (ECB) will have to carry out further monetary easing.
Nick Kounis, economist at ABN Amro, was quoted by the BBC as saying: "We continue to think that further monetary easing is required, with further policy rate cuts on the cards from March onwards,"
The report revealed a disappointingly weak reading in Italy and Greece. The Italian economy only expanded 0.1 percent in the fourth quarter, below expectations of a 0.3 percent rise – fueling concerns that growth is fading. The Greek economy contracted 0.6 per cent, following a 1.4 per cent contraction in the third quarter, slipping the country back into recession.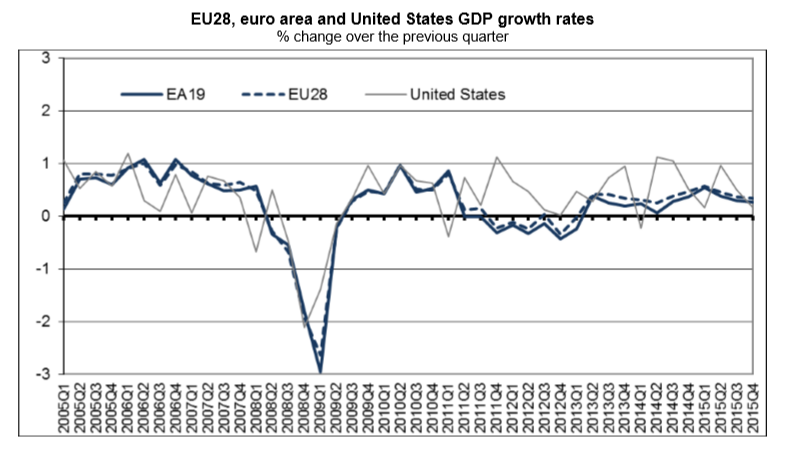 Growth in Europe's largest economy, Germany, was in line with consensus estimates at 0.3 percent. The German government recently revealed that calendar-adjusted annual growth last year was 1.4 percent, while on an unadjusted basis the economy expanded 1.7 per cent.
Carsten Brzeski, economist at ING-DiBa, was quoted by The Financial Times as saying that 'without any doubt' German economic performance since 2009 has been impressive.
Brzeski said: "2016 could be more challenging. Not only due to the refugee crisis and increasing political uncertainty but mainly due to increasing external headwinds."
Industrial production fell in December
Eurostat also announced that industrial production for both the EU and Eurozone had dropped 1% in December compared to the previous month. On a year-on-year basis production dropped 0.8% in the EU and 1.3% in the Eurozone.