Over 150000 penguins have starved to death since 2011 because they became landlocked by a colossal iceberg, which meant they had to travel over 60 kilometres (37 miles) to get food. What used to be an extensive area of open water close to the shore, became blocked by a massive iceberg called B09B.
Penguins are supreme swimmers and hunters in the water. On land, however, they are much less agile. Having to walk such a distance on land was just too much for most of the colony.
Scientists from the West Coast Penguin Trust in New Zealand and the University of New South Wales in Australia explained in the academic journal Antarctic Science (citation below) that Commonwealth Bay used to be an ideal place for Adélie penguin colonies, which was kept open by strong winds that come in off the Antarctic ice sheet.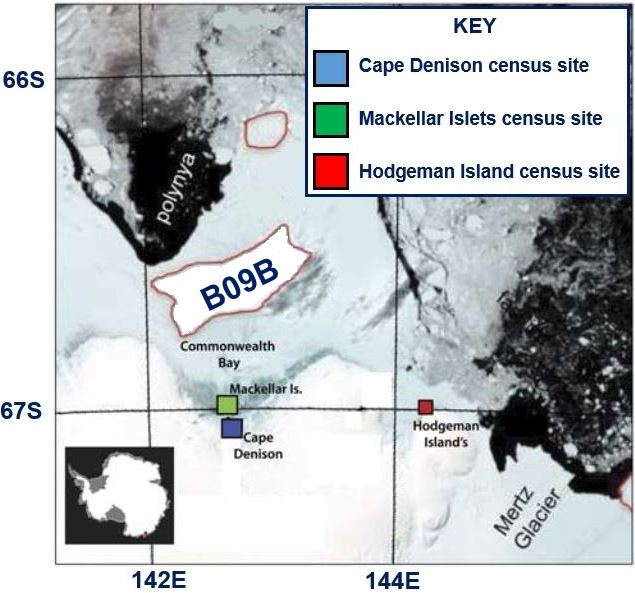 MODIS image of fast ice extent in the Commonwealth Bay and Mertz Polynya region on 15 December 2013. The giant iceberg (B09B) covers nearly twice the area of Greater London. (Image: bluepenguin.org.nz)
Sir Douglas Mawson's 1911-1914 research station during his first Australasian Antarctic Expedition was located in this area.
Giant iceberg blocks the bay in 2010
In December 2010, iceberg B09B, a 2,900 square kilometer (1,119 square mile) monster, grounded in Commonwealth Bay after colliding with the Mertz Glacier Tongue.
---
---
The collision also broke off a massive chunk of ice from the tongue that has since formed a 73 kilometre (45 mile) long glacier. This glacier is currently floating around Antarctica.
Lead author Dr. Kerry-Jayne Wilson, who works at the West Coast Penguin Trust, said regarding the number of penguins that have died:
"Over the past five years, the regional changes triggered by iceberg B09B have led to an order of magnitude decline in Adélie Penguin numbers and catastrophic breeding failure in comparison to the first counts undertaken by Mawson a century ago."
The huge penguin population decline is directly linked to the fast ice expansion – the floating sea ice that is permanently attached to land – in the area due to the grounding of B09B in 2010. By blocking the bay, the Adélie penguins now have to walk over over 60 kilometres (37 miles) to find food.
The Adélie penguin feeds mainly on Antarctic krill, ice krill, Antarctic silverfish, sea krill and glacial squid. There is no food on land for the penguin. The giant iceberg meant they had to walk a huge distance to get to the sea. These penguins were lucky – 150,000 thousand of them could not cope and died. (Image: heritage-expeditions.com)
Mass death was 'heart wrenching'
An emotional Dr. Wilson said:
"It was heart wrenching to see the impact of the fast ice on the penguins. The normally noisy and aggressive Adélie penguins were so subdued they hardly acknowledged our intrusion into their realm."
"It was sad to walk amongst thousands of freeze-dried chicks from the previous season and hundreds of abandoned eggs."
---
---
Contrastingly, an Adélie penguin colony just 8 kilometres (5 miles) from the fast-ice edge – on the eastern fringe of Commonwealth Bay – was thriving, suggesting that the arrival of the giant iceberg was responsible for the dramatic population decline.
Promising future for penguin colony
Co-author Dr. Chris Fogwill, who works at the University of New South Wales' Climate Change Research Centre, said:
"Over the last year the fast ice associated with B09B has begun to break up in Commonwealth Bay, which is great news for the penguin colonies."
"However, the effects of the changes over the past five years we have observed on the ecosystems in and around Commonwealth Bay will help us better understand the impacts of such large scale events on the fragile Antarctic ecosystem."
According to Penguin World: "No penguin, indeed no other bird, breeds further south than Adelie Penguins." They are migratory birds – after breeding they do not return to their colonies until the following spring. Experts are not sure what their non-breeding population distribution is. (Image: Wikipedia)
In an Abstract in the journal, the authors concluded:
"In conclusion, the Cape Denison population could be extirpated within 20 years unless B09B relocates or the now perennial fast ice within the bay breaks out. Our results have important implications for wider East Antarctic if the current increasing sea ice trend continues."
The survey was carried out during the Australasian Antarctic Expedition 2013-14.
Citation: "The impact of the giant iceberg B09B on population size and breeding success of Adélie penguins in Commonwealth Bay, Antarctica," Kerry-Jayne Wilson, Chris S.M. Turney, Christopher J. Fogwill and Estelle Blair. 2 February, 2016. Antarctic Science. DOI: doi:10.1017/S0954102015000644.
Video – Giant iceberg linked to 150,000 penguin deaths
This video explains how a colossal iceberg that extended 60km across East Antarctica's Commonwealth Bay led to a tragic decline in the population of an Adélie penguin colony.