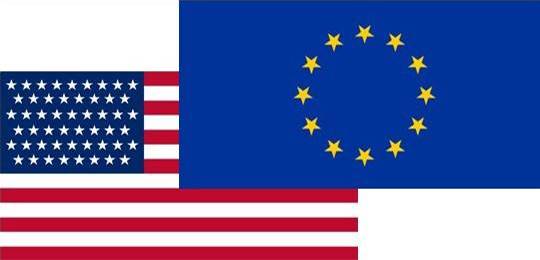 EU ministers on Monday authorized formal trade talks between the United States and the European Union countries.
European Union Member States gave the Commission the green light to start formal talks with the US on conformity assessment and eliminating tariffs on industrial products.
According to the European Commission, the negotiations cover two potential agreements with the US:
A trade agreement "strictly focused on industrial goods, excluding agricultural products."
An agreement on conformity assessment "to make it easier for companies to prove their products meet technical requirements on both sides of the Atlantic."
Analysis by the Commission concluded that the elimination of tariffs, even if most are moderately low, would lead to cost reductions for economic operators and an increase of bilateral EU and US exports of 8% and 9% respectively.
The President of the European Commission, Jean-Claude Juncker said:
"The European Union is delivering on what President Trump and I have agreed on 25 July 2018. We want a win-win situation on trade, beneficial for both the EU and the U.S.
"Notably we want to slash tariffs on industrial products as this could lead to an additional increase in EU and U.S. exports worth around €26 billion.
"The European Union and the United States have one of the most important economic relationships in the world. We want to further strengthen trade between us based on the positive spirit of last July."
🇪🇺🇺🇸 With today's adoption of the negotiating directives for trade talks, #EU is delivering on what @realDonaldTrump and I have agreed. Slashing tariffs on industrial products could lead to additional increase in EU and U.S. exports worth €26 bn. #WinWinhttps://t.co/MjqiM9op4M pic.twitter.com/eFRHmdnx00

— Jean-Claude Juncker (@JunckerEU) April 15, 2019
EU Trade Commissioner Cecilia Malmström said:
"This is a welcome decision that will help ease trade tensions. We are now ready to start formal talks for these two targeted agreements that will bring tangible benefits for people and economies on both sides of the Atlantic.
"I am convinced that breaking down barriers to trade between us can be win-win."
"We are ready as soon as they are," Malmstrom told a news conference.
The talks wouldn't be the first time that the two major world economies have attempted to strike a bilateral trade agreement.
Under President Obama, the US and EU entered a series of talks on the Transatlantic Trade and Investment Partnership, or TTIP. However, the TTIP was ultimately abandoned.