Euro zone sentiment slid slightly in May, according to the Sentix research group's index that tracks morale, from 20.0 in April to 19.6 in May, but higher than 18.6 in March. However, economists and investors appear to be more optimistic today regarding the currency bloc's situation than at any point since 2011.
Despite concern regarding the Greek crisis, investors are starting to brush off worries about the possible domino effect of a Grexit (Greece leaving the euro currency).
Reuters quoted Sebastian Wanke, a senior Sentix analyst, who said:
"The stability of the headline index is remarkable given that Greece's future is yet to be cleared up."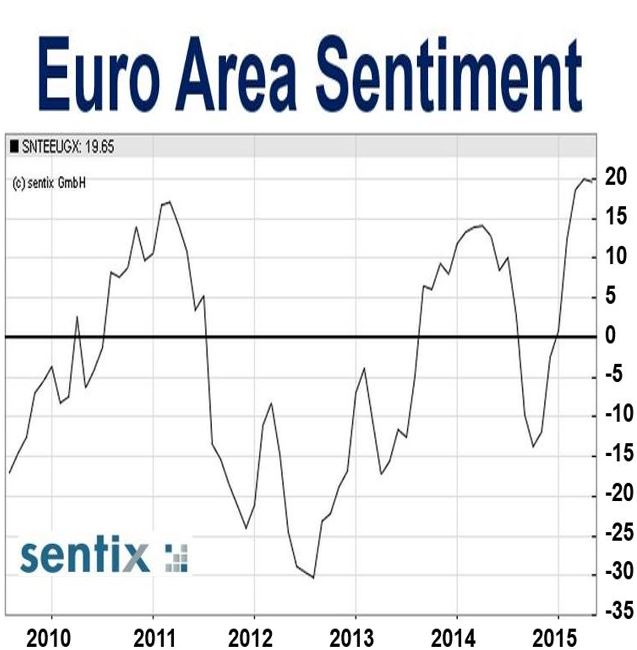 Analysts believe May's slight dip was a temporary hiccup. (Image: Sentix)
Negotiations between Greece and its international creditors have been alarmingly slow, with the far-left government resisting calls for pension cuts and labour reforms.
However, on Sunday a government official commented that talks on unlocking the remaining bailout money was beginning to make progress.
Good news for Austria
Sentix announced a 'remarkable' recovery in Austria's composite index, suggesting the long-period of weakness in its recovery may have come to an end.
"An important reason for this should be the relaxation of the tensions in Ukraine. Austria benefits strongly from economic improvements in Eastern Europe as it has firm ties with the region. Apart from this, the upturn in the euro area stabilises."
"And while the assessment of the current US situation weakens, 6-month expectations for the United States are back on the rise!"
Even though investors' perceptions of current conditions in the euro zone were at their brightest in nearly four years, their expectations took a nosedive.
Despite this, Mr. Wanke believes that with the headline index remaining at an overall high level, the currency block is probably in for a stable upturn.
Sentix' Germany index showed that sentiment in the continent's largest economy dipped for the second consecutive month, with deteriorating expectations, concern about a firmer euro, and uncertainty regarding the US economy.