The Eurozone April unemployment rate declined to 11.7% compared to 11.8% in March 2014 and 12% in April 2013, according to figures released by Eurostat, the European Union's statistical agency.
Eurostat also reported today that Eurozone May inflation dropped to 0.5% (annually), moving further away from the central banks 2% target.
April's unemployment rate for the whole of the European Union (EU28), including such countries as the UK which are not Eurozone member, was 10.4%, versus 10.5% in March 2014 and 10.9% in April 2013.
There are an estimated 25.471 million men and women unemployed in the EU28, including 18.751 million in the Eurozone. In the EU28, the number of jobless people declined by 151,000 in April versus March, and by 76,000 in the Eurozone. Over the 12-month period ending in April 2014, unemployment dropped by 1.167 million in the EU28 and 487,000 in the Eurozone.
Among the EU nations, those with the lowest jobless levels in April 2014, were:
Austria: 4.9%
Germany: 5.2%
Luxembourg: 6.1%
Czech Republic: 6.5%
Denmark: 6.5%
UK: 6.6%
The following countries had the highest jobless levels in April, 2014:
Greece: 26.5%
Spain: 25.1%
Croatia: 16.8%
Cyprus: 16.4%
Portugal: 14.6%
Compared to April 2013, the unemployment rate in April 2014 declined in 18 countries, stayed the same in two, and rose in eight. Hungary saw the greatest decrease (10.6% to 7.8%), followed by Portugal (17.3% to 14.6%) and Ireland (13.7% to 11.9%). The greatest increases were recorded in Cyprus (15.6% to 16.4%) and the Netherlands (6.5% to 7.2%).
The jobless rate in the United States was 6.3% in April, compared to 6.7% in the previous month and 7.5% in April 2013. Although 288,000 extra jobs were added, there were 806,000 fewer Americans in the workforce.
Unemployment among young adults
There were 5.259 million unemployed young adults (under 15 years) in the EU28 in April, including 3.381 million in the Eurozone.
There were 415,000 fewer unemployed young adults in the EU28 in April 2014 compared to April 2013, and 202,000 fewer in the Eurozone.
In the EU28 the youth unemployment rate in April 2014 stood at 22.5% versus 23.6% in April 2013, while in the Eurozone the figures were 23.5% and 23.9% respectively.
In Greece 56.9% and Spain 53.5% of young adults are unemployed.
Italy's unemployment near 40-year high
Italy's jobless rate remained the same in April, very near a 40-year high, as joblessness among women increased at a faster rate than the decline among men, according to Istat, the Italian statistical agency.
At 12.6%, April 2014's figure was 0.6 percentage point higher than in the same month last year.
An Istat official said "We still need to wait another couple of months before understanding the direction of the work market. There are still fluctuations."
The percentage of working age Italians in employment fell to 55.4% in April 2014 compared to 55.6% in April 2013. At the end of April 2014 there were 3.22 million people unemployed in Italy.
Youth unemployment increased 0.4 percentage point in one month to 34.3%, and 3.8 percentage points over one year.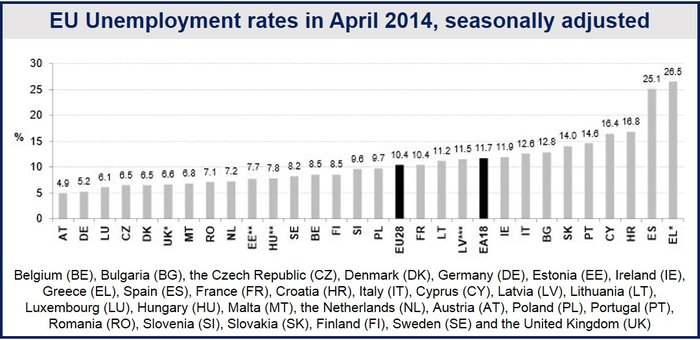 (Source: Eurostat)