The Eurozone economic index for February increased by 0.1% to 111.1, after rising by 1.4% in January and 0.3% in December, according to the Conference Board Leading Economic Index (2004 = 100).
Bert Colijn, Senior Economist at The Conference Board, said:
"This month's reading of the Leading Economic Index for the Euro Area suggests that we are leaving the rebound effects from the recession behind us, and that the pace of growth may not accelerate further. The small gain in the LEI in February, together with the slowdown in its six-month growth rate, points at the stabilization in economic conditions."
"Although the labor market has started providing some momentum, with both income and employment picking up in the fourth quarter, declines in inflation and manufacturing surveys could keep the Euro Area economy from lifting off."
Current economic activity fell
Eurozone's current economic activity – the Conference Board Coincident Economic Index – dropped 0.1% in February, preliminary estimates showed. The index currently stands at 101.2 (2004 = 100). It had risen by 0.2% in January and declined 0.2% in December last year.
In another report, the Markit Purchasing Managers Index (PMI) fell in march to 53.2 compared to February's 32-month high of 53.3. New orders increased to their fastest rate in nearly three years, a sign that growth will probably pick up again in April. There was also a steep increase in backlogs of work.
According to Markit, the number of jobs created in March indicates that the employment situation in the trading bloc may at last be 'really' improving.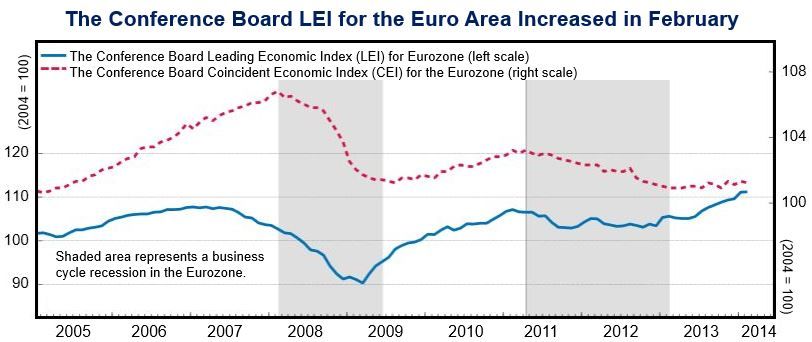 (Source: The Conference Board)
While Germany slowed France accelerated
Both France and Germany surprised analysts with results that went completely against nearly all forecasts.
New orders and output grew in France at rates greater than anything seen since August 2011.
Germany, on the other hand, registered a surprisingly low growth rate in both manufacturing and services. Analysts, however, described Germany's growth as "solid".