A Facebook Oculus VR takeover deal worth $2 billion has been announced by the two companies. Oculus VR owns Oculus Rift, a promising virtual reality head-mounted display for video gaming which was partly created with money raised with crowdfunding via Kickstarter.
Many in the industry were surprised that Facebook would be interested in an Oculus-type company, and vice-versa.
According to Mark Zuckerberg, Facebook's CEO and founder, Oculus' products and technologies will change the way we communicate, work and play.
Oculus Rift is not yet on the market, however, over 75,000 development kits have already been pre-ordered, says Facebook.
Facebook Oculus deal includes cash and shares
The Facebook Oculus deal includes $400 million in cash and 23.1 million Facebook shares (common stock) valued at $1.6 billion according to the average closing prices of the 20 trading days leading up to March 21st, 2014 ($64.95 per share).
Facebook added in a press release "The agreement also provides for an additional $300 million earn-out in cash and stock based on the achievement of certain milestones."
Oculus leader in immersive virtual reality technology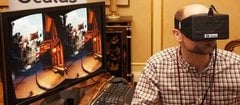 The social network giant says Oculus leads the world in immersive virtual reality technology and has already built a strong following among developers. While virtual reality technology apps beyond gaming have only recently emerged, a growing number of industries are already carrying out research with the technology.
Facebook aims to extend Oculus' current advantage in gaming to new verticals, including education, entertainment, media, communications, and other areas. Virtual reality technology is likely to become the next communications and social platform, given its range of potential applications.
Zuckerberg said:
"Mobile is the platform of today, and now we're also getting ready for the platforms of tomorrow. Oculus has the chance to create the most social platform ever, and change the way we work, play and communicate."
Co-founder and CEO of Oculus VR, Brendan Iribe, said:
"We are excited to work with Mark and the Facebook team to deliver the very best virtual reality platform in the world. We believe virtual reality will be heavily defined by social experiences that connect people in magical, new ways. It is a transformative and disruptive technology, that enables the world to experience the impossible, and it's only just the beginning."
Oculus' headquarters will remain in Irvine, California, where the company will continue developing the Oculus Rift.
The two companies said the Facebook Oculus deal is expected to close in the second quarter of this year.
Oculus evolved rapidly in 18 months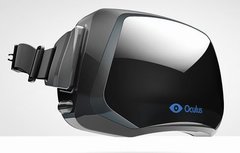 Oculus VR has come a long way since it started 18 months ago – from building foam core prototypes in a garage to an amazing community of talented and active developers. In the process, the company says it has defined what consumer virtual reality needs to become and what will be needed to get there.
A team of experts from the Facebook team went to visit Oculus a few months ago to see the latest demos and talk about working more closely together. Oculus wrote "As we talked more, we discovered the two teams shared an even deeper vision of creating a new platform for interaction that allows billions of people to connect in a way never before possible. Today, we're pleased to announce that we've joined forces with Facebook to create the best virtual reality platform in the world."
Some may wonder where the match between Facebook and Oculus is – one company is dedicated to connecting people, while the other focuses on immersive virtual reality technology. Oculus explains "When you consider it more carefully, we're culturally aligned with a focus on innovating and hiring the best and brightest; we believe communication drives new platforms; we want to contribute to a more open, connected world; and we both see virtual reality as the next step."
Oculus believes Facebook can see the potential for virtual reality. Oculus concluded:
"This partnership is one of the most important moments for virtual reality: it gives us the best shot at truly changing the world. It opens doors to new opportunities and partnerships, reduces risk on the manufacturing and work capital side, allows us to publish more made-for-VR content, and lets us focus on what we do best: solving hard engineering challenges and delivering the future of VR."
Why Facebook-Oculus and Not Microsoft-Oculus?
News on the Facebook Oculus deal has left many analysts and industry experts wondering why Facebook acquired a virtual reality headset and not companies like Microsoft. While the acquisition may provide Facebook with some long-term benefits, the advantages for tech companies would have been more immediate.
Eric Kain wrote in a Forbes blog that he is more concerned with what this deal means for video games – "..not just the type of video games we can expect on the Oculus now that a large social media company owns the technology, but also whether games will even be a priority on the device when all is said and done."
Microsoft has said it wants to get into the virtual reality space. For $2 billion, the company could have bought a proven technology, making it a serious competitor to Sony's Project Morpheus.
Developers unhappy with Facebook Oculus deal
The creator of the immensely-popular game Minecraft, Markus Persson, wrote in his blog today that he had been working on a version of the software for Oculus Rift, but will stop development after hearing about the Facebook turnover.
Persson says Facebook is not fundamentally a company of grass-roots tech enthusiasts, it is definitely not a game tech firm. It has a history of caring about accumulating user numbers and nothing else.
Developers have made games for Facebook platforms before which eventually changed completely when the company altered the platform to better fit the social experience.
Persson wrote:
"Don't get me wrong, VR is not bad for social. In fact, I think social could become one of the biggest applications of VR. Being able to sit in a virtual living room and see your friend's avatar? Business meetings? Virtual cinemas where you feel like you're actually watching the movie with your friend who is seven time zones away? But I don't want to work with social, I want to work with games."
---
Video – What is takeover?
When one company acquires another, we call it a takeover. When two same-sized companies get together and become one entity, we call it a merger.
---