The Eurozone March economic outlook is mixed, according to the Conference Board Leading Economic Index (LEI) for the Euro Area. The Index increased by 0.2% to 112 (2004=100), after rising by 0.1% in February and 1.4% in January.
The Conference Board LEI for the Eurozone increased by 2.9% (approx. 5.8% annual rate) over the six-month period ending in March 2014, the same rate as in the previous six months. According to the Conference Board "The strengths among the leading indicators have remained very widespread in recent months, with six of seven components advancing."
Strong euro and Ukraine crisis adding to uncertainty
Bert Colijn, senior economist at The Conference Board, said:
"The Euro Area LEI increased in March, but its pace of growth has recently slowed, suggesting that the recovery in the Euro Area is not likely to pick up substantially in the months ahead."
"The strong euro is beginning to affect European exports and drive deflationary concerns, while the evolving situation in Ukraine is adding to uncertainty about the growth outlook. Given these conditions, we expect economic growth in the Euro Area to only be around 1 percent for 2014."
The LEI's seven components are:
Yield Spread cumulated, 10 year minus policy rate. (Up in March)
Economic Sentiment Index. (Up in March)
Markit Purchasing Managers' Index (Manufacturing). (Down in March)
Markit Business Expectations Index (Services). (Up in March)
EURO STOXX Index. (Up in March)
Money Supply. (Down in March)
Residential Building Permits. (Down in March)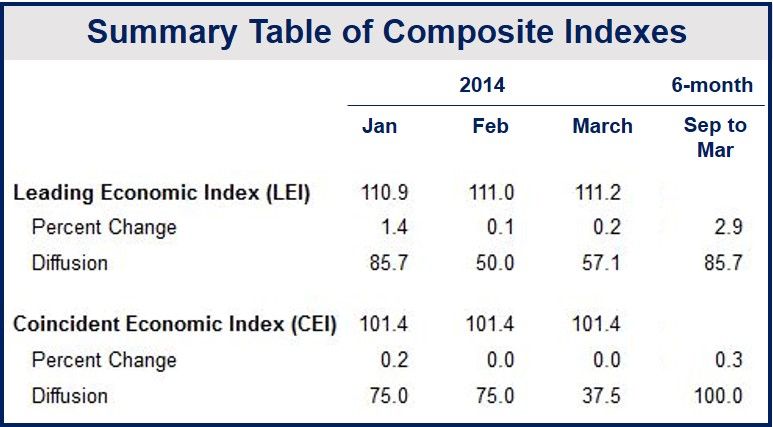 (Source: The Conference Board)
March Coincident Economic Index unchanged
The Conference Board CEI (Coincident Economic Index) for the Eurozone, however, remained unchanged in March compared to February. It remained unchanged in February too, and rose 0.2% in January. The CEI measures current economic activity.
From September 2013 to the end of March 2014 the CEI increased 0.3% (about 0.6% annually), compared to 0.2% during the previous six months. All CEI components have advanced in recent months. Real GDP grew by 0.9% (annually) in Q4 2013, after expanding by 0.6% in Q3 2013.
The CEI's four components are:
Employment. (Up in March)
Industrial Production. (No change)
Retail Trade. (Down in March)
Manufacturing Turnover. (No change)
With the LEI trending upward since June 2014, but slowing slightly in recent months, and the CEI improving slightly, the Conference Board forecasts moderate economic growth "which is unlikely to pick up" in the near term.
A major concern among economists regarding the Eurozone is the risk of deflation. In March annual inflation fell to 0.5% versus 0.7% in February, drifting further away from the European Central Bank's target of 2%.