According to an innovation economy forecast for 2014 by the Silicon Valley Bank, almost eight in every ten executives involved in the worldwide innovation sector say they plan to hire new employees. More than 90% say they are finding it hard to find suitable talent.
The new report, titled the Innovation Economy Outlook 2014, is based on the Bank's annual survey of over 1,200 executives from science and/or healthcare, cleantech, hardware and software companies; both startup firms and those in growth stages in the US, UK and other global innovation hubs.
Problems in obtaining equity capital
As well as forecasting healthy job creation, the study also detected widespread optimism, a desire to access international markets to expand sales, and difficulties in obtaining equity capital by some of the world's most innovative, high-growth firms.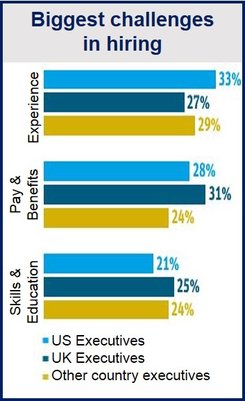 Source: Innovation Economy Outlook 2014.
Greg Becker, President and CEO of Silicon Valley Bank, said:
"Innovation is happening globally, and it is driving a rapid pace of new company formation, an international exchange of ideas and alternative sources of capital."
"We believe that the regions that build talent pools of motivated workers with relevant skills through education and appropriate policies have the chance to become destinations of choice for rapidly growing companies and high-quality, well-paying jobs."
Innovation economy forecast, some highlights
Below are some highlights from the study:
Performance – two-thirds of companies that responded either met or beat their 2013 revenue targets.
Optimism – 82% of respondents believe 2014 will be a better year than 2013, the highest optimism rate in five years.
Growth opportunities – Seventy-seven percent plan to expand their workforce; with a median growth rate of 30%.
Biggest challenges – access to equity capital, talent acquisition, and scaling operations.
Capital – 81% of respondents who managed to raise capital said it was "challenging". Outside the US, angel capital is the most common source of private capital. (Angel capital refers to capital from an affluent individual).
Globalization – 80% of firms based outside the US are already exporting.
Talent – getting the right people is difficult all over the world, but more so outside the US.