Did some Bank of England's officials know about alleged foreign exchange rate fixing? That is what UK lawmakers want to find out and will grill Mark Carney, the Governor of the country's central bank, today.
Regulators are investigating allegations that traders at major banks were involved in exchange rate fixing together in the $5.3 trillion-a-day market.
According to meeting minutes that emerged last Wednesday following a Freedom of Information request, from as early as 2006 Bank of England (BoE) officials were well aware of exchange rate fixing attempts; this was seven years before regulators started investigating.
Carney will appear before the cross-party Treasury Select Committee (Committee) to answer questions.
No evidence Bank of England knew about it
Although the BoE has stressed that according to an internal review there is absolutely no evidence linking its staff with foreign exchange fixing, a member of staff has been suspended over compliance issues. It said the employee is being investigated and "no decision has been taken on disciplinary action."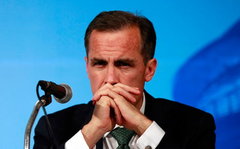 The Committee says it plans to interrogate BoE officials, including Carney, about exchange rate fixing and how involved the central bank's employees might have been.
The Committee will also question him about Scottish Independence and why he abandoned his "forward guidance" policy on interest rates. Carney introduced the guidance in August 2013, saying that the BoE would not shift from its 0.5% benchmark interest rate until unemployment went below 7%.
Did a BoE official know about currency market manipulation attempts?
According to the minutes, a senior BoE official had been told of attempts to move the market, as well as a meeting between foreign exchange dealers of several major banks with the official.
In an official statement the central bank said it does not tolerate market manipulation of any kind.
The potential scandal marks a major test of Carney's leadership after taking over less than twelve months ago and started overhauling the BoE's monetary policy, structure and communications regime.
This is the second fixing scandal the BoE faces, after the London interbank offered rate (LIBOR) manipulation controversy. MPs (members of parliament) had described its handling as 'naïve'.
Bloomberg quoted Simon Hart, a lawyer at RPC LLP, London, who said "The statement on the internal review is only an early staging post in what is likely to develop into a very significant issue. The statement left open as many questions as it answered. It was noticeably silent on what the Bank knew about other FX market participants."
BoE cannot be its own judge and jury
Labour MP and Treasury Committee member, Pat McFadden, says the UK's central bank cannot be its own judge and jury. He urges Carney to bring in "someone truly independent to oversee this process."
McFadden said "The committee is very concerned. We hope he understands what's at stake in terms of reputation."
Last week, the BoE said its Oversight Committee was leading an investigation into allegations of staff collusion in exchange rate fixing. Treasury Committee leader, Andrew Tyrie believes the Oversight Committee should have investigated earlier.