British explorer Henry Worsley (1960- 24 Jan, 2016), sadly died during his Antarctica crossing attempt after developing a serious infection. His wife, Joanna said she felt "heartbroken sadness [after he died of] complete organ failure" after being airlifted to hospital on Saturday suffering from what then appeared to be just exhaustion and dehydration.
When he was airlifted, he had been on day 71, and had completed 913 miles (1,469km) of his trek. At first it was thought he was just malnourished and dehydrated. The serious infection – bacterial peritonitis – was discovered while he was being treated at Union Glacier base camp.
Bacterial peritonitis is inflammation of the peritoneum, the thin layer of tissue that lines the inside of the abdomen (tummy). It is caused by an infection that can spread around the body extremely fast. The infection requires immediate treatment – it is a medical emergency.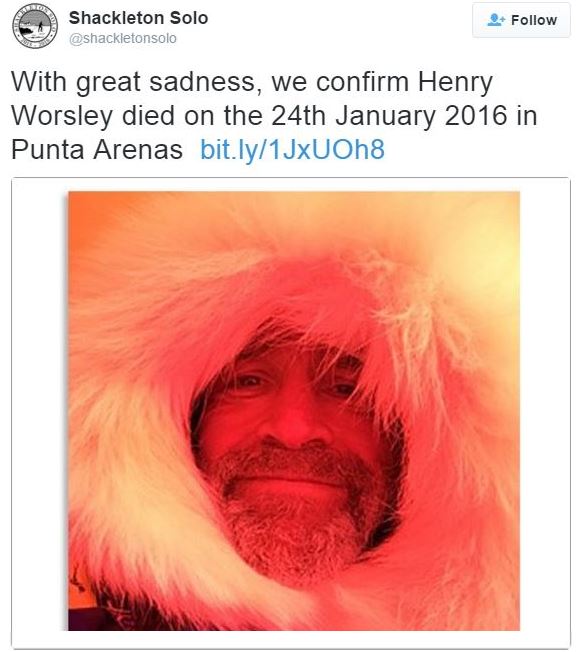 Henry Worseley, a brave and selfless man who spent his last days raising money for wounded soldiers. (Image: twitter.com/shackletonsolo)
He was flown to a hospital in Punta Arenas, the capital city of Chile's southernmost region, to undergo emergency surgery. Sadly, he died on Sunday.
The trek marked Sir Ernest Henry Shackleton's 100 anniversary
Lieutenant Colonel Worsley, who was an officer in the British army, was trying to complete the unfinished journey of Sir Ernest Henry Shackleton (1874 – 1922) exactly one hundred years later.
---
---
However, in a poignant last audio message posted online on Friday (watch video at bottom of page), Worsley said:
"My summit is just out of reach. When my hero, Ernest Shackleton, was 97 miles from the South Pole on the morning of January the 9th 1909, he said he'd shot his bolt."
"Well, today I have to inform you with some sadness that I too have shot my bolt."
According to Worsley, he had to end his journey because he lost the ability to "slide one ski in front of the other." He then said he would lick his wounds, which over time would heal, and he'd come to terms with the disappointment.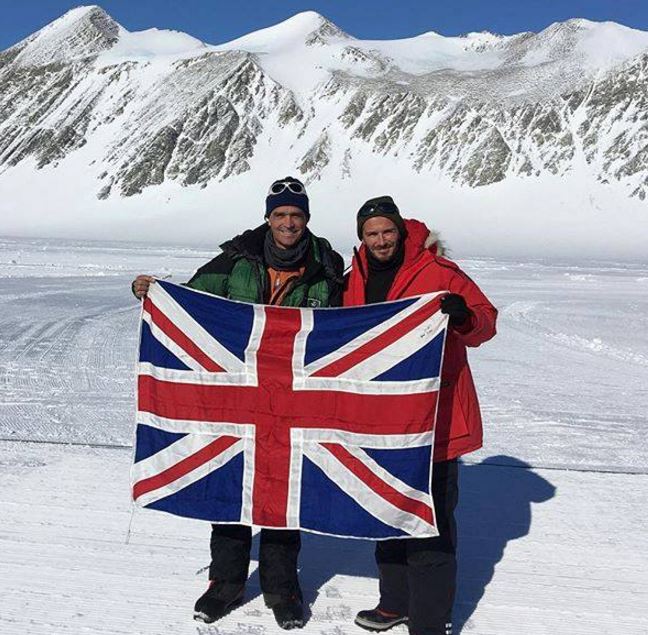 Henry Worseley and David Beckham. Beckham said "No words can describe the sadness of the loss of Henry Worsley. I was lucky enough to have met Henry on my way out to the Antarctic. I asked if I could use his Union Jack for a picture, he kindly leant it to me and I could feel how special this was to him." (Image: facebook.com/Beckham)
In a voice weak with exhaustion, Worsley said he was looking forward to a piece of cake and a cup of tea, and had resolved to "gather my thoughts in a final message in the coming days."
His spirits had been lifted by the generosity of so many members of the public over the last two months, he said, describing the support as 'incredible'.
Joanna Worsley said:
"On behalf of myself and family I wish to thank the many hundreds of you who have shown unfailing support to Henry throughout his courageous final challenge"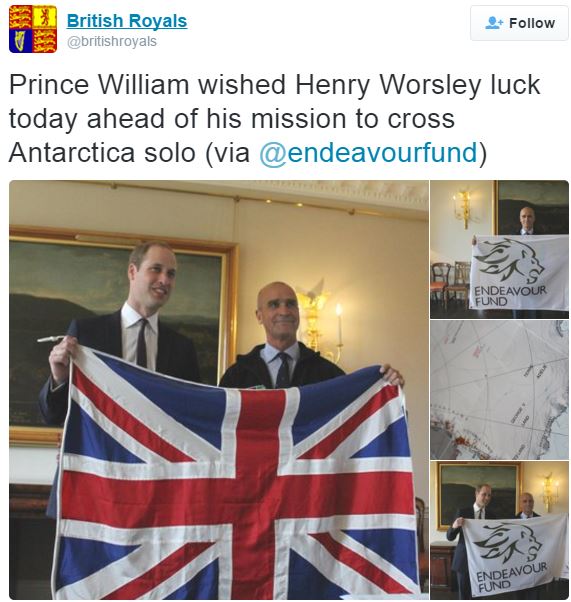 Prince William and Henry Worsley in October 2015, shortly before he attempted to cross the Antarctic, unaided, on foot. (Image: twitter.com/britishroyals)
Raising money for wounded soldiers
His attempted crossing was raising money for a charity that helps wounded servicemen and women – The Endeavour Fund – and is managed by the Royal Foundation of the Duke and Duchess of Cambridge and Prince Harry.
The expedition had raised in excess of £100,000 when Worsley's death was announced. Since then, the total raised has jumped to £150,000.
Harry Holt, Chairman of the Endeavour Fund, said:
"We are devastated by the loss of Henry Worsley. The Endeavour Fund is very proud to have been associated with Henry's tremendous achievements but we mourn his sacrifice. Our thoughts and prayers are with his family and friends in this dark hour."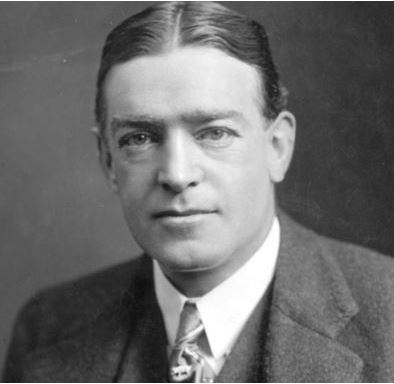 Worsley's hero, Sir Ernest Henry Shackleton (1874-1922), was a polar explorer who led three British expeditions to the Antarctic. He was one of the major figures of the period known as the Heroic Age of Antarctic Exploration. (Image: biography.com)
Tributes pour in
Prince William led the tributes to Mr. Worsley, saying he and Harry had lost a friend, and described his 'selfless commitment' to fellow soldiers.
Prince William said:
"Harry and I are very sad to hear of the loss of Henry Worsley. He was a man who showed great courage and determination and we are incredibly proud to be associated with him."
"Even after retiring from the Army, Henry continued to show selfless commitment to his fellow servicemen and women, by undertaking this extraordinary Shackleton solo expedition on their behalf."
"We have lost a friend, but he will remain a source of inspiration to us all, especially those who will benefit from his support to the Endeavour Fund. We will now make sure that his family receive the support they need at this terribly difficult time."
In an interview with the BBC, polar explorer Pen Hadow said that by going on his own with no resupply, Mr. Worsley had embarked on the "hardest form of travel quite possibly on the surface of the earth."
In his last statement sent from Antarctica, Mr. Worsley explained why he had set out across the ice and in doing so, demonstrated his own values of selfless commitment and courage:
"I set out on this journey to attempt the first solo unsupported crossing of the Antarctic landmass, a feat of endurance never before achieved. But more importantly, to raise support for The Endeavour Fund, to assist wounded soldiers in their rehabilitation."
"Having been a career soldier for 36 years and recently retired, it has been a way of giving back to those far less fortunate than me."
"The 71 days alone on the Antarctic with over 900 statute miles covered and a gradual grinding down of my physical endurance finally took its toll today, and it is with sadness that I report it is journey's end – so close to my goal."
BBC Video – Henry Worsley's poignant final message
Part of the final audio message from the British explorer Henry Worsley, who died from bacterial peritonitis during an attempt to cross Antarctica unaided.