ExxonMobil's first quarter results beat forecasts handsomely as demand for natural gas increased significantly during the abnormally cold winter in North America and pushed up prices.
ExxonMobil's natural gas sale price increased by 49% during the winter, partly making up for a fall in world production. Not only did prices rise in the US, but across the world as well.
Q1 2014 earnings were $9.1 billion, or $2.10 per share, four percent less than Q1 2013's $9.5 billion, or $2.12 per share. According to Reuters, analysts had predicted $1.88 per share.
Oil production down
Oil-equivalent production declined by 5.6% compared to the same quarter last year, and fell by 2.9% excluding the impact of the expiry of the Abu Dhabi onshore concession.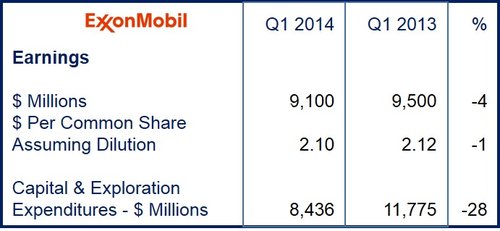 Despite poorer results, ExxonMobile beat market expectations.
Upstream earnings, i.e. profits from exploration and production (no refining and processing) came in at $7.8 billion.
Downstream earnings, i.e. profits from refining and processing, fell by $732 million to $813 million. According to the company, downstream earning fell because of weaker margins in refining.
An oil barge spill at ExxonMobil's Houston Ship Channel in March caused the Bayton, Texas refinery to cut production, resulting in narrower margins in both its refining and chemicals units.
Ukraine-Russia crisis?
ExxonMobil, the largest publicly traded international oil and gas company in the world, is building an LNG (liquefied natural gas) plant on the Russian eastern coast along with Russia's state-controlled oil company Rosnet. The plant is expected to be online within the next five years.
Exxon executives have said the project will not be affected by the Ukrainian crisis. However, no mention was made of this in the company's quarterly report.
On the company's overal Q1 2014 performance, ExxonMobil Chairman Rex W. Tillerson commented:
"ExxonMobil's first quarter earnings and cash flow reflect the company's continuing focus on delivering profitable growth and creating long-term shareholder value. Strong performance in the Upstream benefited from improved production mix and increased unit profitability. First quarter 2014 earnings were $9.1 billion, down 4 percent from the first quarter of 2013. Upstream earnings were $7.8 billion, up 11 percent from the previous year."
"Capital and exploration expenditures for the first quarter were $8.4 billion, down 28 percent from the first quarter of 2013. The Corporation distributed $5.7 billion to shareholders in the first quarter through dividends and share purchases to reduce shares outstanding."