Mark Zuckerberg appears to be seriously considering adding a 'dislike' feature to Facebook.
The 'Like' button was first introduced in 2009 and when it first launched the company received a number of requests to add a 'Dislike' button as well.
In the most recent Facebook Q&A session at Menslo Park, California, Zuckerberg said that he would like to a roll out a number of new features that will allow users to express a wide range of emotions. Adding that the inclusion of a 'dislike' button has been an "important area of discussion".
The 'dislike' button is the most requested feature to be added to Facebook among users. However, there are a number of reasons why it hasn't been added yet, with concerns among advertisers in addition to the possibility that it could end up being used to demean people on the social networking site.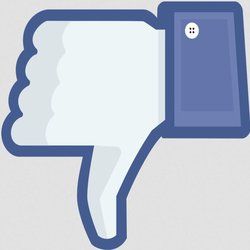 Facebook could come up with something similar to a 'dislike' button but use a different name.
According to Facebook, over 4.5 billion "likes" are generated every day.
Mark Zuckerberg told an audience at Facebook's headquarters:
"One of things we've thought about for quite a while is what's the right way to make it so that people can easily express a broader range of emotions,"
"A lot of times people share things on Facebook that are sad moments in their lives. Often people tell us that they don't feel comfortable pressing 'like' because 'like' isn't the appropriate sentiment.
"Some people have asked for a dislike button because they want to say, 'That thing isn't good.' That's not something that we think is good for the world.
"The thing that I think is very valuable is that there are more sentiments that people want to express."
Would Facebook advertisers be on board with a 'dislike' button? 
Paul Coggins, chief executive of ad firm Adludio, told the BBC that one of Facebook's biggest concerns is revenue.
Mr. Coggins said:
"They need to keep their advertisers happy. I would think it highly unlikely that they would come up with a button that says you can 'dislike'.
"I think they will extend the success of the like button, which has been huge. Rather than have a quick yes-no, which is a bit black and white, my guess is that they'll probably look to do something with a bit more sentiment around it."