Facebook will probably have to pay a $5bn fine to settle a probe into data privacy violations. The FTC has approved the amount. FTC stands for Federal Trade Commission; it is an independent US Government agency. Its main mission is to promote consumer protection and prevent or eliminate anticompetitive practices.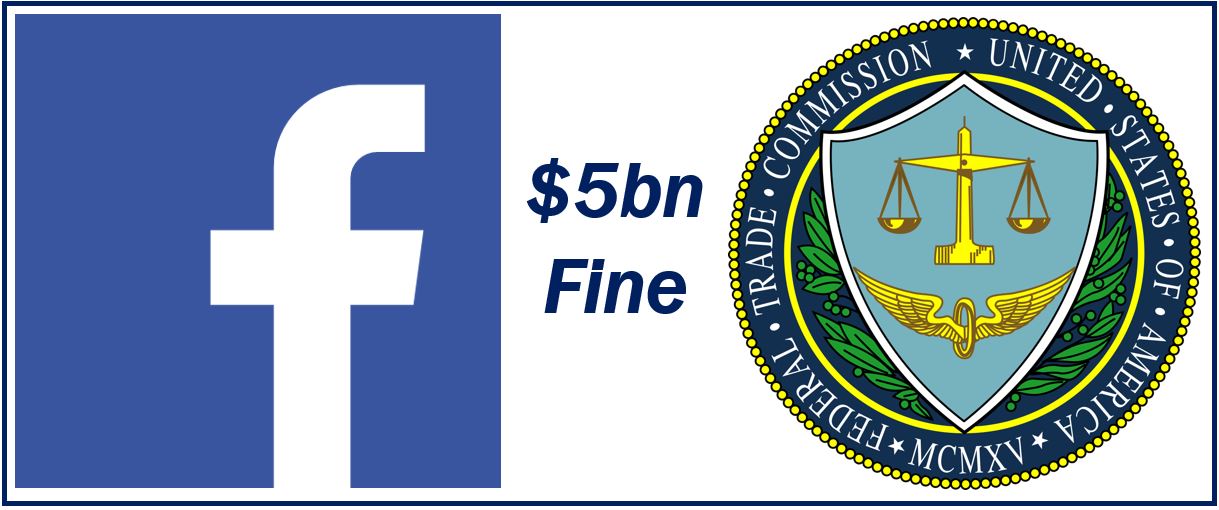 The FTC had been investigating allegations that Cambridge Analytica improperly gathered data on approximately eighty-seven million Facebook users. In a majority 3-to-2 vote, the FTC approved the settlement.
The Republican commissioners voted in favor of the $5bn fine while their Democratic counterparts voted against the settlement.
Cambridge Analytica became defunct on 1st May 2018. It was a London-based political consulting firm which combined data brokerage, data mining, and data analysis with strategic communication.
Facebook investigation began in 2018
The FTC started its investigation of Facebook in March 2018. The consumer protection agency had received allegations that Cambridge Analytica collected and analyzed the data for several million Facebook users.
The FTC tried to determine whether Facebook had violated a 2011 agreement. Under that agreement, the social media platform giant had to clearly notify its users regarding sharing their data. In other words, accessing Facebook users' data could only happen with their 'express consent.'
Fine inadequate, say Democrats
Most Democratic politicians want stricter limits on Facebook. They also believe that the $5bn fine is too low.
US Senator for Virginia, Mark Warner, a Democratic Party member, said:
"With the FTC either unable or unwilling to put in place reasonable guardrails to ensure that user privacy and data are protected, it's time for Congress to act."
The civil division of the US Justice Department needs to finalize the settlement. According to BBC News, nobody knows how long this might take.
Facebook can absorb $5bn fine easily
Facebook told investors earlier this year to expect a hefty fine. It put aside enough money to pay for the current settlement amount.
However, further measures may be put in place limiting what the company can do. They may be, for example, greater privacy oversight.
Critics say that Facebook may see the fine and think it got away with it. In other words, the company may not see the amount as a deterrent.
US Senator for Connecticut, Richard Blumenthal, a Democratic Party member, said:
"Rather than deter misconduct, the signal here is that the fines or monetary penalties will be a fraction of what they should be. There is no reason for optimism, let alone confidence, that the structural or conduct reforms will be strong enough to really change Facebook's ongoing practices."