Thanks to a surge in adverts on mobile devices, Facebook Q2 revenue jumped 67% to $2.68 billion while profit more than doubled to $791 million, compared to $333 million in Q2 2013. Ads on mobile devices accounted for virtually nothing two years ago, compared to 62% in the second quarter.
Investors celebrated by pushing the company's share price to a record high yesterday in after-hours trading.
Together with rapidly rising revenue and profit, the company also reported a steep increase in costs. Expenses grew 22% in one year to $1.52 billion. Facebook warns that spending will be high< for several years.
Facebook, which is based in Menlo Park, California, posted a GAAP operating margin of 48% in Q2 2014, versus 31% in the same quarter last year.
Mark Zuckerberg, Facebook's CEO and founder, said in a statement yesterday:
"We had a good second quarter. Our community has continued to grow, and we see a lot of opportunity ahead as we connect the rest of the world."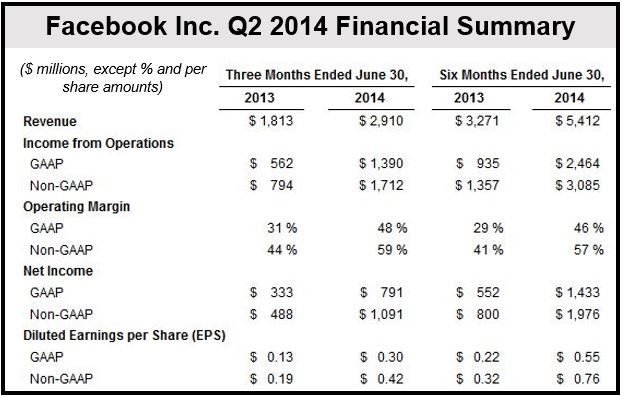 (Source: Facebook Inc.)
Below are some highlighted Q2 2014 data:
In June 2014, there were an average of 829 million daily active users (DAUs), nineteen percent more than in June 2013,
there were 654 million daily mobile DAUs in June 2014, 39% more than in June last year,
there were 1.32 billion MAUs (monthly active users) as from June 30, 2014, fourteen percent more than on June 30, 2013,
on June 30, 2014, there were 1.07 billion mobile MAUs, 31% more than one year ago.
revenue in Q2 2014 was $2.91 billion, sixty-one percent more than $1.81 billion posted in Q2 2013,
purely advertising revenue increased by 67% to $2.68 billion from the same quarter in 2013,
in Q2 2014, mobile advertising accounted for about 62% of ad revenue, compared to 41% in Q2 2013,
revenue from other sources in Q2 2014 was $234 million, nine percent more than in Q2 2013.
Facebook and the mobile ad market
It was only two years ago, around the time of its IPO (initial public offering), that Facebook started placing ads on its mobile site. Today, this massive market is the scene of a fierce battle between Google and the social networking giant.
eMarketer predicts that Facebook will capture approximately 18% of the US mobile ad market in 2014. A market which will have risen in value by 9% to $17.7 billion this year compared to 2013.
Although Google will remain the dominant mobile ad player, its market share is expected to drop from 49.8% at the end of 2013 to less than forty percent by the end of this year.
The Wall Street Journal quotes Mark Mahaney, an analyst for RBC Capital Markets, who said in an interview "What Facebook has done with mobile is one of the most impressive things I've seen an Internet company do in recent years." He added, however, that Google remains the mega monster in the industry and "might be only beginning to assert itself on the platform."
High Facebook spending for years to come
Mr. Zuckerberg warned in a conference call with investors that Facebook will undergo a period of high spending that could last several years before seeing any returns. Investments will pour into newer services such as virtual reality and private messaging.
Mr. Zuckerberg said:
"We think it is going to be years of work before those are huge businesses for us. I really can't underscore this enough that we have a lot of work to do. We could take the cheap and easy approach and put ads in and do payments and make money in the short-term, but we're not going to do that."
Facebook has just closed the $2 billion purchase of Oculus VR, the maker of virtual reality headsets. Earlier this year it reached an agreement to acquire WhatsApp, a leading text messaging app, for $19 billion. These are just two examples of huge long-term investments Facebook has made this year.
In an interview with the New York Times, BTIG Research analyst Richard Greenfield said he believes investors will be patient. "They are clearly focusing on the quality of the creative, getting more into video, doing things like Instagram ads, that have real emotional connection with users. I think they're just trying to temper expectations so that expectations don't get ahead of themselves," he added.
Video – Facebook 2nd quarter results