Facebook revenue increased by 63%, reaching $2.6 billion in the fourth quarter of 2013, while profits jumped to $523 million compared to just $64 million in Q4 2012.
In after-hours trading, Facebook shares rose by more than 10% on the news.
Facebook revenue was boosted mainly by much stronger mobile ad sales, something Mark Zuckerberg, the company's founder and CEO, had made a top priority.
Sales from advertising rose by 76% in Q4 2013, compared to Q4 2012, with mobile ads accounting for over half of the total. Two years ago the company had no mobile ad revenue.
Facebook's advertising outlook has changed completely
More than 90% of Facebook's revenue comes from advertising sales.
Not that long ago, investors were uncertain whether Facebook could make money on mobile ads during its May 2012 IPO (initial public offering).
Now, it is hard to imagine that communications and mobile computing were once seen as a major problem for the company.
As of December 2013, Facebook has 757 million daily global users overall, the company reported profits of $1.5 billion for the whole of 2013, with daily active users growing by 22% over the 12-month period.
Zuckerberg said:
"It was a great end to the year for Facebook. We're looking forward to our next decade and to helping connect the rest of the world."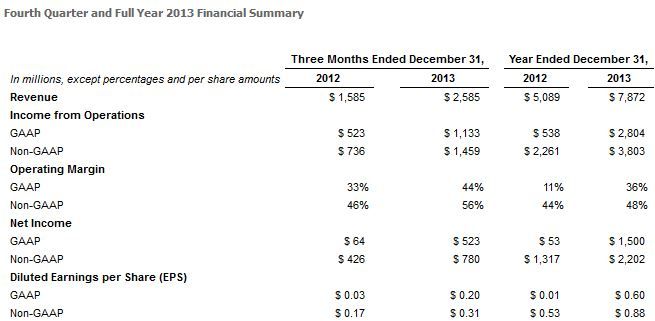 (Source: Facebook)
Facebook's tenth birthday
Next Tuesday, February 4th, Facebook is 10 years old. The business that was started in Zuckerberg's student room at Harvard University with fellow students Eduardo Saverin, Andrew McCollum, Dustin Moskovitz and Chris Hughes, has become a global giant today with 1.23 billion users.
Facebook has a 16% market share of US mobile ad spending, compared to 9% one year ago. In the $117.6 billion per year digital advertising market worldwide, Google leads with a 32.4% share, followed by Facebook, which overtook Yahoo last year for the second spot.
Zuckerberg admits that the quality of some of Facebook's advertising needs to improve, but he added that a growing number of users are reporting a positive experience with its ads, and many find them useful
In an interview with Reuters Sheryl Sandberg, Chief Operating Office for Facebook, said "The mobile shift is happening and it's working really well for Facebook."
Nanigans, Facebook's ad firm, says Facebook's advertising prices rose by both click and impression rates during the last quarter. Revenue per click rose from an average of $1.05 in Q3 2013 to $1.80 in Q4 2013.
Yesterday Yahoo reported a decline in revenue for Q4 2013, the company's fourth successive quarterly fall. In after-hours trading shares were down 5.8%. Income from display ads declined 6% in the quarter compared to Q4 2012.