There is a threat to safety at the Fallowfield level crossing, a Transport investigator has warned the City of Ottawa. John Valencik, a Transport Canada Railway Safety Inspector said "a threat to safe railway operations exists."
Mr. Valencik's warning comes soon after a near-miss collision between an oncoming VIA Rail train at Fallowfield Road and an OC Transpo bus.
The double-decker bus stopped in the middle of where the road and railway lines intersect, with the crossing gate resting on its roof.
In a letter to Transit General Manager John Manconi, Mr. Valencik wrote:
"When a railway crossing warning system is activated, the danger of stopping under the railway crossing gate arms puts the road users at a threat of coming into contact with an approaching train."
The bus had been traveling during a morning commute in Barrhaven. It was moving eastward on Fallowfield Road where the level rail crossing is protected by traffic lights, arms and rail signals.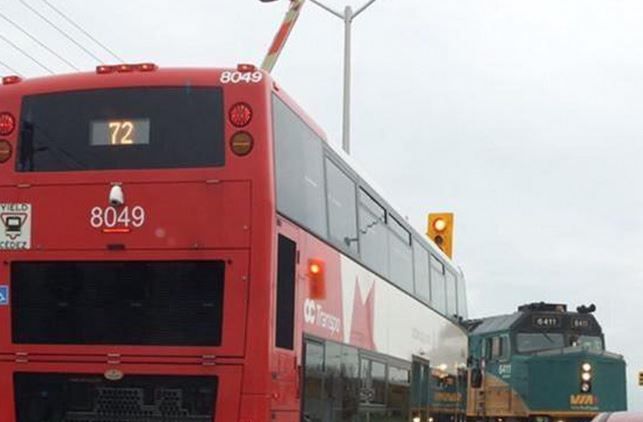 The gate rested on the roof of the number 72 double-decker bus (Photo: Twitter/Ottawa Citizen).
Mr. Manconi said the bus was behind a cube van and another bus in a queue at the red light when it turned green. As the front of the queue proceeded over the tracks the traffic light turned yellow and the bus stopped approximately fifteen feet from the tracks. However, it was behind the stop line.
While stationary behind the stop line the signal arm came down and hit the roof of the bus as a train was approaching.
Mr. Manconi said "He (the bus driver) absolutely made the right decision."
The City of Ottawa has been given until November 21 to put forward changes that would make the Fallowfield crossing safer.
According to City manager Kent Kirkpatrick, the bus company is now carrying out a comprehensive review of procedures and directives to drivers approaching railway crossings.
The Ottawa bus-train crash
In September 2013, a fatal collision occurred in the same place with a bus taking the same route as the one last Thursday.
The collision last year killed six people.
Five people, including the bus driver, died at the scene of the accident, and one died later in hospital.
Thirty-five bus passengers were injured, five of them seriously. Nobody on the train was hurt.