Two Tory newspapers, the Telegraph and Mail, say Nigel Farage, head of the anti-EU party UKIP, is set to lose his South Thanet seat and his lieutenants are waiting in the sidelines like vultures ready to replace him if he has to step down.
The two newspapers, one a tabloid and the other a broadsheet, whose articles often sound more UKIPesque than Conservative, must be glad of some news to report-on that creates space between the two parties and allows them to clearly show their readers where they stand.
According to the Telegraph, Diane James, one of four UKIP Members of the European Parliament for South East England, admitted that Mr. Farage risks losing his South Thanet seat in May's general elections. She used a radio interview to speculate who might succeed him.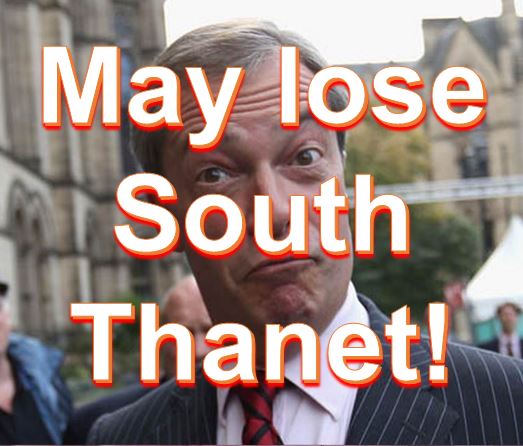 If Mr. Farage loses South Thanet, there are plenty of contenders waiting in the sidelines to lead UKIP, says Ms. Diane James.
Nine point slide in one month
According to a ComRes poll commissioned by UKIP donor Aaron Banks, Mr. Farage trails the Tories by one percentage point in South Thanet, and is only ahead of Labour by one point. If this latest opinion survey were translated into a general election result, it would mean a nine percentage point decline in one month for Mr. Farage, and a four and ten point gain for Labour and Tories respectively.
Mr. Farage, who says it would be impossible for him to lead his party if he were not elected to Parliament, has pledged to step down as leader if he loses his seat.
Despite Mr. Farage insisting that UKIP is not a 'one-man band', the party sent an email to its younger members yesterday warning that UKIP's survival depended on winning South Thanet.
Nigel must win or else, UKIP tells members
The email to Young Independence, the youth-wing of UKIP, said:
"This is it. The longevity of this party and thus the hopes, dreams, and aspirations of millions hinges on Nigel winning this seat."
"The man has been fighting for over 25 years to see Britain withdraw from the EU; around half of his life and since before most people reading this were even born. We cannot let him fall now."
During an interview in the BBC Radio 5 Live's John Peinaar show, Ms. James said regarding the latest poll:
"Nigel stated categorically a few weeks ago that if he were not elected to the House of 'Commons, he would stand down. That's a fact. He has made that statement."
Ms. James insisted that if Mr. Farage lost his seat it would not be a set-back for UKIP, adding that there are many who could take his place, including Paul Nuttal, Patrick O'Flynn and Suzanne Evans. "When the leadership race is announced, I'm sure individuals will put their hats into the ring," she added.
Some may have been surprised that she did not include two UKIP sitting MPs – Mark rechless and Douglass Carsell – in her list of possible contenders for UKIP leadership should Mr. Farage have to step down.
The Mail on Sunday accused Mr. Farage of 'burying' the poll. The Mail quotes UKIP officials who described it as a 'rogue poll' because it included individuals who are unlikely to vote.
The pollster ComRes says UKIPs comment is 'plainly wrong', insisting the survey was carried out to the "highest standards and ComRes stands firmly by its methodology."
According to the Mail, "Farage was so alarmed he gave orders for the findings to be hushed up to avoid causing panic in Ukip ranks – and encouraging his rivals."
UKIP won the European elections last year with an incredible 27.5% of the vote, versus the Conservatives' 24%. However, nationally, the anti-EU party has now fallen to 14%, while the Tories have increased to about 34%.
Sky Video – Is UKIP pro- or anti-austerity?
Senior UKIP spokesman speaks to Sky's Dermot Murnaghan about the party's policies, joining a Conservative-led coalition and Nigel Farage's comments on the NHS.