Japanese industrial production dropped 2.3% in February, according to figures published today by the Ministry of Economy, Trade and Industry (METI), the first decrease in three months. February's output was 6.9% higher than in February 2013.
The following industries contributed to the output fall (in order):
General-purpose, production and business oriented machinery.
Information and communication electronics equipment.
The following commodities contributed to the output fall (in order):
Large passengers automobiles.
Drive, transmission and control parts.
With an economy losing steam and an impending sales tax hike, analysts are predicting that the Bank of Japan will inject more stimulus into the economy to make sure the recovery does not lose momentum.
Manufacturing expected to rise in March, fall in April
In the Ministry's Survey of Production Forecast in Manufacturing, output is expected to rise 0.9% in March and fall 0.6% in April.

(Source: METI)
The surprising fall in February Japanese industrial production will fuel concern among economists that the world's third-largest economy is slowing down and that Prime Minister Shinzo Abe's economic plan – Abenomics – has not worked.
In April this year sales tax (VAT) in Japan will rise from 5% to 8%. Most analysts had expected a first quarter boost in industrial production as consumers race to purchase products before the tax increase.
Japan has an extremely large and growing debt load – its public debt is a staggering 240% of GDP (gross domestic product) – the sales tax hike is aimed at bringing down the debt.
The Japanese government has a target of 2% annual inflation. When that is achieved it will be seen as a sign that the country has won its battle against falling prices (deflation). An expected March boost in spending ahead of the tax hike had been expected, which would have pushed up prices.
Markit/JMMA Manufacturing PMI growth in March
In a separate report from Markit/JMMA, Japanese manufacturing companies reported their 13-consecutive month of increases in March. However, output grew at a slower rate in comparison to February than in previous months.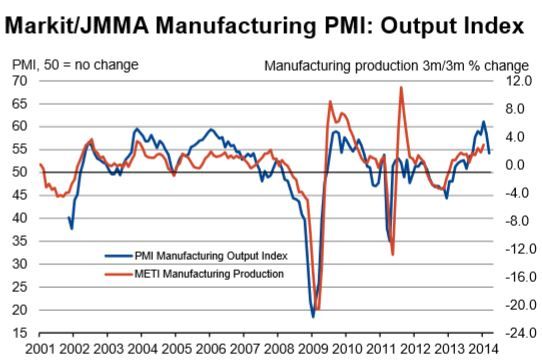 (Source: Markit/JMMA)
Similar trends were reported for purchasing activity, employment and new orders. Output prices fell marginally while input prices carried on rising, and suppliers' delivery times "lengthened to the greatest extent since December 2011."
The headline Markit/JMMA PMI (Purchasing Managers' Index) posted at 53.9 in March, compared to 55.5 in February. Business conditions improved at their slowest pace since September 2012.
Rising pessimism regarding Japan's economy
A growing number of economists have becoming pessimistic about Japan's economic outlook, pointing out that a series of soft data point to a slowing economy.
In an interview with Reuters, Norio Miyagawa, a senior economist at Mizuho Securities Research & Consulting Co., said "Companies are curbing production to keep inventories low because they are worried about demand after the sales tax hike. This suggests the economy may not rebound quickly, and the burden may fall on the BOJ as the government has already committed to fiscal stimulus spending."
In February, the Japanese trade deficit shrank to $7.9 billion (¥800 billion), its lowest level in 9 months.
Written by [google_authorship]