The percentage of female pilots is very low and growing only slowly, according to an organization that analyzes aviation trends.
The Centre for Aviation (CAPA) say that they are not encouraged by trends on women in airline management.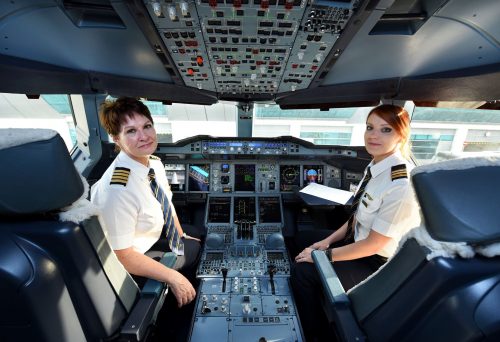 They declare in a recent report that "aviation still has a long way to go in pilot gender equality."
No accurate global figures
Not all countries and airlines publish the number of female pilots that they have, so it is difficult to arrive at accurate global figures.
The proportion of airline female pilots in the United States and the United Kingdom is about 4 percent. CAPA say that while the figure is growing, it is only doing so "very slowly."
The International Society of Women Airline Pilots (ISWAP) collect information on numbers of female pilots in different airlines and release them in a public document on their website.
The figures for July 2018 show that for 79 airlines worldwide, the number of female pilots is 7,468, which is 5.2 percent of the total.
CAPA suggest that this is unlikely to reflect the real global average. They argue that since it is higher than the 4 percent for the U.S. and the U.K., there could be some "self-selecting" going on, implying that airlines with low ratios of female pilots will be less likely to volunteer that information.
Male-dominated profession
However, even assuming that the actual global figure is about 5.2 percent, it reveals that airline piloting is a male-dominated profession. It is on a par, for instance, with firefighting and seafaring.
According to ISWAP, the three airlines with the highest number of female pilots are all in the U.S. These are:
– United Airlines (940 female pilots, or 7.4 percent of a total of 12,693)
– Delta Air Lines (692, or 4.7 percent of 14,686)
– American Airlines (626, or 4.2 percent of 14,912)
But the airline with the highest proportion of female pilots is IndiGo, India's largest low-cost airline in terms of numbers of passengers and aircraft. 13.9 percent (322 out of a total of 2,322) of IndiGo's airline pilots are women.
Career barriers for female pilots
Airline piloting is a career choice that requires a firm grounding in STEM (science, technology, engineering and mathematics) education.
These days, "more girls than ever" are pursuing and achieving high grades in science and mathematics.
But this increase is not reflected in STEM-based careers such as engineering and computing. This has been described as a "deeply rooted" social problem that should be addressed by policymakers, employers, and educators taking steps to reduce stereotyping and gender bias in recruitment and selection.
In a survey that they conducted in 2014, British Airways found that of the 2,000 women that they asked, 63 percent cited lack of female role models as a reason for not choosing a career as an airline pilot.
One in five of the survey respondents also mentioned that, when they were growing up, they never saw female pilots in films and on the TV. And one in 10 said that they had been told that "it was a man's job."
This was the message that Sabeena Yosuf, who is a captain with British Midland Airways (BMI), heard when she was a girl. She told the Guardian newspaper that a careers advisor had suggested to her that she should consider a different career path when she had said that she wanted to become a pilot.
Another barrier that might put young women off a career as a commercial pilot is financing. It costs between £40,000 and £120,000 ($51,000 – $153,000), depending on the type of training and the flight school. And most airlines currently expect the student to pay for it.
Sara Sigurdardottir, president of the Austrian Cockpit Association, told the European Cockpit Association earlier this year that: "From the age of 18, I had huge loans on my back and for years I calculated everything I spent as lost flight hours."
Initiatives to increase female pilots
There are airlines that readily acknowledge the fact that they have too few female pilots and have put in place programs to increase them.
A typical example is EasyJet, who say that only 5 percent of their 2,600 pilots are female.
The proportion of females joining the British low-cost carrier as new pilots is nearer 6 percent. They say that they plan to double this to 12 percent over 2 years with various initiatives intended to attract more female recruits.
These initiatives include raising awareness in schools through visits and presentations by pilots and airline managers, working with training providers to attract more female entrants to their cadet program, and enhancing mentoring for female pilots.
In addition, the airline is underwriting loans to the tune of around £100,000 for up to 10 pilot training places every year for female students.
Video – Female Royal Air Maroc officers
The following short video by JustPlanes features highlights of a Royal Air Maroc round trip flight from Casablanca to New York.
The two female pilots of the Boeing 787 Dreamliner are captain Bouchra Bernoussi and first officer Jihane Bidass.
They discuss the aircraft, the route, the flight, weather conditions, and information on departure and approach. They also touch on how they became pilots.