Victoria, a female polar bear, has been brought to Highland Wildlife Park in Scotland to join resident males Arktos and Walker, where zoologists hope the pitter-patter sound of polar bear cub paws will soon be heard.
Victoria, who was born on 12 December 1996 at Rostock Zoo in Germany, was flown in from Aalborg Zoo in Denmark where she had been living.
Head of Living Collections at Highland Wildlife Park, Douglas Richardson, said:
"We are delighted to welcome a female polar bear to the Highlands. Victoria will need to settle in, but visitors should be able to meet our new arrival in a couple of weeks. Her enclosure is completely separate to Walker and Arktos, as male and female polar bears live separately in the wild."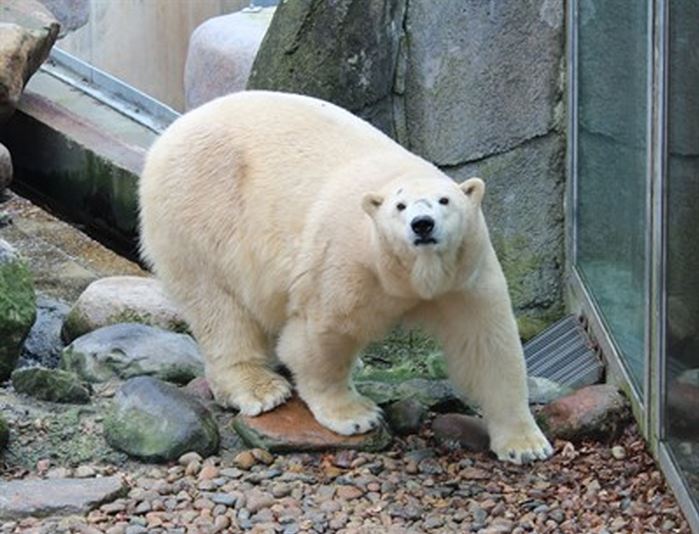 Victoria at her new enclosure. (Image: Highland Wildlife Park)
"During the polar bear breeding season, which generally falls between March and May, we will gradually introduce her to Arktos and the two will stay together until the two hopefully mate, when the male will be returned to the bachelor enclosure."
Victoria will live in a large enclosure, featuring a big pond and plenty of natural ground for her to roam around in and explore.
Next door, there is a smaller holding enclosure, also with its own pool, that will initially house the male suitor until the signs indicate that the time is right for introduction.
Mr. Richardson said:
"This extra enclosure allows us to also use a visiting male from another zoo, should the breeding programme recommend it, and we are not aware of any other polar bear breeding facility that has this degree of flexibility."
New enclosure design
According to Highland Wildlife Park experts, it has been several years since a polar bear was born in the UK. They hope their novel approach to enclosure design and the correspondingly unique husbandry regime will encourage the bears to breed.
Mr. Richardson added:
"The birth and rearing of polar bears cubs will be of real value to the regional breeding programme, help to highlight the plight of polar bears in the wild, and will be incredibly positive for Highland Wildlife Park."
The Royal Zoological Society of Scotland claims to have a history of designing state-of-the-art enclosures for polar bears that meet their needs to the "highest level possible".
In September 2014, sixty military personnel – from 71 Engineer Regiment and the South Dakota National Guard – came to the Highlands to help the Park's Works Team build the visitor access to Victoria's new enclosure. They built a 984 foot (300 metre) walkway out to the one hectare enclosure on the south west side of the Park.
According to Park authorities ""The project has been a massive undertaking and included work on four separate construction areas, digging in over 200 posts by hand that were up to six metres high."
Victoria is already a mother
Victoria has given birth before. In 2008, her cub 'Milak' became an online sensation when hundreds of thousands of enthusiasts from 75 nations followed the early days of the cub's life inside the maternity den.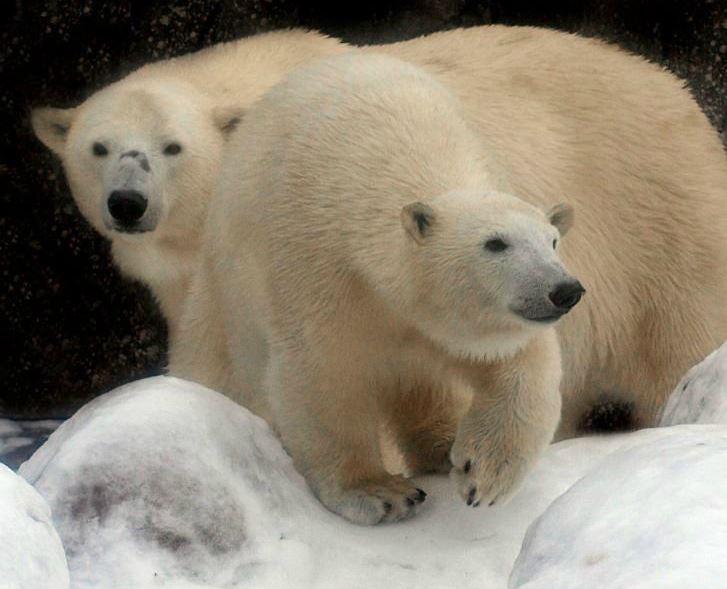 Victoria and her cub Milak. (Image: Aalborg Zoo)
Thanks to webcams, people were able to observe what life was like for a polar bear mother and her newborn.
When Milak reached the natural dispersal age in December 2014, he was flown to Zoo Saint-Félicien in Quebec, Canada, as part of an exchange to enhance Canada's captive polar bear programme.
The last female polar bear to live in Britain was Mercedes, who died in April 2011 at the grand old age of (about) 30.
Highland Wildlife Park wrote:
"The Royal Zoological Society of Scotland, alongside a generous benefactor, saved Mercedes from certain death in Canada in the early 80s when she came to live at Edinburgh Zoo, before later in life moving to live in the radically different enclosure at Highland Wildlife Park where she was eventually joined by the young Walker."
Members of the public will be able to meet Victoria in early April.
Video – Polar bears at Highland Wildlife Park
This video, released by Highland Wildlife Park on International Polar Bear Day (Feb 27, 2015), shows Walker and Arktos enjoying the recent snows. It was filmed by Park visitor John Monks.