What is an app or application? Definition an examples
An app or mobile app is an application, i.e., computer software application, typically one that users download onto their mobile devices. Smartphones and tablets are examples of mobile devices.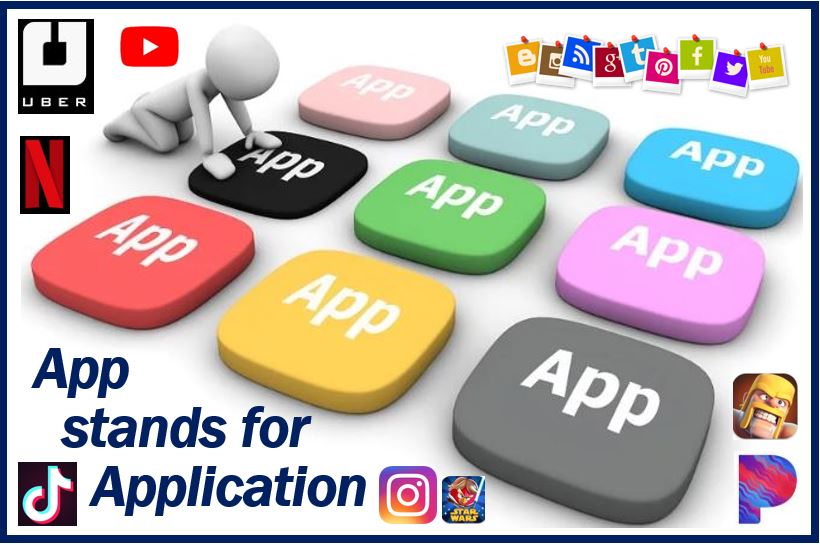 Put simply, an app is a software program for mobile phones or tablets. However, it is not just any old type of software program. It's a special type that requires you to know how to code an app.
Although we mainly use the term for mobile apps or iPhone apps, the phrases online apps, desktop apps, and Web apps also exist. When somebody downloads software onto their laptops or desktops while online, we can refer to them as desktops apps, online apps, or Web apps. We can also simply use the term apps in this context.
According to TechTerms:
"App is short for application, which is the same thing as a software program. While an app may refer to a program for any hardware platform, it is most often used to describe programs for mobile devices, such as smartphones and tablets."
An app typically has a specific use
The vast majority of apps that we download onto our phones have very narrow or specific uses. For example, a shopping app is an application for purchasing things online, often from one website. However, this is not always the case. Some of them have broad uses, i.e., we use them for a variety of tasks.
All applications have one thing in common. They are computer programs.
Origin of app meaning application
Apple popularized the term in 2008 when it created the App Store. Its first iPhone came out one year earlier.
As the App Store and iPhone became more widely known and popular, the company and Apple device users started using the term app when referring to an App Store application.
Although the first word in App Store comes from Apple, the term app when talking about software programs for mobile devices and computers is short for application.
Apps are typically cheaper than desktop applications
Many mobile apps are free. The ones users have to pay for are generally significantly cheaper than desktop applications. You will rarely find a mobile application that costs more than about ten dollars.
Software applications for mobile devices are less advanced than programs designed for desktops or laptops, so they require fewer hours to develop. In the world of computer programming, as in most other parts of the economy, time is money.
Popularity of smartphone applications
It is difficult to imagine that smartphone apps did not exist a few years ago. In fact, even smartphones have not been around for that long.
Below is a list of the ten most popular mobile phone apps in the United States in 2017 (source: Wikipedia):
Facebook (a social media platform)
Facebook Messenger
YouTube
Google Maps
Google Search
Google Play
Gmail
Instagram
Apple Music
Amazon App
WhatsApp
The most popular app for Android and other mobile phone users of all time is WhatsApp, which ex-Yahoo employees launched in 2009 as a startup. In 2014, Facebook bought it for $19 billion.
Uber

Although not in the top ten, over 100,000,000 people have downloaded the ridesharing app Uber from Google Play Store alone.
With this application, people can book a car (taxi) that is available nearby. The app takes care of booking, tracking, and payment. Users can select either a vehicle for just themselves or a shared one.
Netflix
This subscription-based streaming service has more than 154 million subscribers worldwide. For a monthly fee, users of the Netflix app can choose from a vast library of TV programs, documentaries, movies (films), and sporting events. Many of the movies and series are produced in-house.