Asset management – definition and meaning
Asset management refers to the management of people's assets. The term also applies to dealing with other organizations' or companies' investments. Assets include either intangible or intangible assets.
Intangible assets are things we cannot touch such as intellectual property, goodwill, financial assets, or human capital.  Tangible assets, on the other hand, are things we can touch and include buildings, land, computers, or office equipment.
The person in charge of managing other people's assets is an asset manager or investment manager. The asset manager could also be a firm. Their aim, above all, is to make as much profit as possible for their client.
Asset management firms have expert portfolio managers, as well as access to internal, detailed equity research studies. Asset managers claim that this access gives them an edge over investors in charge of their own money.
In other words, asset managers claim they are better at making investments grow than their clients.
Asset management covers several different industries and sectors.
In accounting and finance, an asset is anything with an economic value that we can own.
The Institute of Asset Management has the following definition for the term:
"Asset Management is the coordinated activity of an organization to realize value from assets. It involves the balancing of costs, opportunities, and risks against the desired performance of assets, to achieve the organizational objectives."
"This balancing might need to be considered over different time frames. It is the art and science of making the right decisions and optimizing the delivery of value."
Asset managers typically work for rich people, sovereign wealth funds, corporations, governments, and pension funds.
These specialized individuals or firms charge a fee. In most cases, the fee is a percentage of managed funds. They may also take a percentage of profits, although this starts to encroach upon hedge fund territory.
There are many asset Management Firms in the marketplace as well as firms, such as Cooper Parry, which offer Tax Services help.
Asset management is a huge industry
According to Forbes Personal Finance, asset management is a giant industry, with a collective $53 trillion under management.
The State Government of Victoria in Australia says asset management is relevant to the whole of asset life. Additionally, it encompasses the four main stages of the asset life cycle, which are:
Informed and hands-on decision-making regarding asset investment.
Procurement of suitable assets.
Maintaining, upgrading, and operating assets.
Managing asset treatment at the end of their useful life.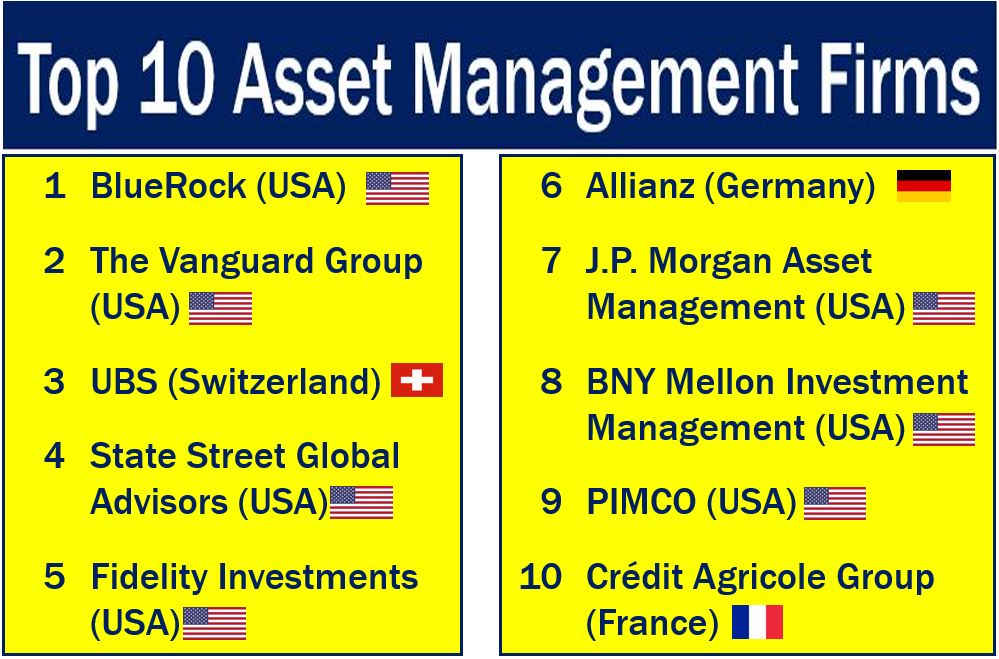 Not only does the US have 70% of the world's top 10 management asset firms, but it also has 60% of the top 20. (Data: relbanks.com)
The Financial Times Lexicon defines asset management as:
"The managing of money for investment so that it makes as much profit as possible, for a financial institution or for another person or organization. The managing of a company's property so that it is used in a way that makes as much profit as possible."
---
Video – What is asset management?