Back office – definition and meaning
Back office refers to the departments in a company that work behind-the-scenes. People who work in the back office seldom meet outsiders. The term may refer to a department or the employees who work in it.
Individuals who work in the back office carry out administration, IT, and support work. IT stands for information technology.
People working in investment banks and other finance houses commonly use the term.
'Back office' contrasts with 'front office.' Front office consists of departments and people that outsiders meet. For example, the marketing department is part of the front office.
Back office and front office have the same meaning as the back end or front end of a company.
The difference between the back and front office is not as clear as it used to be. There is much more overlap now regarding what constitutes a back or front office role.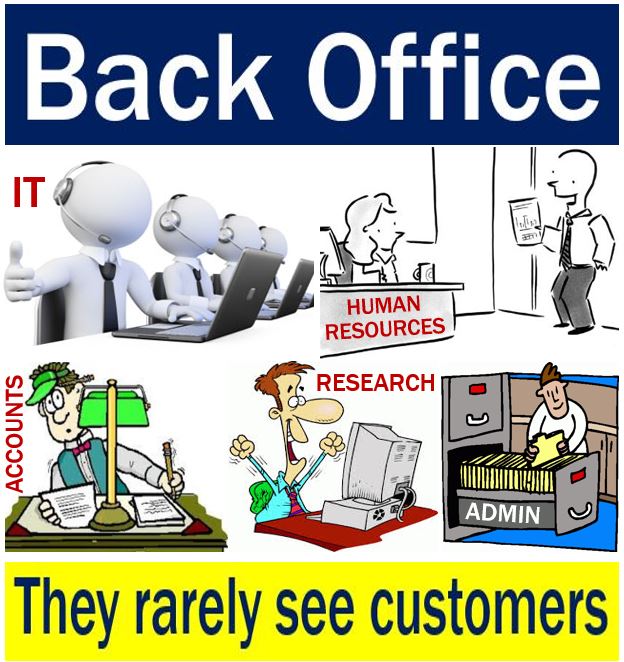 Employees who work in the back office seldom see customers and other outsiders. However, they are vital for the proper functioning, and even survival of a company.
According to WallStreetOasis.com:
"The back office is the section of a firm responsible for functions related to the running of the company such as settlements, compliance, accounting, IT & other technology. The back office is an essential part of any firm, and the job title is often classed under 'Operations'."
"At investment banks, the back office will also be in charge of completing the administrative tasks associated with trades such as settlements, regulatory compliance and position clearing."
Back office plus two other types
An article published by All About Careers explains that in many financial institutions, especially investment banking, there are three types of offices:
Front office
The front office consists of employees who directly generate revenue for the business. This part of a finance company has employees with mainly client-facing roles.
The front office comprises the private equity, wealth management, investment banking, and sales and trading departments.
Investment banks consider equity research as 'front office', even though this department does not bring in revenue directly.
All About Careers writes:
"If you want to want to work directly in an investment role (e.g. as a commodity broker, financial trader or as a corporate investment banker) then the front office will be your stomping ground."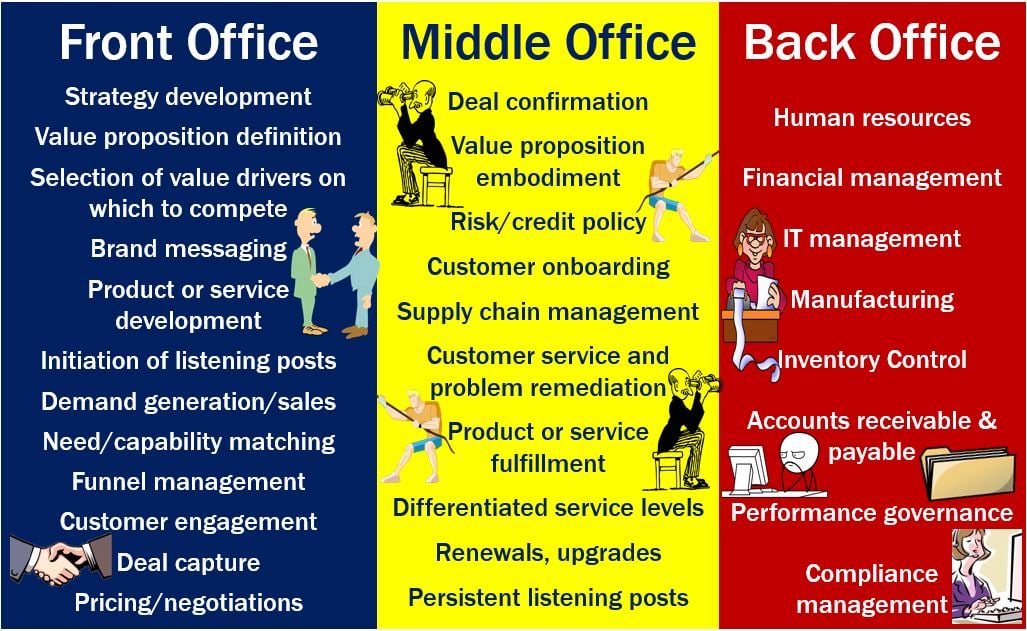 Some people say there is no Middle Office. They insist that there is only a Front Office and Back Office. (Image: adapted from www.mkpress.com)
Middle office
The middle office links the back and front offices. It supports the front office in its revenue-generation role.
The middle office tends to have unclear boundaries that move. In fact, not everybody believes it exists. Some investment bankers insist that the back and middle offices are the same.
Believers in the middle office say it comprises strategic management and risk management. Some believers also include corporate treasury in this category.
Back office
This part of a company consists of departments that do not directly generate income. However, the business would not be able to function without them.
In an investment bank, for example, the back office may include human resources, compliance, accounting, and operations. They also include IT in this category.
The back office recruits people with vital talents and skills. These employees design the business' computer systems, handle finance, and also maintain databases.
Some back office roles have risen in prominence significantly. In today's marketplace, investment banks rely heavily on state-of-the-art technology.
Experts in infrastructure engineering today have a considerably higher status than before. In investment banks, finding front office staff is easier than for, for example, the IT department.
Efinancialcareers.com quotes Toni Icevski, head of ECM and institutional settlements at Goldman Sachs JBWere. He said the following regarding the back office:
"We're an important link between the revenue producing divisions and our clients. You may not be dealing directly with the client, but you are dealing with all their requirements, and that means you play an important role in any successful outcomes."
Years ago, office layouts were all virtually the same. The front part had sales and other personnel. These people in the front talked to outsiders. The back part of the office, on the other hand, had behind-the-scenes employees.
Bookkeepers, administrators, production workers, and other employees who were seldom seen by outsiders worked at the back. Hence the terms 'front office' and 'back office.'
Video – Front, middle and back office
In this video, Girl Banker explains what the three parts of an investment bank are – the middle, back, and front office.
---