Better Business Bureau (BBB) – definition and meaning
The Better Business Bureau or BBB is a North American, non-profit organization. It consists of a group of 112 similar organizations across the US, Mexico, and Canada. The Better Business Bureau has existed since 1912.
The BBB provides advice and information to consumers and accredited companies. Additionally, the organization helps deal with customer complaints.
A group of business owners founded the Better Business Bureau. It receives no state or federal funding. Accredited businesses across North America financially support the organization.
According to the BBB, its mission is to be the leader in advancing marketplace trust.
Although its name contains the word 'bureau,' the BBB is not is not part of any US, Mexican, or Canadian governmental agency.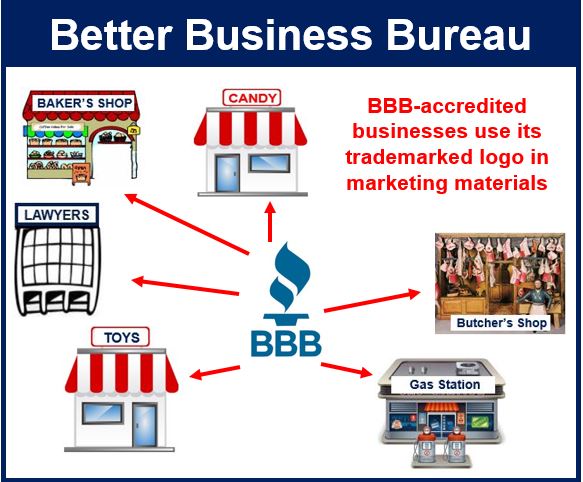 More than 400,000 businesses in North America support the Better Business Bureau. The Council of Better Business Bureaus (CBBB) in Arlington, Virginia, coordinates the organization.
"Dedicated to fostering honest and responsive relationships between businesses and consumers – instilling consumer confidence and advancing a trustworthy marketplace for all."
Better Business Bureau's accomplishments
In 2013, the BBB gathered and provided free business reviews on over 4 million companies. It also dealt with more than 123 million requests from customers.
In fact, in that year, the BBB website was among the 300 most popular in the US. 'Popular' in this context refers to the number of website visitors.
The BBB handled 885,000 consumer disputes against businesses in 2013 and managed to settle nearly 78% of them.
BBB Standards for Trust
The BBB Standards for Trust are a set of principles that the organization promotes. In fact, it states that those principles are the key elements for creating and maintaining trust in business. The principles are:
– Build Trust: establish and maintain a positive track record in the marketplace.
– Advertise Honestly: comply with established standards of selling and advertising.
– Tell the Truth: represent products and services honestly. Above all, a business should have clear and proper disclosures of all material terms.
– Be Transparent: be open regarding the business' ownership, location, nature, and identity. Disclose all policies, guarantees, and procedures clearly. Furthermore, make sure that those procedures have a bearing on a customer's decision to buy.
– Honor Promises: stick to all written agreements and verbal representations.
– Be Responsive: deal with marketplace complaints and disputes rapidly. Not only should you deal with them professionally but also in good faith.
– Safeguard Privacy: make sure you protect any data you gather from customers against fraud or mishandling. You should only collect personal information if you need it. Above all, respect consumer preferences regarding the use of their personal data.
– Embody Integrity: You should approach all business dealings, marketplace transactions, as well as commitments with integrity.
The Bureau says the BBB Standards for Trust "are a comprehensive set of best practices for how businesses should treat the public in a fair and honest manner."
Better Business Bureau ratings
A 'rating' typically refers to a company's creditworthiness or the desirability of an investment. However, the term may also refer to companies' honesty and the quality of their products and customer services.
BBB ratings represent the organization's opinion of how businesses are likely to interact with their customers. It bases its ratings on data that it can gather about specific companies. The BBB also includes complaints from the general public.
Ratings range from A+ (highest) to F (lowest). NR stands for 'no rating' and means that either there is not enough data or that the company is still under review.
However, the BBB warns that its ratings are not a guarantee of a company's reliability or performance.
The BBB says it rates companies that pay a membership fee as well as those that don't. The organization insists that paying a fee does not improve a company's rating.
However, some people claim that the BBB gives better ratings for companies that pay a membership fee.
The BBB says it neither endorses nor recommends any specific product, service, or business. It is the only way to make sure that the BBB remains impartial, it says.
Video – Better Business Bureau
This Official Better Business Bureau Accreditation Video for BBB Serving Dallas and Northeast Texas explains what the BBB is about.
---