Bounce rate – definition and meaning
Bounce rate is a term we use for website traffic analysis. The bounce rate tells us what percentage of a web page's visitors subsequently moved onto another website. If a visitor then moved to another web page inside the same site, they did not 'bounce.' In other words, to bounce, in this context, means to leave the website completely.
In most cases, webmasters try to keep bounce rates down to a minimum. In this article, the words 'website' and 'site' have the same meaning.
Bounce rates measure how good websites are at keeping their visitors inside the site. The bounce rate tells us what percentage of visitors leave the website after entering the first page.
Many people think that 'exit rate' has the same meaning, but it is slightly different. Bounce rates apply to visits to landing pages, in other words, the first page an individual visits. Exit rates, on the other hand, apply to the pages from which visitors leave.
"Bounce Rate is the percentage of single-page sessions, i.e. sessions in which the person left your site from the entrance page without interacting with the page."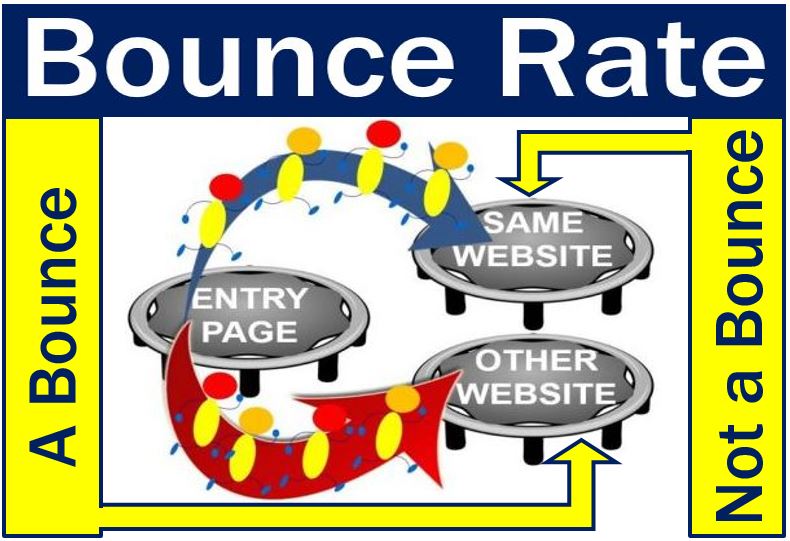 Purpose of the bounce rate
We use the bounce rate to determine how effective an entry page is at generating visitor interest. Entry pages with low bounce rates are good at keeping visitors on the website. In other words, they make visitors view more pages within the website.
High bounce rates usually suggest that the website is not good at maintaining the interest of the visitor. However, this is not always the case.
For example, if a web page has everything you are seeking, you have no reason to stay on the website. For example, let's suppose you want to know when the refuse collectors come next to take your garbage. You go on a web page, find the information, and subsequently leave.
Even though that refuse collection web page has a high bounce rate, it is a good page.
E-commerce websites, on the other hand, want visitors to stay and visit other pages. They may want visitors to look at different pages and buy lots of goods.
Causes of a high bounce rate
There are many reasons why some pages have high bounce rates while others have low rates.
A web page with design or usability problems is less likely to have visitors staying very long. Furthermore, they will probably not want to look further. In fact, the visitors are more likely to decide to move onto other sites.
If you are looking for the definition of a word and the web page provides everything you sought, you move on.
High bounce rates could also be the result of failing to add the tracking code to all pages. If you have not added the code, Google Analytics and other tracking services will not register multiple visits properly.
Google Analytics specialist Avinash Kaushik once said:
"My own personal observation is that it is really hard to get a bounce rate under 20%. Anything over 35% is cause for concern, 50% (above) is worrying. I stress that this is my personal analysis."
Bounce rate scenarios
Analytical algorithms will register the four visitor actions below as a bounce from a website. The algorithms will also signal that the visitors did not get what they wanted or expected.
– After 30 minutes the session timed out. In other words, the visitor did nothing
– The visitor closed the browser (window/tab).
– They clicked the back button. This is the most common reason.
– The visitor typed in a new URL.
However, not all bounces are negative. If the visitor clicks on an external link, it will register as a bounce. Clicking on an external link is not necessarily a bad thing
An account login that requires secure authentication that is on a separate domain will register as a bounce even though it shouldn't.
Webmasters should track outbound links and ensure that they are properly tracking traffic across various domains.
In Google Analytics, we can choose to track an outbound event as an interaction or non-interaction one. The choice you make determines whether a link affects bounce rate.
What's an acceptable bounce rate?
There are many types of pages where we expect high bounce rates. We should therefore not use up resources trying to reduce the rates in those pages. Below are some examples:
– Checkout Pages exist in e-commerce or shopping websites. Visitors complete their purchases on this page, after which they will move on. A high bounce rate here does not matter.
– Most people will move out of the website after visiting the Contact Us Page. They leave because it has everything they were looking for, such as an address, email, and telephone number.
– If a visitor Bookmarks a web page, goes to it and leaves, we consider it as a good bounce.
– The Customer Support Pages of most websites have high bounce rates; even top quality support sites. If visitors are happy with the service on that page, they will subsequently leave.
– Blog Articles with a high returning visitor rate tend to have high bounce rates. Newspaper articles and other blog texts that use CPM Ad Monetization to generate an income also have high bounce rates.
In fact, a bounce rate of 90% or even higher is acceptable for most blogs. Visitors read an interesting article and leave after getting value from that page.
---
Video explanation:
---