Consumers – definition and meaning
Consumers are people or organizations that purchase products or services. The term also refers to hiring goods and services. They are humans or other economic entities that use a good or service. Furthermore, they do not sell on that item that they bought.
They are the end users in the distribution chain of goods and services. In fact, sometimes the consumer might not be the buyer.
For example, young children are the end users of toys, but their parents buy them. Therefore, in the market for toys, the buyer and consumer are often different people.
Marketing professionals spend their lives studying people who consume. What drives them to buy something? Why did they chose their company's or a rival's product. We call the study of the process of buying and then discarding goods consumer behavior.
Consumer goods are goods that we buy for our own consumption. We do not buy them to make other goods that we sell.
Consumers in biology
In biology, a consumer is an organism that consumes other organisms or organic matter. That is how they get their energy.
In the animal kingdom, for example, consumers prey on other organisms because they cannot produce their own energy. Neither can they obtain energy from inorganic sources.
In that sense, a human being is a biological consumer. To obtain energy, we eat other organisms.
According to Dictionary.com, a consumer is:
"1. A person or thing that consumes. 2. (Economics) a person or organization that uses a commodity or service. 3. (Ecology) an organism, usually an animal, that feeds on plants or other animals."
This article focuses on the economic definition of of the term.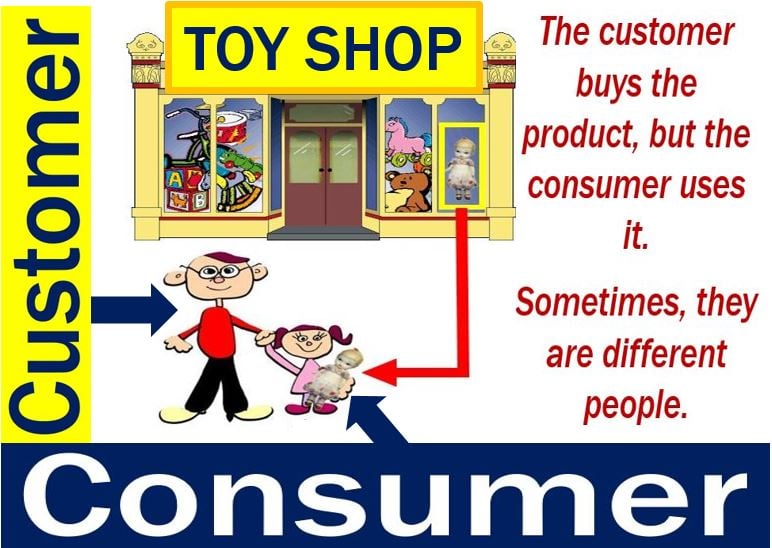 Consumers are the end users of a product or service. In this image, the customer is the adult. He paid for the doll. However, his daughter is the consumer. We use the term 'ultimate consumer' to emphasize that it is with that person that the road ends for the product. Another term that emphasizes the fact is 'final consumer.'
Consumers in the marketplace
In the marketplace, consumers are people or economic entities that purchase or hire products. They do this for personal use. In other words, they do not buy them for manufacture or resale.
When the non-business media talk about consumers, they usually refer to people. Specifically, people engaged in evaluating, acquiring, and using products to satisfy their needs and wants.
Consumers are key figures in the marketplace. In fact, all the activities of the makers and sellers of goods are focused on consumers.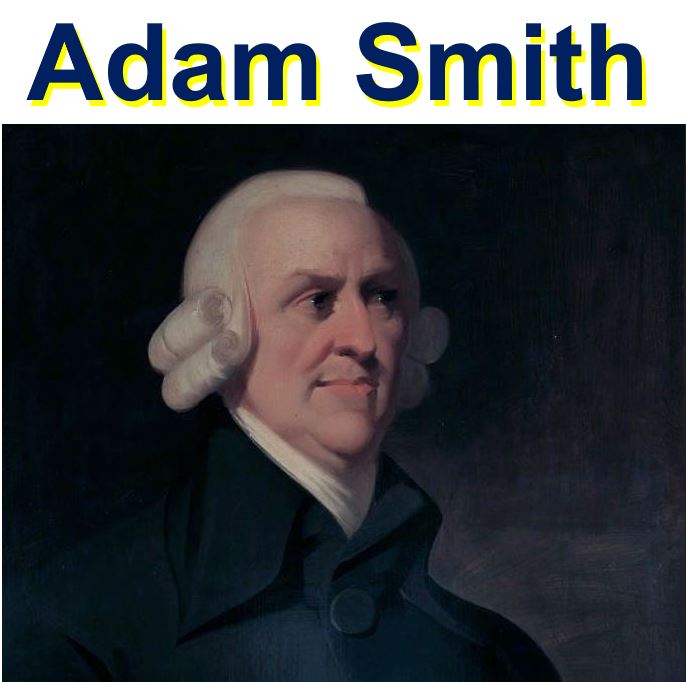 Adam Smith (1723-1790), a Scottish pioneer of political economy, once said: "Consumption is the sole end and purpose of all production; and the interest of the producer ought to be attended to, only so far as it may be necessary for promoting that of the consumer." (Image: Wikipedia)
Consumer vs. Customer
We often use the terms 'consumers' and 'customers' interchangeably. However, they do not always have the same meaning. A customer is not always the consumer.
Customers purchase things, but consumers use them.
For example, the customers of a company that sells pet food are mostly adults. However, the consumers are dogs or cats.
The difference between consumers and customers impacts how businesses market their products. Customers buy toys, for example, if consumers – children – demand them.
Therefore, toy company's should target children in their marketing efforts. Children will subsequently react to the marketing efforts by influencing what adults buy.
Of course, in many cases, consumers and customers are the same people. A ladies' clothing store will sell mainly to the end users.
What is consumer law?
Consumer law involves all the regulations and statutes that aim to create a more equitable balance for consumers. It also aims to prevent vendors from using dishonest tactics.
In the United States, both state and federal regulations play a role in regulating consumer law. These laws include forbidding false advertising and imposing product safety measures.
The government also lays down regulations regarding debt collection practices and protecting consumers' identifying data.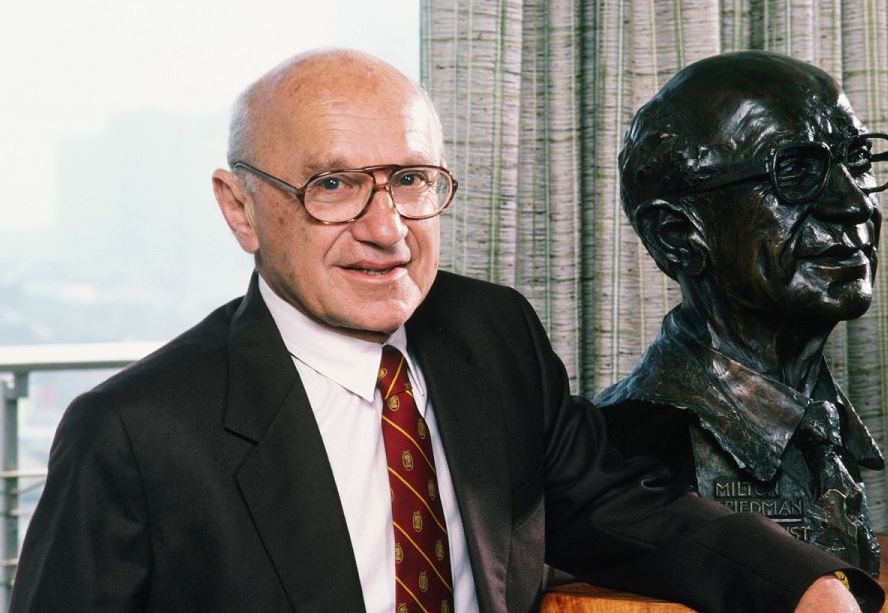 American economist Milton Friedman (1912-2006) once said: "Many people want the government to protect the consumer. A much more urgent problem is to protect the consumer from the government." In 1976, Friedman received the Nobel Prize for Economics. (Image: thefamouspeople.com)
Consumers sometimes fall victim to online scams or buying a product without being told of hidden defects. People have also lost money in financial schemes, identity theft, or illegal and unauthorized credit card charges.
Consumers commonly have to seek legal advice when they fall victim to unethical practices. In fact, economists say that people who know what their rights are, help improve the economy.
Regarding consumers understanding their rights, the British Government wrote:
"Consumers who understand their rights can play a strong part in driving growth because they force businesses to innovate and pursue efficiency."
"For this, they need both competitive markets and a strong but simple framework of consumer law that can be effectively enforced."
What is a consumer society?
A consumer society is one in which people frequently buy new products, especially goods we don't need for survival. Most of the advanced economies are consumer societies. Consumers place a high value on owning things.
A few centuries ago, society was very different. Most people did not spend much time and money shopping for goods made far away.
Before the Industrial Revolution, most people in Europe and North America lived in rural areas. Nearly everybody worked in farms. They had little clothing and few household possessions. In fact, virtually everything people owned was made either at home or in the same village.
New fashions, technological change, and social pressure did not influence people to buy things. People's possessions lasted for decades or even a lifetime.
If you tore your shirt or broke a chair, you would repair it, rather than buy a new one.
Today, we do not even bother darning our socks. As soon as we see a hole in our socks, we throw them away and buy a new pair.
Our economies have become completely dependent on consumer spending. In other words, without high spending by consumers, GDP does not grow. GDP stands for gross domestic product.
In today's advanced economies, demand by consumers drives sixty percent of GDP.
---
Video – Global Sustainability in a Consumer Society
In this TEDx talk, the speaker wonders what would happen if we tried to involve people in society as citizens.
---