What is economic capital?
Economic capital is the amount of money a financial services firm should have to make sure it survives in a worst-case scenario. Not to be confused with regulatory capital, which is the amount of capital the firm is legally required to have.
When financial institutions or other trading organizations have worked out what their economic capital is, they should put that amount aside to offset potential losses.
Every time a company is engaged in any business transaction or venture, there is an element of risk, otherwise it would not be business. The aim for the parties involved is to make a profit. But there is also the potential for losses. In order to cover all these risks, financial institutions need enough capital put aside – economic capital.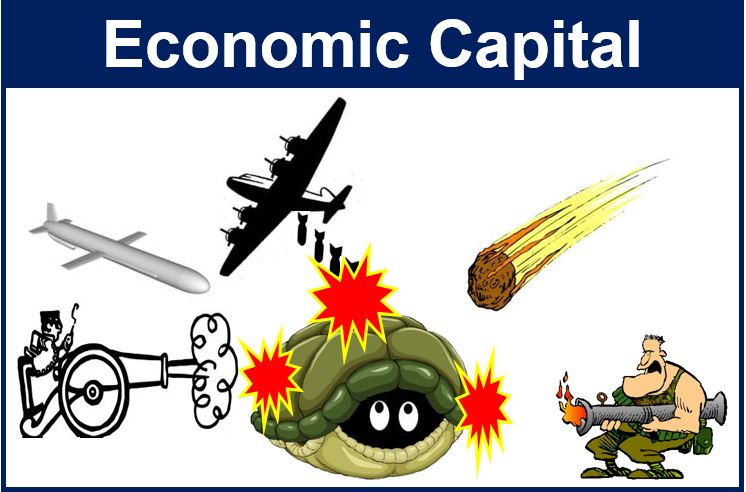 Just like the tortoise's shell, economic capital protects financial institutions from undesirable shocks.
Economic capital is based on a company's own risk analysis, i.e. what it believes it should have as a buffer against potential losses.
Most financial institutions calculate and utilize economic capital in ways similar to those of regulatory capital under the Basel Accords. Differences in how the amount is calculated are intended to better reflect the 'economic' or 'true' risks a particular company faces, hence the term 'economic capital'.
According to the Bank for International Settlements:
"Economic capital can be defined as the methods or practices that allow banks to consistently assess risk and attribute capital to cover the economic effects of risk-taking activities."
Humans have been calculating economic capital for thousands of years. The ancient Phoenicians used to document data on how often and severely rural farmers became ill, so that they could calculate what their expected losses might be in productivity in a worst-case scenario.
The word 'capital' (on its own) in business and finance refers to money invested in expanding or setting up a business, plus buildings, machinery, vehicles, etc.
Video – Economic Capital and Risk Tolerance
In this video, Joan Lamm-Tennant, Global Chief Economist at Guy Carpenter, explains that in order to be able to calculate what a firm's economic capital is, it is necessary to know what its risk-tolerance is.
---