Gemology – definition and meaning
Gemology is the study of natural and artificial gemstones and gemstone materials. In other words, it is the study of precious stones. It is a geoscience and a branch of mineralogy. However, it can be as much a mineralogical study as an anthropological one. Anthropology is the study of our societies and cultures and human development.
There are two possible spellings: gemology or gemmology. North Americans spell it with a single 'm'. The rest of the world spells it with a double 'm'.
We call somebody who studies precious stones a gemologist. To become a recognized gemologist, you need to have credentials from one of the Institutes of Gemological Studies.
A gemologist values gemstones according to several factors, including clarity, quality, and color. They also value the precious stones according to their cut.
Gemologists value, buy, and sell gemstones. They also cut the precious stones. They commonly deal with diamonds, sapphires, emeralds, and rubies.
Gemology has become an important field of study since the advances in gemstone synthesis.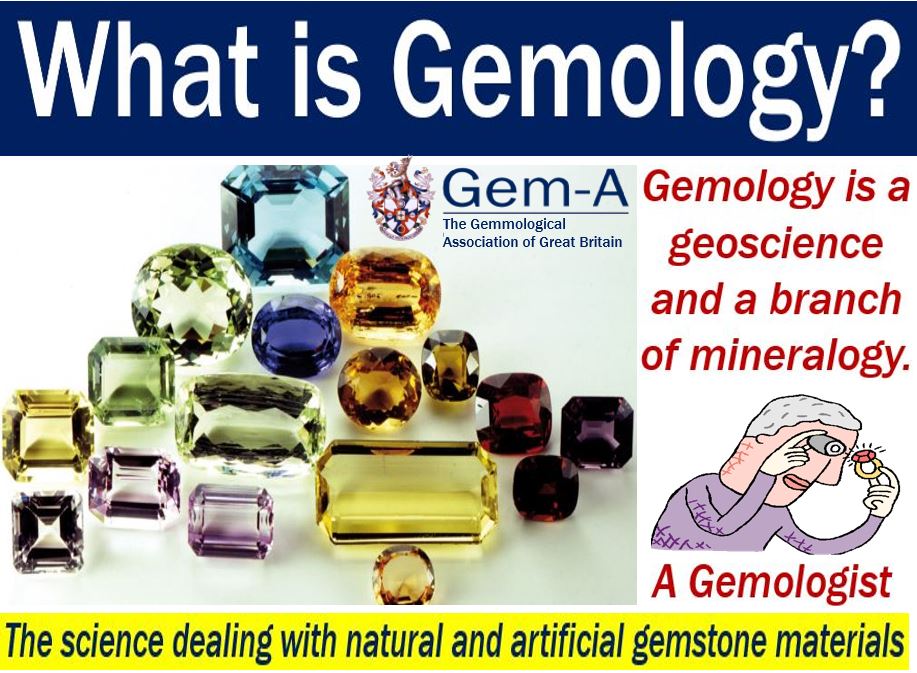 Gemology and mineralogical fundamentals
This field of mineralogy often involves the study of stone formations, localities, physical properties, and gemstone identification. It also includes the study of their origins.
According to the Gemology Project, it includes a basic knowledge of the physical and chemical characteristics of gems. Additionally, it involves how we fashion gemstones.
We usually split gemology into two subdivisions.
Special Gemology
This subdivision deals with varieties and categories of synthetic stones, imitations, and natural gemstones.
Conventionally, we also include organic substances such as coral, pearls, amber, and the grading of non-minerals.
Practical Gemology
This subdivision focuses on gemstones' properties and features. Not only are these skills essential for identifying imitations and synthetics but also for separating them.
It also includes diamond grading.
Gemstone investing
When the stock market is bearish, i.e., returns diminish, some investors seek out other types of investments. For those wanting quick returns, gemstone investing is an appealing alternative.
However, gemstone investing is very risky and highly speculative. If you know what you are doing, you can make a lot of money.
However, you should only consider investing in gemstones if you are an experienced professional.
The birth of gemology
Rudimentary training in gemology for gemologists and jewelers started in the 19th century. However, the first formal qualification emerged after the NAG set up a Gemmological Committee in 1908. NAG stands for the UK's National Association of Goldsmiths.
This Committee, in fact, eventually became the Gemmological Association of Great Britain or Gem-A. Today, it is an educational charity. It is also an accredited awarding body that teaches courses internationally.
According to the Gemmological Association of Great Britain:
"Gem-A forms an international community of gem professionals and enthusiasts. We serve the interests of the gem and *jewellery (British spelling) industries through the high standards of education on our courses and our support for global gemmological research."
Gem-A has two publications: 1. The Journal of Gemmology. 2. Gems & Jewellery.
Video – Studying for a gemmology degree
In this Birmingham City University video, a student talks about a gemmology degree course. The course – Gemmology and Jewellery Studies – BSc (Hons) – lasts three years.
It is a unique course. In fact, Birmingham City University says that it is the only degree of its kind in the world.
"It will enable you to gain the highest level of professionally-recognized gemmological skills," the University adds.
---