What is a gig economy? Definition and examples
A gig economy is one where companies hire independent contractors and freelancers instead of taking on full-time workers. In a gig economy, temporary positions are common, but full-time permanent ones are not. The gig economy is becoming an increasingly common feature in most countries across the world today.
The gig economy contrasts sharply with the traditional economy, which consists of full-time workers who focus on a lifetime career and rarely change positions.
According to the Financial Times:
"The phrase 'gig economy' was coined at the height of the financial crisis in early 2009, when the unemployed made a living by gigging, or working several part-time jobs, wherever they could."
"In its earliest usage, gig work referred to jazz club musicians in the 1920s. Some features, such as the fact that workers do not get healthcare, pensions or paid holiday, have hardly changed since."
Gig economy is flexible
For a gig economy to work, you need a large number of people who are willing to work in temporary positions or part-time. The result is an economy that is more flexible and offers cheaper services – such as Airbnb or Uber – for consumers willing to use them.
The benefits of the gig economy are lost to people who do not utilize technological services such as the Internet. Cities, which are the most entrenched in this type of economy, tend to have the most highly-developed services.
One of the drawbacks of the gig economy for the full-time employees who still exist, is that it is much more difficult for them to fully develop their careers. This is because there are so many cheaper and more flexible temporary employees available in the job market.
In the United States, virtually all sectors have drifted away from employing full-time, permanent staff, and embraced the flexible, part-time or temporary gig worker. Universities today are hiring more part-time and adjunct professors instead of offering tenured positions.
Adjunct professors are hired by colleges on a contractual part-time basis. With ever-tightening budgets, the role of the adjunct professor is expanding rapidly in education in the US and many other countries.
The gig and the gig economy
In an article in the Bureau of Labor Statistics, part of the United States Department of Labor, Elka Torpey and Andrew Hogan quote Ryan Heenan, a songwriter who sells jingles and customized videos to clients across the world.
Torpey says:
"It's really a dream come true," says Heenan. "It gives me the freedom to set my own hours. And I can do what I do anywhere there's an Internet connection."
According to the authors, the terms 'gig' and 'gig economy' have no official definition. They describe a gig as a single task or project for which a worker is hired, usually through the digital marketplace, to work on demand.
Gig apps and websites
Many gigs are a kind of short-term job, and some workers seek out gigs as a self-employment option – these concepts are not new. However, a more recent development is employers connecting workers with these jobs via websites or mobile apps.
Gig workers exist across diverse occupation groups. They are not easy to identify in employment and earnings surveys. However, they all have one thing in common – how they earn money.
They usually get individual gigs using a mobile app or website that helps them match with clients. A gig can last from eighteen months to literally a matter of minutes, such as answering a survey.
In a gig economy, workers who try to earn a steady income through short-term contracts have to find another gig as soon as their current one is completed. This sometimes means juggling several jobs at the same time.
Tykecia Hayes, a freelance filmmaker in Los Angeles, takes on gigs that include helping people move, making deliveries, or working as a personal assistant.
Hayes says:
"I'm able to work when I need money and take off when I need to. That's the beauty of it."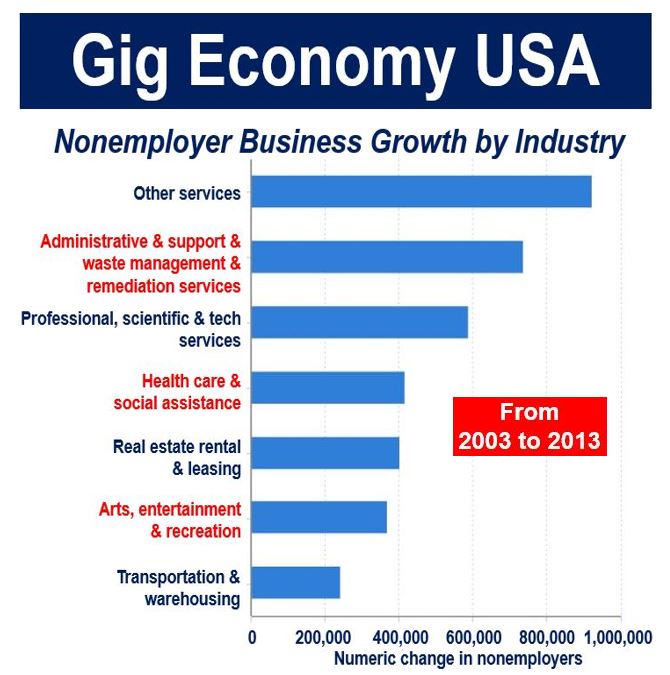 Over a ten-year period, the number of businesses with no paid employees (nonemployers) increased dramatically. Economists say that this trend will continue to accelerate. (Source: Bureau of Labor Statistics) 
Workers in the gig economy
The United States:
The US Bureau of Labor Statistics says it has data on gig workers dating back over ten years.
In 2015, gig workers accounted for approximately 2% to 4% of all employees. Roughly 7% of all workers were independent contractors. The Bureau says it plans to gather, examine and publish these data again in May 2017.
Other more recent Bureau data suggest a sharp slant towards a gig economy in the United States. However, the workers in these recent data are not broken out separately.
For example, gig workers may be included in worker-counts that include part-timers, self-employed individuals, or those holding multiple jobs. However, these counts also include employees who are not part of the gig workforce.
The United Kingdom:
London's gig economy has expanded by 72% since 2010, according to a new study by the New Economics Foundation think tank. The number of non-employing businesses in the UK has increased by 28% since 2010. A non-employing business only has its proprietor as a paid employee.
Big gig employers, like Uber, have pushed down workers' take home pay, the study found. Ninety percent of London private hire drivers said that their take home pay had decreased over the past six months. Only 20% felt they could earn enough through driving to support themselves and their families.
A recent study reported that the erosion of collective bargaining powers for workers 'creates a downward economic spiral'. Wages are a crucial part of demand in the economy because they allow consumers to spend. In wage led economies like the UK, low wages undermine the whole economy.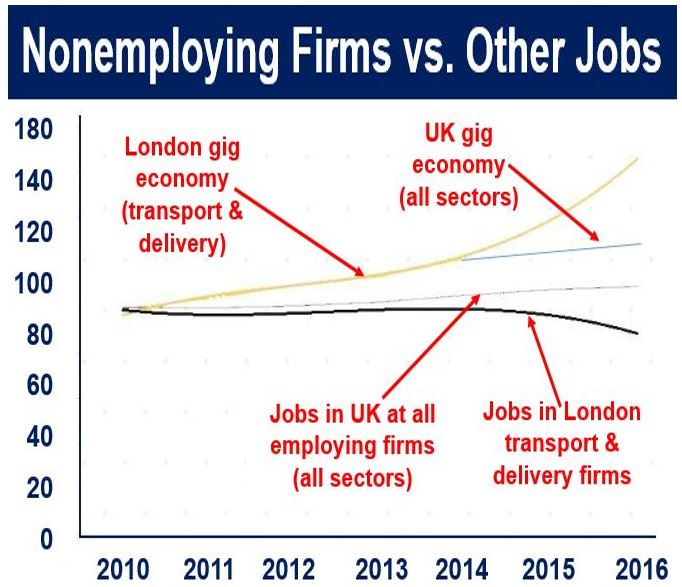 The number of overall nonemploying businesses in the UK has been growing considerably faster than employment in other businesses. However, trends in London's transport and delivery sector are much starker. (Image: neweconomics.org)
Types of jobs in the gig economy
Some jobs are more commonly advertised as gigs than others. Jobs that involve a single task, such as writing a business plan, are ideal gig-type positions.
Any work in which people may be hired for on-demand tasks has the potential for gig employment. Examples include photographers, painters, construction workers, drivers, delivery personnel, graphic designers, web developers, musicians, craft and fine artists, software developers, carpenters, technical writers, interpreters, translators, and computer programmers.
The Bureau of Labor Statistics' Occupational Outlook Handbook claims to cover roughly 83% of jobs in the American economy. It has 329 detailed profiles of occupations that are sorted into groups. The handbook highlights some of those groups in which gig work is increasing.
---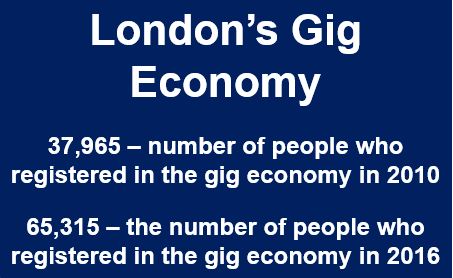 Source: "London sees surge in gig economy workers," C. A. Paddock, Market Business News, 11th Dec, 2016.
---
Gig economy – pros and cons
People who focus on gig work may do a variety of tasks, but they have similar things that they like – and don't like – about their arrangements and lifestyles.
The following list includes the 'Pros' for workers:
Control: Gig workers say it is nice to be in control and to be able to choose just the projects that you enjoy.
Lifestyle: you can schedule your work around your personal commitments.
Freedom: you can work when you like (presumably if there is work available). You can take a vacation whenever you like.
Variety: in a gig economy workers get to do lots of different things. Life is rarely boring.
The following list includes the 'Cons' for workers:
Uncertainty: to get consistent pay you will need to have a steady stream of jobs.
Availability: sometimes there are not enough gigs available to provide a stable income.
Planning: it is more difficult to plan ahead. If you are not sure how much you will be earning in future, taking on long-term commitments, such as mortgages, is more difficult.
Control is a Myth: if you spend all your time trying to make sure you have enough gigs for a steady income, you are not in control of your life at all, many gig workers say.
Lifestyle: many gig workers say they have to work non-standard days or times to finish a job. This contradicts those in the Pro camp who say lifestyle is a benefit.
Lack of Benefits: gig workers do not usually get benefits that are paid for by the employer, such as health insurance, contributions to retirement plans, annual leave, and sick leave.
Video – What is the gig economy?
In this video, Martin Sandbu, Economics writer at the Financial Times, explains what the gig economy is, and discusses the employment shift that has been occurring since the 2008 global financial crisis.
---