Good manufacturing practice (GMP) – definition and meaning
Good manufacturing practice (GMP) is a system for ensuring that manufacturers produce goods consistently and in a controlled way. Companies and organizations must produce their goods according to quality standards. GMP contains basic preventive guidelines for factory and facility operations.  In other words, it is part of a system that aims to maintain high standards.
Good manufacturing practice aims to minimize risks that we cannot eliminate through testing the final products.
Good manufacturing practices are the guidelines that regulatory agencies recommend for the producers and sellers of drugs and active pharmaceutical products. The guidelines are also recommendations for the manufacturers and sellers of food.
According to Safeopedia.com:
"Good manufacturing practice (GMP) refers to systems devised in order to ensure the consistent production and control of manufacturing in accordance with pre-determined quality standards."
"It covers all aspects of manufacture from raw materials to the manufacturing premises and staff activities."
We can also use the term in the plural with basically the same meaning, i.e., good manufacturing practices.
---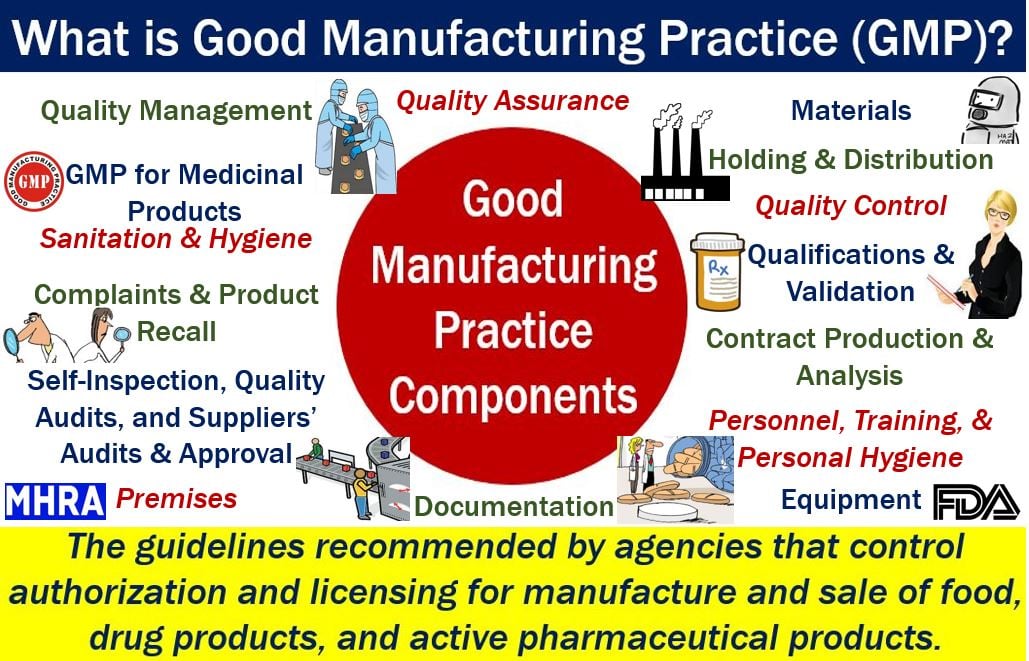 ---
Good manufacturing practice subject to change
Responsible employees need to ensure GMP compliance. Since methods and regulations often change, we sometimes refer to GMP as CGMP, which stands for Current Good Manufacturing Practice(s).
Since GMP regulations and methods are constantly changing, industries need to update their skills and knowledge continually . Otherwise, they will not be able to keep up and implement the latest techniques.
According to regulatory agencies, good manufacturing practice guidelines are applied to:
Hygiene.
The protection of the environment, i.e., preventing contamination.
The control of the manufacturing process.
Distribution methods.
The investigation of deviations from GMP rules and regulations.
The control of procedures and record-keeping.
Distribution methods.
Regarding drugs, which procedures to follow when there is a recall or investigation of defects.
Regulatory agencies across the world oversee many different types of 'practices.' For example, they oversee good agricultural practices, good clinical practices, and good laboratory practices.
Consumption of food and drugs
Good manufacturing practice guidelines aim to ensure that drugs and food are safe for human consumption. GMP has guidelines for manufacturing, testing, and quality assurance.
According to an article in Wikipedia:
"Many countries have legislated that food and pharmaceutical and medical device manufacturers follow GMP procedures and create their own GMP guidelines that correspond with their legislation."
GMP for food and drugs
The aims of the guidelines include safeguarding consumer health. They also aim to protect patients and ensure that manufacturers produce top-quality medical devices.
In fact, in some countries, a drug may have passed all specification test, but if it violated GMP guidelines, regulators might classify it as 'adulterated.'
Good manufacturing practice – regulatory agencies
In the United States, the Food and Drug Administration (FDA) enforces GMPs under Title 21 CFR. The FDA uses the term 'Current Good Manufacturing Practices' when describing these guidelines.
The FDA is America's regulatory agency for drugs, cosmetics, food, tobacco products, and medical devices.
Since 2010, in the US, there has been a set of guidelines just for manufacturers of dietary supplements.
In the EU (European Union), national regulatory agencies perform GMP inspections. For example, in the UK, the regulatory agency is the Medicines and Healthcare Products Agency (MHRA).
In Canada, the Drug Good Manufacturing Practices Unit and the Health Products Food Branch Inspectorate oversee the enforcement of GMP guidelines. In Australia, it is the Therapeutic Goods Administration (TGA), and in South Africa the Medicines Control Council (MCC).
India's state-level agency is the Food and Drugs Administration (FDA). India's FDA reports to the Central Drugs Standard Control Organization.
In most countries, food processing companies comply with GMP guidelines alongside other systems, such as HACCP. HACCP stands for Hazard Analysis Critical Control Point.
Video – Good Manufacturing Practice
---