Good standing – definition and meaning
Good standing refers to a company or organization member which is up-to-date with the payment of statutory dues. We also use the term for a company or member that filed all its periodical reports. A member in good standing is also current regarding the payment of state taxes and updating of licenses.
In other words, a person/organization in good standing is current with all their explicit obligations. They have not been sanctioned, suspended, and are not facing any disciplinary censure.
BusinessDictionary.com says the following regarding the term:
"Status of a firm (or member of an organization) which is current with the payment of statutory dues and filing of required periodical reports."
Good standing – USA
In the United States, people commonly apply the term to business entities that fulfilled all their obligations with the state. These companies have registered with a government agency.
For example, the term means that a corporation, limited partnership, or LLC has filed all appropriate paperwork. LLC stands for Limited Liability Company. The same applies to limited liability partnerships.
When business entities have 'standing' with a chartering agency, they may receive a 'Certificate of Good Standing.'
Entities may need to show the certificate when opening a bank account (it is not a bank reference). Business entities wanting to register abroad may also need to show their certificate.
However, the certificate only means that an entity has fulfilled certain obligations. It does not mean it is not guilty of felony crimes, fraud, or failed to pay certain taxes. In fact, a certificate holder may even have been bankrupt.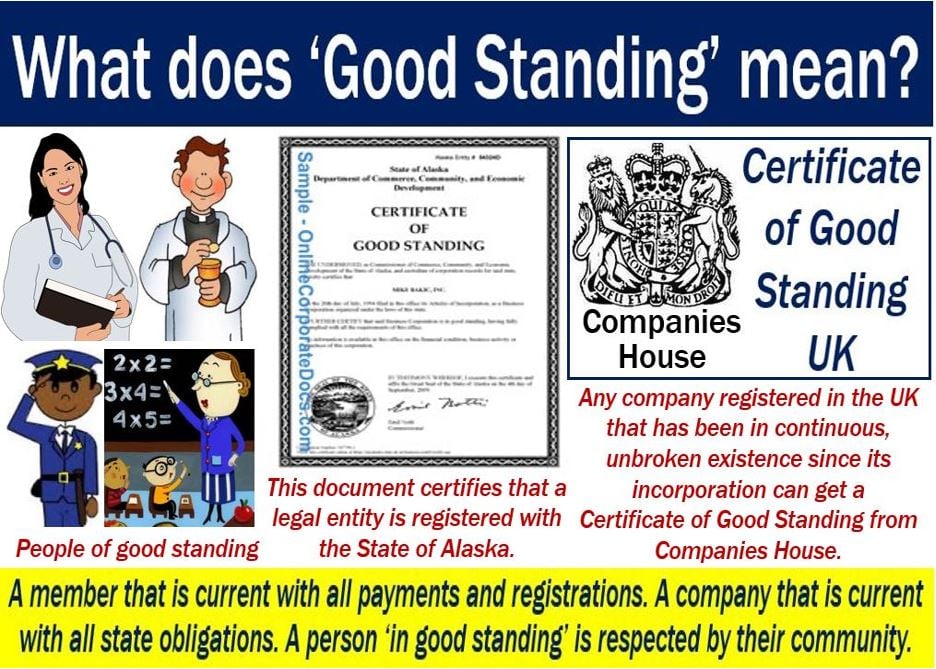 Good standing – UK
In the UK, Companies House issues Certificates of Good Standing. They confirm that the company still exists. The certificate also confirms that there is no pending action to remove it from the register of companies.
UK companies may show their certificate when wishing to conduct business abroad. They may also show their certificate to reassure lenders or the other parties in financial agreements.
A person
A person of good standing in the community is somebody who has the respect of others. In the UK, for example, this may be a Justice of the Peace, Minister of Religion, doctor, engineer, or teacher.
The term also includes a Member of Parliament, police officer, or 'professional.' A professional is somebody with a university degree who currently practices what they studied.
When countersigning a passport applicant's photograph, the UK government says the person of good standing must have credentials that can be checked. This person would also lose something by wrongly countersigning an application.
Video – Certificate of Good Standing
This Inc Now video explains that the state of incorporation issues the certificate.
---