Hague Protocol – definition and meaning
The Hague Protocol is an international treaty which in 1955 amended the provisions of the Warsaw Convention. The protocol limits airlines' **liability in the carriage of passengers and cargo. Its official name is, in fact, the Protocol to Amend the Convention for the Unification of Certain Rules Relating to International Carriage by Air.
** In this article, liability means responsibility.
Even though the Hague Protocol aimed to amend the Warsaw Convention, not all parties ratified it. In fact, of the 152 parties that ratified the Warsaw Convention, only 137 ratified the Hague Protocol.
The original and binding version of the treaty is in French. However, certified versions also exist in Spanish and English. The Government of Poland is the treaty's official depository, i.e., Poland holds the treaty.
Reasons for the Hague Protocol
The parties created the Hague Protocol for two main reasons:
– First, the original 1929 convention had become obsolete. Technology had advanced considerably. Therefore, a new version that was more relevant to the airline industry was needed.
– Second, the new Protocol limited commercial airlines' liability in the event of an accident.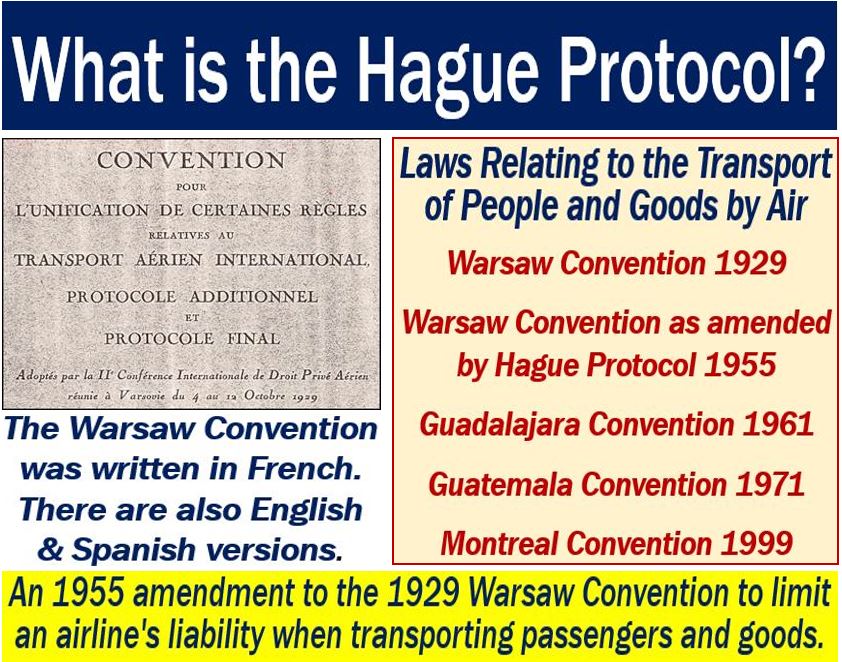 According to the American Society of International Law:
"The Hague Protocol increases the liability limits in the Warsaw Convention, and allows recovery of litigation costs under certain circumstances."
The Warsaw Convention
The Warsaw Convention is an international treaty which regulates liability for the international carriage of luggage, goods, and passengers.
Specifically, the Convention applies to companies that transport goods or people for reward.
The Convention came into force in 1929. It was subsequently amended in 1955 in the Netherlands and in 1971 in Guatemala.
According to US courts, the Warsaw Convention is a different instrument from the Hague Protocol. That is why the US did not ratify the 1955 Protocol.
In 1999 there was a new treaty – the Montreal Convention. It replaced the Warsaw Convention.