ICAO technical instructions – definition and example
ICAO Technical Instructions are a list of requirements for the transportation of hazardous goods by air. The ICAO Technical Instructions aim to protect passengers and aircraft crew from unnecessary risk. ICAO stands for the International Civil Aviation Organization. ICAO, with headquarters in Canada, is a United Nations organization.
ICAO's mission is to develop and put forward airline safety standards and practices. It has nothing to do with IATA (International Air Transport Association), which represents commercial airlines.
Icao.int says that it is possible to transport dangerous goods by air safely. However, we must adopt certain principles.
The authors of the ICAO technical instructions used these principles.
Icao.int says the following regarding the instructions:
"They are intended to facilitate transport while providing a level of safety such that dangerous goods can be carried without placing an aircraft or its occupants at risk, providing all the requirements are fulfilled."
"They try to ensure that should an incident occur it cannot lead to an accident."
---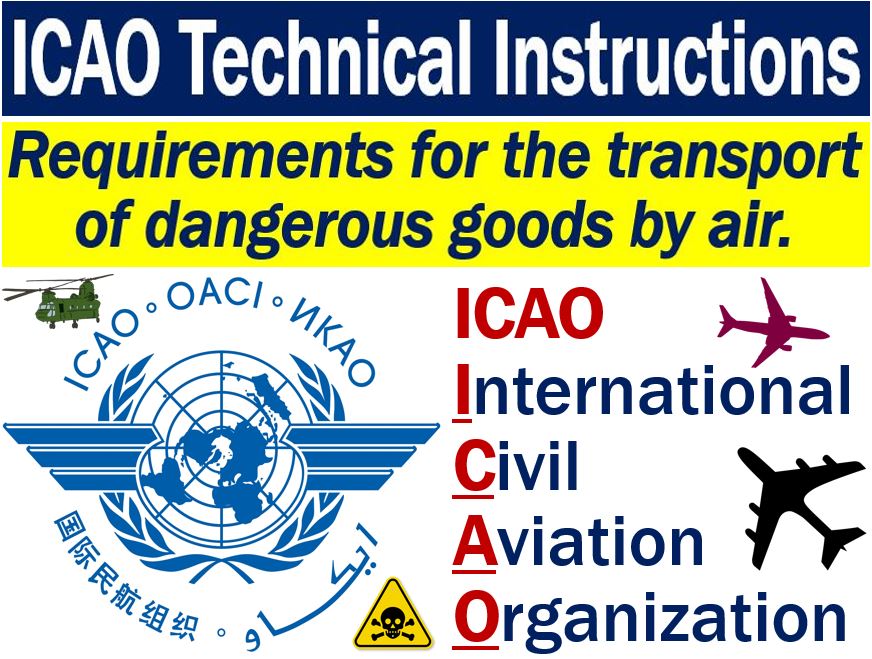 ---
ICAO technical instructions – background
Aircraft regularly transport dangerous goods all over the world. It is important to ensure that they do not endanger human life as well as the aircraft.
Hence, there are international Standards that each country, under the provisions of the Chicago Convention, must introduce into national legislation.
The system ensures that governments are in charge of regulating and monitoring the carriage of hazardous goods by air.
Thanks to this system, we have global harmonization of safety standards.
---
Classification of dangerous goods
The ICAO Technical Instructions contain a comprehensive list of requirements that aircraft must adhere to. For example, they provide for the classification of hazardous goods and also list these goods.
The Instructions have four classifications of dangerous goods:
Never carry
Goods that we must never transport by air under any circumstances.
Can't carry, but..
Products and substances which are forbidden on both cargo and passenger aircraft in normal circumstances.
However, in exceptional circumstances, the country's government may grant an exception.
Cargo aircraft yes but not passenger aircraft
Goods that cargo aircraft can carry but not passenger aircraft in normal circumstances.
Always – in normal circumstances
Cargo that, in normal circumstances, both passenger and cargo aircraft can carry.
---
ICAO Technical Instructions – packaging
There are clear instructions in the ICAO Technical Instructions on how to package dangerous goods. There are also restrictions on the quantity per package.
The Instructions clearly tell us what type of aircraft can and can't carry specific goods. 'Type of aircraft' refers to passenger or cargo airplanes.
However, there are not usually any restrictions on how many packages an aircraft can carry.
Icao.int says the following regarding packing methods:
"The Technical Instructions also give the packing methods to be used, and the packagings permitted, together with the specifications for those packagings and the stringent testing regime that must be followed."
"There are also requirements for the markings and labels for packages and the documentation for consignments."
The Instructions also tell us what the requirements are regarding markings, labels, and package documentation.
Commercial aviation safety has been steadily improving for several decades. In fact, 2017 was the safest year for the commercial aviation industry.
---