Importer – definition and examples
An importer is a country, company, or person that purchases goods or services from abroad. In most cases, the importer buys things from another country to sell them at home. In a customs document, it is the party that makes the import declaration. It is the party that is liable for import duty payments. The term also refers to a type of computer software (see the last part of this article).
Import duty is a tax on goods or services that come in from abroad. We also call it customs duty or import tariff.
The Cambridge Dictionary has the following definition of importer:
"A person, country, or company that buys products from another country in order to sell them."
Importer vs. consignee
The importer is the person or company that has government authorization to bring goods or services into the country from abroad.
Importers are responsible for completing the customs forms and clearing procedures when the goods arrive from abroad.
However, this person or company may not be the customer.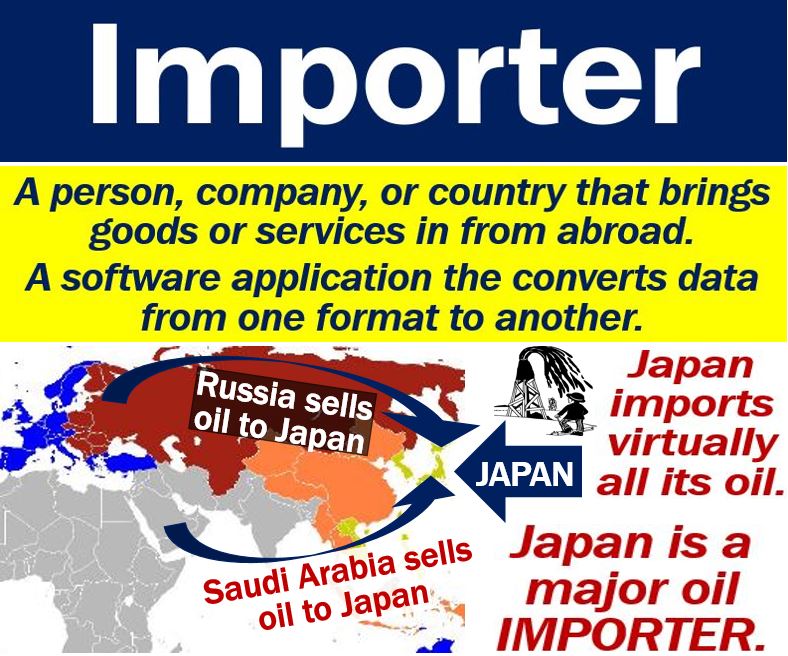 The consignee is the person or firm to whom the shipper has consigned the cargo. However, the consignee may not be the customer either.
If the shipment, for example, involves freight forwarding, the consignee may be the freight forwarder. In this case, the consignee might not be the final purchaser of the goods.
According to Logical Maritime Services Limited:
"The consignee may or may not be an actual buyer of goods. If freight forwarding is involved in a shipment, the consignee of MAWB or MBL may be the said freight forwarder and not the final buyer of goods. Consignee need not be a government registered importer."
Importer – software
In the world of computing, an importer is a software application. It reads a data file or metadata information in one format and converts it into another. It does this via filters and other special algorithms.
In many cases, it is not the whole program, but rather an extension of another program. The user has implemented it as a plug-in.
When implemented as a plug-in, it reads the information from the file and converts it into the native format of the hosting application.