Incubator firm – definition and examples
An incubator firm is a company or organization that helps startups and early-stage companies. It helps them through their developmental phases until they can operate successfully on their own. We also call it a 'business incubator.' The incubator firm is similar to a baby incubator in a hospital. The incubator helps the baby – an infant human – until it can function on its own.
Business incubators 'incubate' the startup – an infant company – until it can stand on its own feet unaided.
The incubator firm may be a not-for-profit or for-profit organization. It also helps startups locate financial capital, consultants, and other necessary resources.
They typically provide startups with a range of services, including management training and office space.
---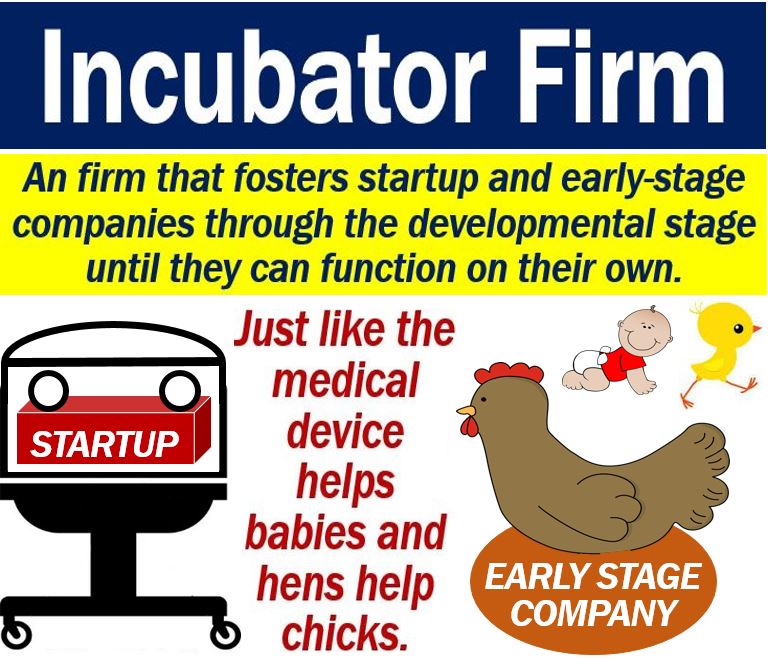 ---
Incubator firm – types
Business incubators exist in several different forms and follow a variety of strategies.
Some of them have physical offices where entrepreneurs can network and liaise with mentors and coaches.
Other, however, exist purely digitally, i.e., on a virtual basis.
An incubator firm aims to speed up the growth and success of early-stage and startup companies. They are also a good path to economic-development coalitions, angel investors, state governments, and other investors.
Angel investors are people who invest their own money in a startup business. In most cases, they invest in exchange for part-ownership.
The National Business Incubation Association has members across the world.
Regarding its incubators and entrepreneurship center, the National Business Incubation Association says:
"Entrepreneurship centers in our network include incubators, accelerators, small business development centers (SBDC's) and other organizations."
"These centers support startup companies in rural, urban and developing countries around the world."
---
Incubator firm pros and cons
Entrepreneur.com sees both advantages and disadvantages to using an incubator firm.
Advantages
The early-stage or startup business gets access to a wide range of financial capital options.
The incubator also provides mentorship, networking, and expertise. In other words, there is a lot of back-up and expert help.
Disadvantages
The very benefits that incubators bring with them may also be disadvantages.
Continuous mentorship and networking with other entrepreneurs may undermine the startup owner's focus during the critical early stages of the business.
Entrepreneur.com has the following advice for people wondering whether to use an incubator firm:
"Think hard about whether your business is at a stage where it could benefit from an incubator. And don't move into the first one you come across, either."
"Shop around and find the one with the services that are the best fit."
---
Video – using an incubator firm
In this video, Jay talks about how startup incubators function. He calls them 'business incubators.' He takes us through the advantages and disadvantages of being funded by one.
Jay also gives us some tips on pitching them.
---