What is the International Bank Account Number (IBAN)?
The International Bank Account Number (IBAN) is a series of alphanumeric characters used as a means of identifying a specific bank account.
IBANs were first adopted by the European Committee for Banking Standards.
The idea is essentially that each bank account has its own IBAN, which can be used to quickly pinpoint the account's location anywhere in the world.
The IBAN consists of up to 34 alphanumeric characters.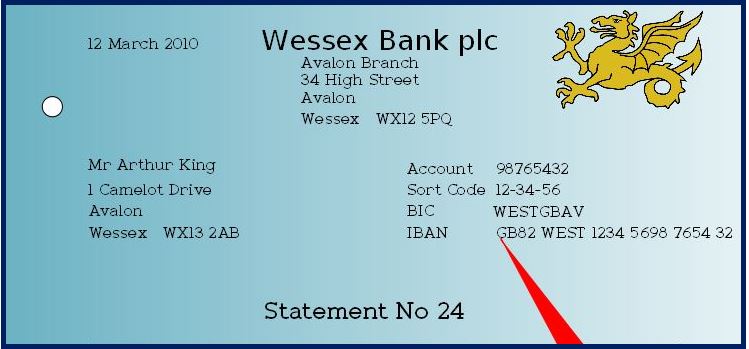 Example of a British bank statement showing the location of the IBAN. 
The use of IBANs helps expedite automatic processing of cross-border payments and receipts and reduces the need for manual intervention – ensuring proper transmission of data.
In turn, this results in fewer costs and delays that can occur when bank information is missing or incorrect.
What do the numbers mean?
The first two digits identify the country of the account.
The next characters typically identify the National bank code or BIC bank code.
The remaining characters usually identify the account's branch code (sort code) and account number.
Countries that use the IBAN (in blue or orange):
---
European countries that use the IBAN:
Albania – 28 characters long
Andorra – 24 characters long
Austria – 20 characters long
Belgium – 16 characters long
Bosnia and Herzegovina – 20 characters long
Bulgaria – 22 characters long
Croatia – 21 characters long
Cyprus – 28 characters long
Czech Republic – 24 characters long
Denmark – 18 characters long
Estonia – 20 characters long
Faroe Islands – 18 characters long
Finland – 18 characters long
France – 27 characters long
Georgia – 22 characters long
Germany – 22 characters long
Gibraltar – 23 characters long
Greece – 27 characters long
Greenland – 18 characters long
Guernsey – 22 characters long
Hungary – 28 characters long
Iceland – 26 characters long
Ireland – 22 characters long
Isle of Man – 22 characters long
Italy – 27 characters long
Jersey – 22 characters long
Latvia – 21 characters long
Liechtenstein – 21 characters long
Lithuania – 20 characters long
Luxembourg – 20 characters long
Macedonia – 19 characters long
Malta – 31 characters long
Moldova – 24 characters long
Monaco – 27 characters long
Montenegro – 22 characters long
Netherlands – 18 characters long
Norway – 15 characters long
Poland – 28 characters long
Portugal – 25 characters long
Romania – 24 characters long
San Marino – 27 characters long
Serbia – 22 characters long
Slovakia – 24 characters long
Slovenia – 19 characters long
Spain – 24 characters long
Sweden – 24 characters long
Switzerland – 21 characters long
Ukraine – 29 characters long
United Kingdom – 22 characters long
---
Non-European countries that use the IBAN:
Algeria – 24 characters long
Angola – 25 characters long
Azerbaijan – 28 characters long
Bahrain – 22 characters long
Benin – 28 characters long
Brazil – 29 characters long
British Virgin Islands – 24 characters long
Burkina Faso – 27 characters long
Burundi – 16 characters long
Cameroon – 27 characters long
Cape Verde – 25 characters long
Central African Republic – 27 characters long
Congo – 27 characters long
Costa Rica – 21 characters long
Dominican Republic – 28 characters long
Egypt – 27 characters long
French Guiana – 27 characters long
French Polynesia – 27 characters long
Gabon – 27 characters long
Guadeloupe – 27 characters long
Guatemala – 28 characters long
Iran – 26 characters long
Israel – 23 characters long
Ivory Coast – 28 characters long
Kazakhstan – 20 characters long
Kuwait – 30 characters long
Lebanon – 28 characters long
Madagascar – 27 characters long
Mali – 28 characters long
Martinique – 27 characters long
Mauritania – 27 characters long
Mauritius – 30 characters long
Mozambique – 25 characters long
New Caledonia – 27 characters long
Pakistan – 24 characters long
Palestine, State of – 29 characters long
Réunion – 27 characters long
Saint-Pierre and Miquelon – 27 characters long
Sao Tome and Principe – 25 characters long
Saudi Arabia – 24 characters long
Senegal – 28 characters long
Tunisia – 24 characters long
Turkey – 26 characters long
United Arab Emirates -23 characters long
Wallis and Futuna – 27 characters long
---
Video – IBAN and BIC