What is a job description? Definition and examples
A job description or JD lists the main features of a specific job. The description typically includes the person's main duties, responsibilities, and working conditions. It also includes the job title and to whom the person holding that job has to report. It is only possible to do a job description, however, after carrying out a job analysis.
A job analysis is a process that carefully examines a job and determines what its duties are. The analysis also determines the type of person who would be ideal for the job.
People who are looking for a job look at the job description carefully before deciding whether to apply. Therefore, getting the contents right is vital if you want to recruit a suitable person.
WikiJob has the following description of the term:
"A job description is a document intended to provide job applicants with an outline of the main duties and responsibilities of the role for which they are applying."
"The description is usually drawn up by the individual in the organization responsible for overseeing the selection process for the role."
The company's human resources (HR) department or even an external recruiter may also write the job description. HR is the department within an organization that administers, hires, and trains employees.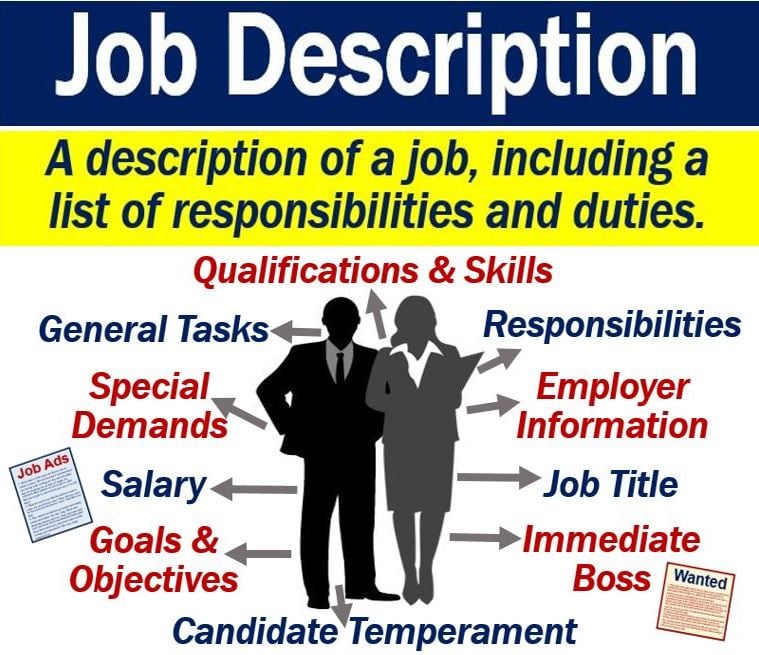 ---
Job description – what to include
What to include in the description depends on the position. It also depends on why you are writing it.
Below is a list of the most common features people include in a job description:
Job title.
General tasks.
Location. Where is the job based? Does the employee sometimes have to work elsewhere?
Responsibilities.
Immediate boss. To whom the employee reports.
Relationships with other people within the organization.
Who, if anybody, reports to the person who does the job.
Qualifications or skills the person must have.
Salary range, commission, bonuses, and other perks.
Special demands. The description should inform if, for example, the job involves heavy lifting or exposure to extreme temperatures. Extensive travel and prolonged standing, for example, are also special demands.
Goals and objectives. The description may also include goals that the employee should aim for in the future.
Candidate temperament. The employer needs to explain what type of personality succeeds in that job. Also, what type of person succeeds in the organization.
---
Employer information
A job description for a job ad should also have information about the company or organization. Not only are candidates interested in the job, but also the employer.
What does the company do? How old is it? How many people work for the company? Where does it operate? What are its main products or services? Does it comply with any quality management standards? Quality management refers to everything a company does to make sure it produces and delivers products to spec and at the appropriate cost.
Regarding job descriptions for job ads, Monster for Employers writes:
"If you want to hire the right person, you need a crystal-clear picture of the type of employee you're looking for."
"Your job description has to go beyond just experience and education to include work and character traits that can impact a person's ability to thrive in your organization."
---
---