What is a portfolio manager?
A portfolio manager is either somebody who makes investment decisions using other people's money, or an individual in charge of a financial institution's asset and liability portfolios.
The term 'portfolio manager' can refer either to an individual or a firm that manages investment portfolios on behalf of private clients, foundations, endowments or pensions. The aim is to maximize the portfolio's expected return and minimize risk.
A portfolio is a spread of investment products owned by a person, corporation, hedge fund or financial institution.
The portfolio manager typically works alongside researchers and investment analysts, and is ultimately responsible for establishing an investment strategy, choosing the right investments, and deciding how much money is spent on each one.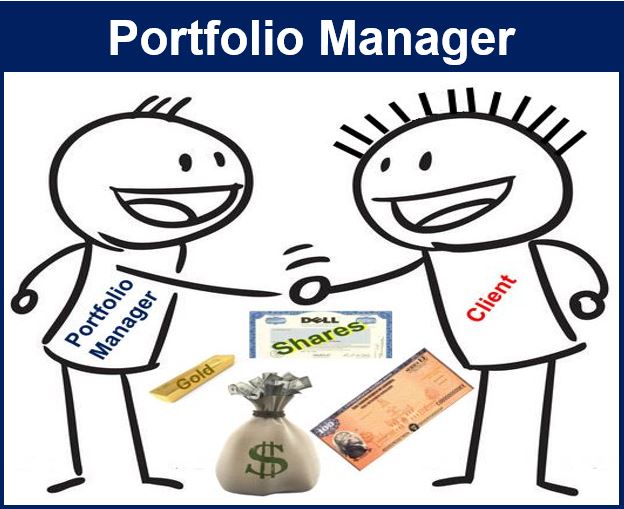 You should meet with your portfolio manager at least once a year.
According to nasdaq.com, a portfolio manager is a:
"Professional responsible for the securities portfolio of an individual or institutional investor, such as a mutual fund, pension fund, profit-sharing plan, bank trust department, or insurance company. In return for a fee, the manager has the fiduciary responsibility to manage the assets prudently and choose which asset types are most appropriate over time."
---
---
Investment managers choose which investments to buy and sell
Investment banks send their analysts to present investment ideas to portfolio managers. He or she sifts through the relevant data and decides which securities to buy and sell. It is a full-time job, during which the portfolio manager talks to company executives, monitors industry and economic trends, and seeks out the right company and time to invest the portfolio's resources.
The portfolio manager makes decisions regarding the investment mix and policy, and balances risk against expected returns. Whether he or she buys riskier or safer investments depends on the client's risk tolerance.
A client who is willing to accept a high level of risk can expect greater returns, but also potentially larger losses.
As far as mutual and exchange-traded funds (ETFs) are concerned, there are two types of portfolio management – passive and active. A passive manager just tracks a market index, while an active manager tries to beat the market return by being actively engaged.
Choose your manager carefully
According to historical records, only a very small percentage of active fund managers beat the market indexes.
When considering fund investing, one of the most important factors to consider is which portfolio manager to accept.
Portfolio managers may also be called wealth managers, investment managers, asset manages, or investment counselors.
According to the Portfolio Management Association of Canada (PMAC), a portfolio manager develops a written agreement, called an Investment Policy Statement (IPS), that takes into account the investor's specific requirements.
The client's IPS is the basis upon which the portfolio manager chooses a suitable mix of investments and makes discretionary adjustments to the portfolio. The client and portfolio manager typically meet at least once a year to make sure the IPS is up to date and reflects his or her needs.
The portfolio manager charges a percentage of the investments that are managed. According to the PMAC "This fee is transparent and generally much less than retail management and distribution costs, which are often embedded as a cost of doing business."
Video – Career Insights, Portfolio Manager
John Butters talks about how he shifted from studying philosophy at university, teaching English in China, to becoming a portfolio manager… and why he likes the job.