What is quality improvement? Definition and examples?
Quality improvement refers to the combined and unceasing efforts of everybody in a company to make everything about it, especially its production process, better. It is a systematic approach to the elimination or reduction of rework, waste, and losses in the production process.
Put simply, quality improvement (QI) refers to methods to improve the production process. It requires getting rid of or changing parts of the process that do not function optimally.
In manufacturing, for example, the term nearly always refers to the production process. However, management can target any part of a company or organization for QI.
There are several different methods for quality improvement. They cover people-based improvement, process improvement, and product improvement.
Quality improvement – common in healthcare
QI exists in all industries. However, we read about it more in the healthcare sector. If you search 'quality improvement' in Google, you will notice that the first two pages consist almost entirely of healthcare organizations.
In a 2007 BMJ article, Paul B Batalden and Frank Davidoff had the following definition of quality improvement in healthcare:
"We propose defining it as the combined and unceasing efforts of everyone – healthcare professionals, patients and their families, researchers, payers, planners and educators – to make the changes that will lead to better patient outcomes (health), better system performance (care) and better professional development."
BusinessDictionary.com defines the term as follows:
"The systematic approach to reduction or elimination of waste, rework, and losses in production process.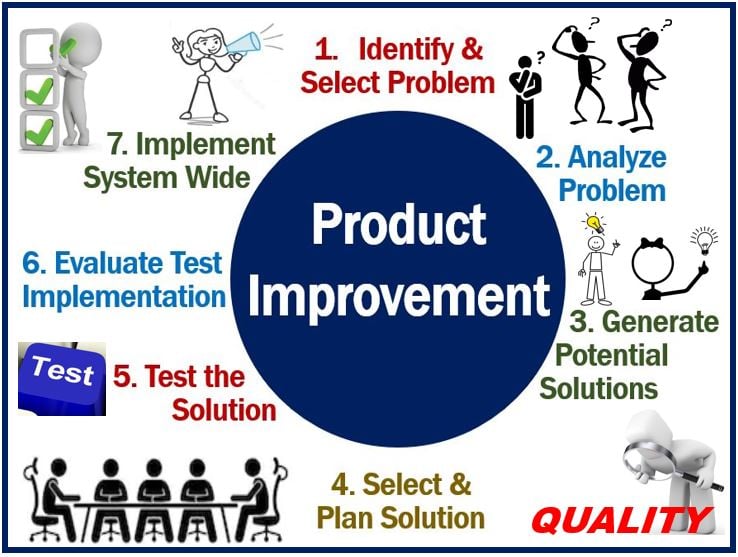 Part of quality management
QI is part of quality management. It exists alongside quality control, quality assurance, and quality planning. Below is an explanation of the four parts that make up quality management:
Quality control
Quality control or QC is a system in manufacturing for maintaining standards. Inspectors examine the final product to make sure it meets standards and specifications. When the company provides a service, the inspector checks the end results.
Quality assurance
Quality assurance or QA is a program for the systematic monitoring of different aspects of production. We also use QA for projects and services. QC occurs after the finished product is completed, while QA happens before.
Quality improvement
Quality improvement or QI focuses on improving the production process. However, the target could be any part of an organization.
One vital ingredient in successful and sustained improvement is how changes are introduced and implemented. "Taking a consistent approach is key," says the Health Foundation.
The Health Foundation adds that it is important to adopt a combination of approaches to ensure improvements. This is especially the case in healthcare.
Quality planning
Quality planning or QP refers to the process of identifying which quality standards to focus on and then determine what to do.
According to MyPmps.net:
"Quality planning means planning how to fulfill process and product (deliverable) quality requirements. Quality is the degree to which a set of inherent characteristics fulfill requirements."