What is retail banking? Definition and meaning
Retail banking refers to the provision of financial services by a bank to individual customers (private individuals), rather than corporations, local and central governments and other banks.
The term 'retail,' in this context, means that the 'consumer' acquires or buys a product for personal use. In this case, the consumer is the bank customer and the products are banking services.
Retail banking is different from investment banking, which deals just with companies, the trading of securities, initial public offerings, M&As, etc., and wholesale banking, which is the provision of services to other banks, mortgage brokers, large companies, and other financial institutions.
Services provided in retail banking include checking accounts (UK: current accounts), savings accounts, overdrafts, personal loans, mortgages, credit/debit cards, safe deposit boxes, travelers' checks (UK: cheques) and certificates of deposit.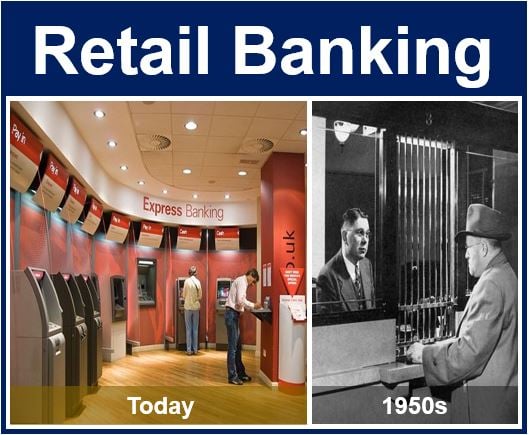 Retail banks are commonly called high street banks in the UK and Ireland. In the US, they may be referred to as commercial banks when differentiating from investment banks.
The upmarket end of retail banking, which is aimed at very rich people, is private banking. It is similar to retail banking, but focuses on individuals with a minimum approx. $500,000 of investable money, and is tailor-made for the preferences and requirements of each customer.
According to Cambridge Dictionaries Online, a retail bank is:
"A bank that provides services to the public and to small businesses rather than to large companies or organizations."
Retail banks and customer loyalty
Retail banks work hard to recruit customers from a very young age and hold on to them for the rest of their lives.
Customer loyalty is one of the cornerstones of successful retail banking. Banks aim to provide services from high school, the college years, through to the purchase of the first house, subsequent dwellings, to retirements trusts established to pay for old age.
Bank tellers
Banks used to be full of tellers. In branches today, even the larger ones, we see very few of them. In fact, in some there are none at all that customers can see as they enter.
CareersWiki says the following regarding some of a bank teller's duties:
"Bank tellers handle transactions in the form of cash, checks, and other forms of finances and currencies from customers in the bank."
"They count and process the financial transactions and help customers with any queries or questions they may have."
The evolution of retail banking
Retail banking patterns have moved differently in the US compared to the UK.
In contrast with the 1990s, when banks sought to diversify their sources of revenue and de-emphasize branch networks, retail banking has become a major area of strategic emphasis in the American banking industry, says the Federal Reserve Bank of New York (New York Fed).
Since the global financial crisis, retail loan and deposit shares on commercial bank balance sheets have been increasing, as have the number of bank branches in the United States.
"The recent 'return to retail' episode may be more persistent than past cycles because it is being driven almost entirely by the very largest U.S. banks, which have been building large branch networks and investing in other retail banking infrastructure."
According to Eric Leenders, Executive Director of Retail at the BBA (British Bankers Association), retail banking has changed dramatically over the past 50 years, especially since the 1990s, when a mobile phone weighed nearly as much as a telephone directory.
With our feather-light, super smartphones today we can do most of our banking activities online, such as checking out balances, paying bills, setting up payment schedules, and conducting other banking transactions whenever we like, from virtually anywhere.
Bank branches in the UK are either disappearing, or becoming fully-automated IT hubs with virtually no bank teller in sight. You may come across the occasional bank employee who is available to talk about pension plans, etc.
---
Video – New service model for retail banking
---