What is search engine marketing or SEM? Definition and examples
Search engine marketing is a type of Internet marketing that tries to increase a website's visibility in search engines. Today, the term mostly refers to gaining website traffic and exposure through paid advertising. The abbreviated form, SEM, is also a common term (pronounce each letter separately).
Internet marketing refers to marketing efforts that businesses and other organizations do solely over the Internet.
With search engine marketing, businesses pay for their adverts to appear alongside search queries in search engines. Google, Yahoo, Safari, and Bing, for example, are search engines.
Wordstream says the following about SEM:
"Search engine marketing's greatest strength is that it offers advertisers the opportunity to put their ads in front of motivated customers who are ready to buy at the precise moment they're ready to make a purchase."
"No other advertising medium can do this, which is why search engine marketing is so effective and such an amazingly powerful way to grow your business."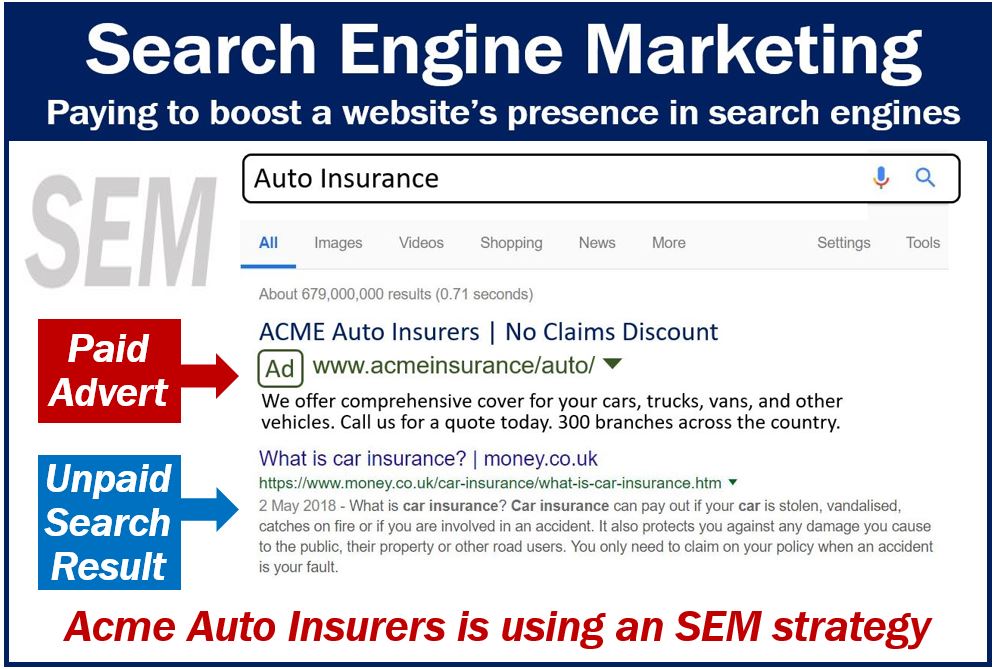 Search engine marketing vs. search engine optimization
Search engine marketing used to be an umbrella term that also encompassed search engine optimization or SEO. Over time, however, SEO grew and is today a completely separate marketing field.
Some marketing people today still say that SEO is a part of SEM.
What is search engine optimization?
Like SEM, the aim in SEO is to boost your website's or webpages appearance in search engines. However, unlike SEM, the SEO marketer does not pay for it.
In the world of business, especially hi-tech and the Internet, when something grows naturally, we say it grows 'organically.' Therefore, SEO refers to boosting your website's presence in search engines organically. In other words, naturally, i.e., not having to pay for it.
Experts say that for effective SEO, websites must focus on excellent content, lots of inbound links from respectable websites, outbound links, and the effective use of keywords and key phrases.
What is search engine marketing?
Search engine marketing is a form of Internet marketing in which the marketer uses paid advertising. Google is, by far, the most popular search engine for search engine marketing.
In the second quarter of 2015, Google received 73.7% of all the money that companies and people spent on search engine advertising. Yahoo/Bling came second.
Google AdWords is probably the most popular search engine marketing platform. Bing Ads is also another prominent SEM platform, as are Yahoo! Gemini and IgnitionOne.
Which is better – SEO or SEM?
Search engine optimization takes much longer to produce desired results than search engine marketing. It can take several months and even years. How long depends on several factors, including how many competitors there are in the market, and how effective your SEO strategy has been. The age of your website is also a factor.
Search engine marketing gets results much faster. If you pay for ads on, for example, search results in search engines, you should see immediate results. In other words, your website traffic should receive a boost straight away.
However, purists might argue that SEM does not tell you how good your website is. If your growth is 100% organic, you know that what you are doing to your website boosts growth. If you pay for advertising, how can you know whether what you are doing in your webpages is improving the site?
The risk of spending a lot of money on search engine marketing is that as soon as the adverts stop, traffic crashes. With an SEO approach, you do not have this risk.
If you cannot wait for the growth and you have a lot of money, SEM is a useful option.