What is CFD in derivative trading?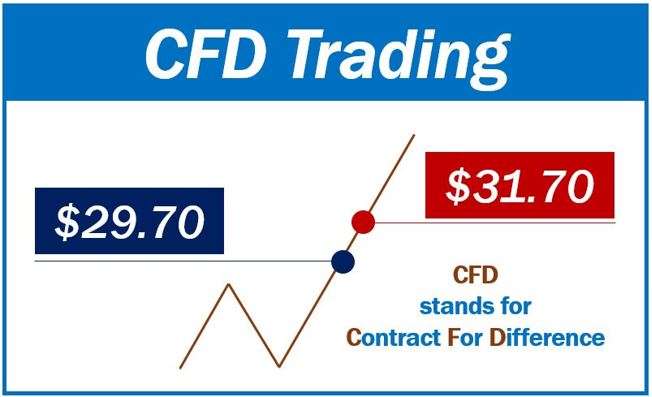 CFD, which stands for a Contract For Difference, is a very popular form of derivative trading. It enables the trader to speculate on the rising and declining prices of markets. Specifically, rapidly-moving markets. The trader can also speculate on the price fluctuations of such instruments as treasuries, shares, currencies, commodities, and indices.
With CFD trading, people are able to trade on margin. They can also go short if they believe that prices will fall or go long if they think prices will go up. To go short and go long mean to sell and buy respectively.
In most countries, CFD trading is done without having to pay taxes.
AVATRADE has the following definition of CFD:
"Contracts For Difference (CFDs) are specialised and popular Over The Counter (OTC) financial derivative products which enable you to trade on the price movement of financial assets Indices Futures, Commodity Futures, Cryptocurrency, Shares and Exchange Traded Funds."
What are derivatives?
Derivatives are contracts whose values come from the performance of underlying entities. They are securities that we link to stocks, bonds, and other financial instruments. We may also link derivatives to real estate, exchange rates, or a currency exchange.
Derivatives themselves are not worth anything. Their primary security gives them their value.
We use derivatives for many different purposes, such as raising exposure to price movements for speculation. We also use them for gaining access to otherwise difficult-to-trade assets or markets as well has for hedging.
CFD trading – how does it work?
CFD traders do not buy or sell the underlying asset, such as a currency pair, commodity, or physical share. They purchase or sell a specific number of units for a type of instrument depending on which way they think prices will go, i.e., up or down.
Put simply, CFD trading is a way to make money by speculating on the predicted price movements of treasuries, commodities, and other financial instruments.
Traders gain or lose multipes of the number of CFD units they possess. If the units' prices move in their favor or against them, they gain or lose money respectively.
Creating a CFD Trading account
Many online firms have facilities for opening a CFD trading account. Applying for one is a straightforward process that does not usually take more than a few minutes.
As soon as your details have been verified, you will need to place money in your account. You can do this via PayPal, BPay, or debit/credit card.
Some people prefer to practice with virtual funds, i.e., not real money. If you want to start off without risking your money, you should consider opening a demo account. Many firms offer this option.
Video – Traders buy and sell
There are many different types of traders, including stock, forex, CFD derivative, vegetable, commodity, and fruit traders. This Market Business News video provides a brief summary on what they do.