White knight – definition and meaning
A white knight is a friendly company that enters the scene during a hostile takeover attempt and places a bid for the target company, which prefers this newcomer to the 'black night', the unwelcome suitor.
Imagine a firm that you don't like tries to acquire your company – you not want them to do it – then another company that you like comes in and makes a bid – you welcome this new move – this new company is called a white knight.
A white knight is a friendly investor who acquires a company at a fair consideration with the support of the company's senior management.
In non-business English, a white knight is somebody who comes to rescue another, or an individual who champions a cause.
According to ft.com/lexicon, the Financial Times' glossary of terms, a white knight is:
"A company or individual that is sought out by the management of a takeover target to help it defend against a hostile bid. The white knight may end up agreeing to acquire part or all of the target company.
"A friendly bidder that rescues a targeted firm from an unsolicited or **hostile takeover."
** A hostile takeover is the acquisition of a company by a predatory firm when the target company does not want to be taken over.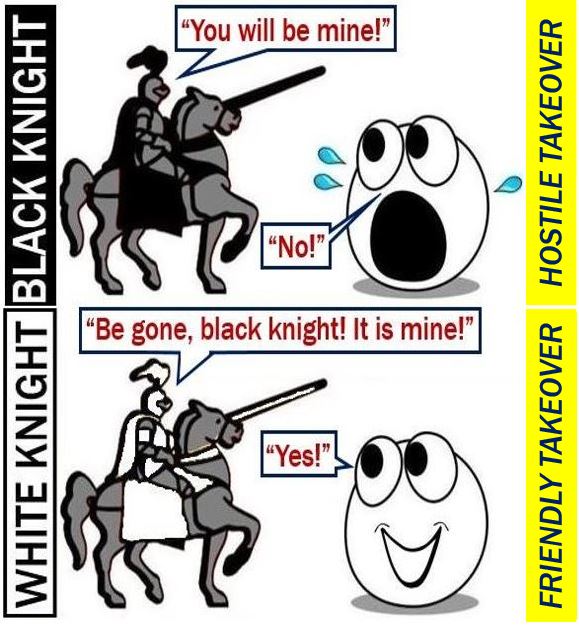 The white knight comes in to try and stop the black knight from succeeding in a hostile takeover attempt. The target company does not want to be acquired by the black knight, but would accept a takeover by the white knight.
A white knight might also be somebody, a company, or any entity that steps in to save a company from bankruptcy or insolvency.
White knight may trigger bidding war
There is a risk that when the white knight enters the scene, a bidding war ensues. The black knight's strategy is usually to respond by offering more than the white knight, so that the stockholders consider turning down the white knight's bid.
The friendly investor may respond by increasing its bid, after which the unwelcome suitor offers even more.
Within a short space of time, the two companies find themselves in the middle of a fierce bidding war.
The black knight, however, may pursue another strategy. It sits back and does nothing, allowing the takeover of the target company by the friendly investor.
After the acquisition has been completed, the black knight moves in and tries to take over the white knight. In most cases, this type of offer is a hostile one.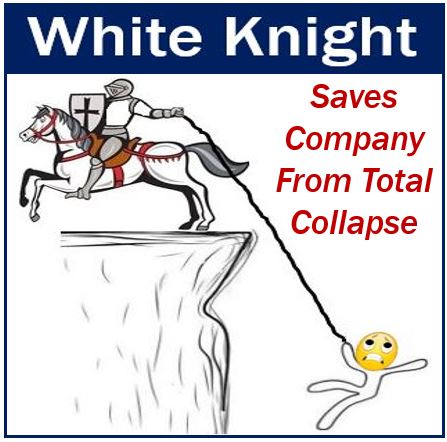 White knights do not only come to the aid of targeted companies during a hostile takeover attempt, they also save businesses that are on the verge dying.
Examples of white knight behavior
– 2009: Fiat S.p.A. acquired Chrysler, saving the struggling American automaker from liquidation. The two car manufactuers eventually merged into Fiat Chrysler Automobiles, a new entity.
– 2008: PNC Financial Services purchased National City Corp after National City was denied TARP funds. Without that acquisition, National City would have died in the subprime mortgage crisis.
– 2008: Volkswagen took over Porsche after the luxury carmaker had launched a takeover attempt of Volkswagen by buying enough Volkswagen shares to control four-fifths of the German automaker at one point. During the global financial crisis, Porsche ran out of money and was at serious risk of insolvency. Ironically, it was saved by the very company that it had been trying to acquire.
– 2008: JPMorgan Chase took over Bear Stearns, thus preventing Stearns' insolvency after its stock price crashed (Stearns' market capitalization had plummeted by 92%).
– 2007: Nissin Foods launched a bid for Myojo Foods after Steel Partners, a US hedge fund, tried to acquire it.
– 2006: Bayer was Schering's white knight during the merger negotiations between Schering and Merk KGaA.
– 1984: Sid Bass and sons purchased a sizable interest in Walt Disney Productions in order to prevent Saul Steinberg's hostile bid for the mass media and entertainment company.
A yellow knight is a black knight which then changes its approach, backs out of the acquisition attempt, and proposes a merger of equals.
---
Video – What is takeover?
A takeover takes place when one company acquires another; hence, we also call it an acquisition. When they are both about the same size and fuse together to make one company, we call it a merger.
---