White shoe firm – definition and meaning
A white shoe firm is a leading professional services firm that has been around for a very long time – at least 100 years – and represents a Fortune 500 company. The term is more commonly used in the United States than in the other native English-speaking countries. In the vast majority of cases, it is a law, accounting, banking, brokerage, or management consulting firm. Many of them are based in either Boston or New York.
The term white shoe firm comes from the Ivy League colleges – upper-class students there used to wear a popular type of white shoe (white buck suede oxford shoes) – and originally reflected a stereotype of traditional firms populated by White Anglo-Saxon Protestants (WASPs), i.e. influential white Americans of British Protestant ancestry.
Historically, white shoe firm had anti-Semitic and anti-Catholic connotations – many of the New York-based firms were off limits to many Catholic and virtually all Jewish lawyers until the second half of the 20th century.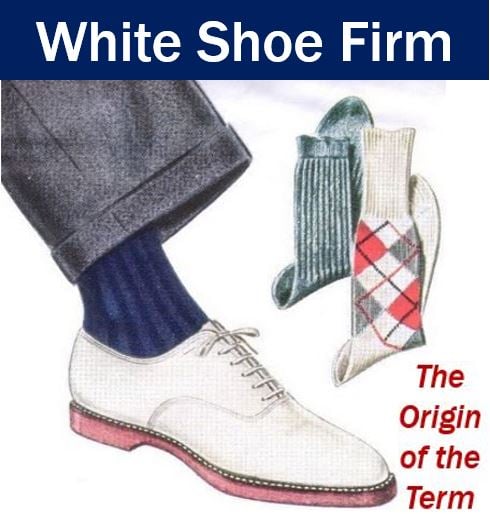 The white buck suede oxford shoe (pictured above) gave birth to the term 'white shoe', which according to ivy-style.com: "Usually applied to a law or financial firm that hired WASPy guys from elite universities and catered to Old Money clientele." (Image: adapted from ivy-style.com)
According to BusinessDictionary.com, a white shoe firm is:
"A law firm, brokerage, or other company, that is considered one of the leading companies in its field, typically in the Fortune 500, and has been in existence for typically at least 100 years.
"A white shoe firm previously indicated a company consisting of primarily upper-class white employees, and the term originated from a popular white shoe that was often worn by upper-class individuals at Ivy-League universities in the northeast."
White shoe WASP features gone
The traditional WASP features are no longer true today. The most famous white shoe firms are PricewaterhouseCoopers, Goldman Sachs, KPMG, Coudert Brothers, Merrill Lynch, and Morgan Stanley.
Over the past few years, the term white shoe firm has expanded to denote top-notch firms in many countries across the world.
The names on the dark blue background are the white shoe firms that were initially populated by WASPs. The term 'white shoe firm' has been expanded and today includes other top-rated prestigious companies (yellow background). (Data source: Wikipedia)
In an essay that appeared in the New York Times in 1997 – 'On Language; Gimme the Ol' White Shoe' – language expert William Safire wrote the following regarding the origin of the term white shoe:
"The source is white 'bucks', the casual, carefully scuffed buckskin shoes with red rubber soles and heels worn by generations of college men at Ivy League schools. Many of these kids, supposedly never changing their beloved footgear, went on to become masters of the universe on Wall Street and in the best-known law firms."
"In its early days, the adjective (white shoe) was used in an envious, resentful way by those with less-privileged backgrounds; now it is either a dispassionate description of elitism or a passionate derogation of old-fogeyism. However, some of the nouveau-riche derogators of the old-line firms are classed by a different and more expensive shoe, the loafer with a brass link ornament made by the Gucci firm in Italy. In Washington, K Street, where many lobbyists make their headquarters, is known as 'Gucci Gulch'."
London's equivalent term is The Magic Circle, which refers to the city's five leading law firms – Allen & Overy, Clifford Chance, Freshfields Bruckhaus Deringer, Linklaters, and Slaughter and May – plus four or five leading London-based commercial barristers' chambers.