WiMAX – definition and meaning
WiMAX, which stands for Worldwide Interoperability for Microwave Access, is a kind of wireless technology that provides wireless Internet over considerably longer distances than standard WiFi. It is the product of a wireless industry coalition dedication to the advancement of IEEE 802.16 standards for BWA (broadband wireless access).
Wireless technology refers to technology that allows people or devices to communicate without wires or cables.
With WiMAX, users have access to a wireless broadband service that provides high-speed voice, data, and Internet connectivity, and covers very long distances.
WiMAX supports nomadic, mobile, and fixed wireless applications:
– Nomadic users connect on portable devices, but do so only while stationary. They might connect from a hotel room to an office network, and then again from a diner or coffee shop.
– Mobile users are individuals in transit, such as a commuter traveling on a train.
– Fixed Wireless refers to wireless connectivity with non-mobile devices in business premises or in the home.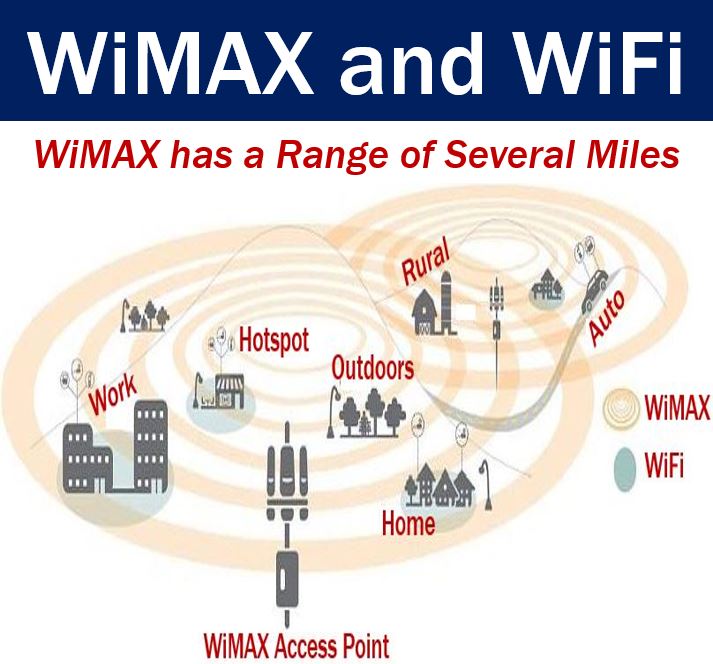 WiMAX has not been as popular as IT and telecommunications experts had initially predicted. Mainly due to its significantly higher cost, it has not become a replacement for WiFi or wireless hotspot technologies.
In an article published in Lifewire in June 2017, titled – 'What does WiMAX Internet Mean?', Bradley Mitchell wrote that all-in-all, it can be cheaper to implement compared to standard wired hardware such as DSL.
Mitchell added:
"Still, though, the global telecommunications industry has chosen to invest fully in other avenues like LTE, leaving the future viability of WiMAX internet services in question."
The term was created by the WiMAX Forum (Forum), an industry-led, not-for-profit organization formed in 2001 that certifies and promotes the compatibility and interoperability of broadband wireless devices based onIEEE Standard 802.16.
According to the Forum, WiMAX is:
"A standards-based technology enabling the delivery of last mile wireless broadband access as an alternative to wired broadband like cable and DSL."
"WiMAX provides fixed, nomadic, portable and, soon, mobile wireless broadband connectivity without the need for direct line-of-sight with a base station."
The system has enough bandwidth to support hundreds of businesses with T-1 speed connectivity as well as thousands of households with DSL speed connectivity simultaneously.
When mobile phone companies embraced 4G technology, most of them preferred LTE (Long-Term Evolution). LTE increases speed and capacity using a different radio interface together with core network improvements. In the world of mobile phone communications technology, LTE grew while WiMAX shrank.
In an article in Microwaves & RF, Lou Frenzel wrote:
"WiMAX is alive and well, but currently living in the shadow of LTE. It is a great wireless technology that has found its own niche. It could really become an alternative technology for the Internet of Things (IoT) as that movement comes into its own."
"Anyway, it is worth considering. At least its fate is positive unlike another OFDM-based wireless technology, IEEE 802.22. But that's another story."
---
Video – What is WiMAX?
This Clear Wireless video, which came out in May 2009, explains what WiMAX is – similar to WiFi, but with a range of many miles rather than feet.
---