Work cell – definition and meaning
A work cell is a cluster of workers, equipment, and other materials that we need to perform a specific task. It is the logical or physical arrangement of all the resources people use in order to carry out a task, job, or activity. Designers in manufacturing companies commonly create work cells in order to boost productivity and bring down costs.
If you configure a work cell well, it can significantly increase how rapidly a process progresses; it can also reduce costs and error rates.
The work cell concept comes from lean manufacturing. Lean manufacturing (lean) is a systematic method for waste minimization within a manufacturing system in which we do not sacrifice productivity.
Manufacturing companies commonly group several work cells together to collectively produce a product.
Companies also use work cells for administrative tasks, and in the delivery of services. You should design your work cell so that it can rapidly adapt as internal processes change.
According to Accounting Tools:
"A work cell is a cluster of equipment and personnel that performs a specific task. A properly-configured work cell can increase the speed of a process, reduce error rates, and cut costs."
"The concept comes from lean manufacturing, especially in regard to how nonvalue-added steps are eliminated from a process."
In most sectors of the economy that create work cells, especially in the manufacturing environment, the aim is to improve the speed, quality, and cost of the process.
There are two ways we can write the term, as two words – work cell – or just one – workcell. Writers use both terms with equal frequency in most literature and online articles.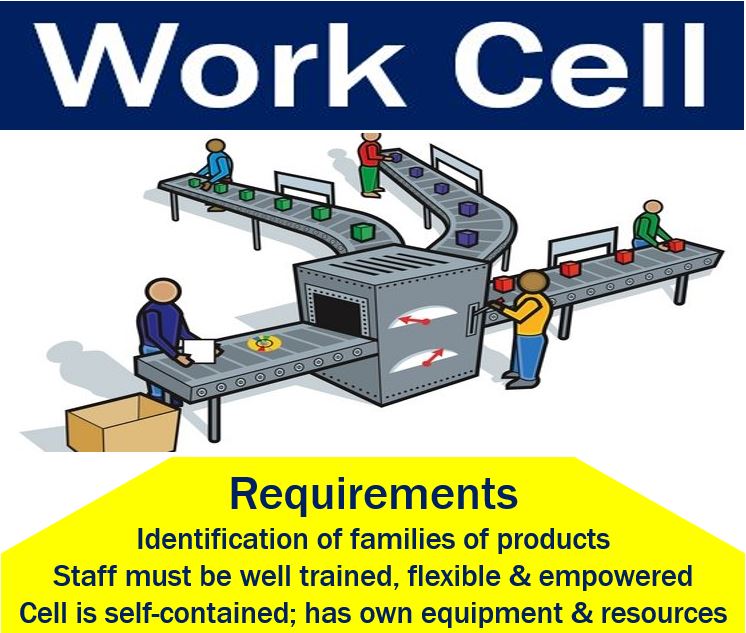 For work cells to function successfully, they need to be as autonomous (independent) as possible, while at the same time seamlessly coordinated, i.e. the production process should move smoothly from one work cell to the next.
Work cell concept in manufacturing
In order to get maximum productivity, manufacturers arrange their production-process machines so that the process progresses seamlessly from one stage to the next.
To do this optimally, we have to arrange the machines in work cells that facilitate the most logical progression of the goods that they are producing, from basic items such as raw materials to the end product.
We have to arrange all the workers and other production-process materials properly for the same reason.
In administrative procedures, i.e. the office environment, work cells help improve the flow of communications and the utilization of shared resources.
Work cell – many types
In the manufacturing or office environment, the work cell comes in many shapes and forms. When approaching work cell optimization, some people go for a U-shaped or T-shaped layout, or a floating design which may have an S-shaped or X-shaped layout.
Whatever the work cell layout is, the cell designer needs to:
– Concentrate on keeping transit times between each work station within the cell to a minimum.
– Simplify how work and components move from one station and one cell to the next.
– Ensure that the layout is functional – it needs operators who are able to manage, work, and supervise more than one work station.
In an article in DriveOurSuccess.com, titled – 'Manufacturing Work Cell Optimization: Design, Layout and Analysis' – Ian Johnson writes:
"Before venturing into the individual cell designs, it's important to define how you determine the individual productivity rates emerging from each station within a work cell. I adopt this strategy because it forces companies to witness production in person."
"While some companies determine their productivity rates by comparing production volumes from a given day, week and month to the next, this approach instead focuses on the actual rates emerging in each location and most importantly, it provides the root causes of downtime and lost time."
There are several work cell design shapes, including S-, Z-, U- and T-shapes.  A work station is part of a work cell.
Work cells in automated plants
In automated manufacturing plants, machines do most of the work, including robots with artificial intelligence. Each work cell has one or more machines.
The machines are generally automatic, single-cycle devices that stop after they have completed their machining operation. According to an article in the University of Tennessee Knoxville's' website, titled –'Work Cells and Cellular Manufacturing' – machines and workstations are connected to each other using a range of devices known as decouplers.
The decouplers allow the machines, which work in a sequence, to operate with a certain degree of independence.
Setting up work cells and implementing them in a company requires some capital outlay.
The authors write:
"The analysis to justify moving to work cells, cross-trained workers, etc. will require the use of multi-criteria methods of analysis that consider the intangible benefits of quality, flexibility, employee satisfaction, as well as the intangible risks ( market and technology) of not adopting them."
"Cutting corners in not training people, not relocating equipment, will ultimately result in failure (or at best a minimum level of improvement over the prior condition)."
---
Video – Work Cell Optimization
In this video, Ian Johnson explains how we should design and lay out a work cell so that the manufacturing process is fully optimized.
---