What is the World Health Organization or WHO? Definition and examples
The World Health Organization or WHO is a United Nations specialized agency that focuses on international public health. The World Health Organization, which has existed since 1948, is a member of the United Nations Development Group.
WHO works with 194 Member States across six regions. The regions are Africa, Americas, South East Asia, Europe, Eastern Mediterranean, and Western Pacific. It has over 150 offices. WHO says its employees are united in a shared commitment to achieve better health for all people everywhere.
In the 'About Us' section of its website, the World Health Organization says:
"Together we strive to combat diseases – communicable diseases like influenza and HIV, and noncommunicable diseases like cancer and heart disease."
"We help mothers and children survive and thrive, so they can look forward to a healthy old age. We ensure the safety of the air people breathe, the food they eat, the water they drink – and the medicines and vaccines they need."
Communicable diseases
A communicable disease is one that spreads from one person to another. In other words, it is 'infectious.' Communicable diseases may also spread via insects and other animals.
A non-communicable disease, on the other hand, does not spread due to infectious agents. You cannot catch it from another person, insect, or other animal.
Diabetes and cataracts, for example, are non-communicable diseases. Heart disease and cancers are also non-communicable diseases. Influenza (flu) and measles, on the other hand, are communicable diseases. Hepatitis A, B, & C, and rabies are also communicable diseases.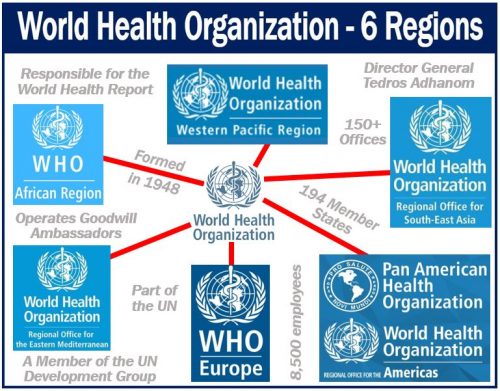 World Health Organization – Funding
Member States and outside donors finance WHO. Below is a list of the top 20 donors in 2016, according to Knowledge Ecology International
USA: $324 million.
Bill & Melinda Gates Foundation: $275 million.
UK: $133 million.
GAVI Alliance: $75 million.
Japan: $68 million.
National Philanthropic Trust: $66 million.
Rotary International: $52 million.
European Commission: $45 million.
CERF: $44 million.
Germany: $39 million.
Australia: $39 million.
Canada: $38 million.
Sweden: $34 million.
UNOCHA: $31 million.
Norway: $30 million.
Pakistan: $29 million.
Netherlands: $22 million.
UNDP: $20 million.
United Arab Emirates: $18 million.
UNITAID: $18 million.
UNICEF: $17 million.
Abbreviations: CERF = UN Central Emergency Response Fund; UNOCHA = United Nations Office for the Coordination of Humanitarian Affairs; UNDP = United Nations Development Program; UNITAID = International Drug Purchase Facility; and UNICEF = United Nations Children's Fund.
What does WHO do?
The World Health Organization is the directing coordinating authority on international health within the UN's system. It does this by:
Providing leadership on matters that are critical to health. It also engages in partnerships where it is necessary to take a joint-action approach.
Shaping the research agenda. It also encourages the generation, translation, and dissemination of valuable and critical knowledge.
Setting standards and norms. Additionally, WHO promotes and monitors the implementation of the standards and norms that it sets.
Articulating evidence-based and ethical policy options.
Providing technical support, building sustainable institutional capacity, and catalyzing change.
Assessing health trends and monitoring the current health situation.
The World Health Organization has some global strategies. One is, for example, the Global Strategy for Women's, Children's, and Adolescent's Health.