Zero balance account – definition and meaning
A zero balance account, also known by its initials ZBA, is a checking account (UK: current account) which is automatically set to be at a zero balance all the time. Funds are automatically transferred from a master account only when checks are presented, and only enough to cover those amounts each time.
Companies use a zero balance account to eliminate excess balances in different accounts, and to monitor their payments more carefully.
When the account holder makes a check payment, only the amount written on the check is transferred to th ZBA to maintain a zero balance as soon as the check has been paid.
By operating in this way, the account holder can harbor his, her or its cash within a master account for the purposes of investment. This system also makes it much less likely that a fraudulent transfer is sent out of the zero balance account, because it only ever has cash in it when a check needs to be paid.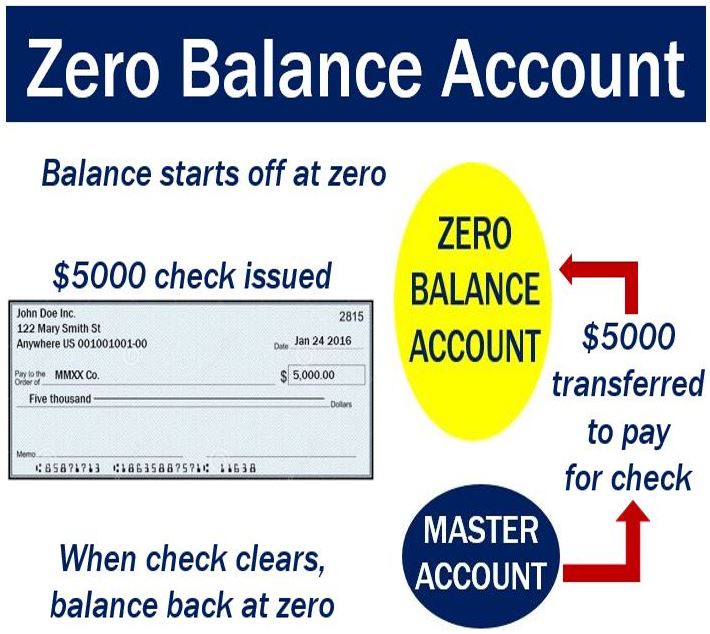 Definitions.uslegal.com says the following regarding a zero balance account (ZBA):
"Usually, corporations use ZBA to eliminate excess balances in separate accounts and maintain greater control over disbursements. A corporation transfers exact money into the ZBA account for which, the corporation has issued check."
"Once the check is cashed there will once again be a balance of zero in the account. ZBA helps the corporation to avoid keeping money in different places."
Debit Cards and the zero-balance account
Companies and other organizations that issue debit cards use a zero balance account to help ensure that all transactions on the cards are pre-approved.
As there are never any idle funds with a zero balance account, a debit card transaction cannot be completed until money is transferred to the account. This helps prevent any unapproved activities from going ahead.
BB&T Corporation, a large financial service holding company based in North Carolina, USA, says that the zero balance account is designed for businesses that maintain a general operating account and separate accounts for petty cash, payroll, or other purposes.
BB&T adds:
"With Zero Balance Accounts (ZBAs) in place, all of the company's funds are concentrated into one operating account. Disbursements are made from subsidiary accounts, which always maintain a zero balance. This account system allows the company increased investment opportunities and reduces administrative expenses."
---
Video on zero balance accounts
In this Strategic Treasurer video, a banker talks about zero balance accounts.
---